Ivory trade awash with tusks from freshly killed elephants, scientists prove
Researchers use radioactive particles from nuclear bomb tests to prove most seized ivory is not from historic stockpiles or antique collections amid crisis that threatens extinction of iconic animals
Ian Johnston
Environment Correspondent
Monday 07 November 2016 20:28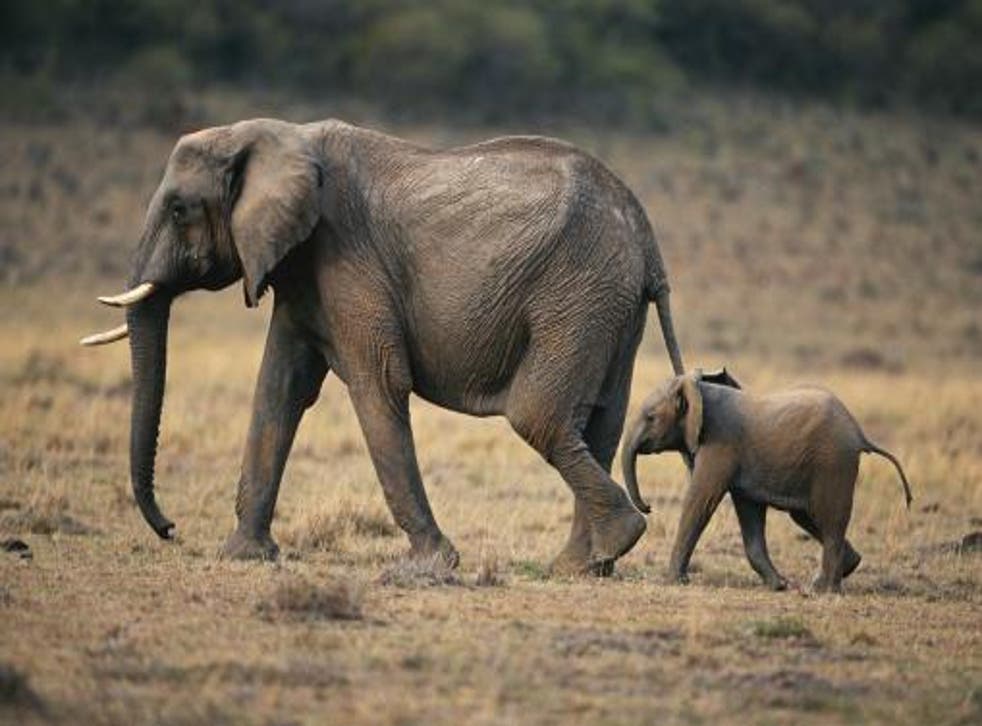 Nearly all the ivory seized in large shipments comes from elephants who had been killed recently, rather than historic stockpiles or antiques, according to a study that used radioactive particles from open-air nuclear bomb tests to date tusks.
The researchers said they were shocked by the small size of some of the tusks found, which is believed to be evidence of the poachers' practise of shooting young animals to attract their more valuable parents.
The study also found that the time taken to send shipments from Africa to Asia was increasing in a possible sign that it is getting more difficult to fill shipping containers because it is harder to find elephants to shoot.
According to a recent survey, elephant numbers in Africa fell by 30 per cent between 2007 and 2014 from about 496,000 to 352,000 "primarily due to poaching".
The researchers found more than 90 per cent of the ivory seized from large shipments came from animals who had been killed less than three years before.
Researcher Lesley Chesson, president of Isoforensics, a firm based in Salt Lake City that uses radioactive isotopes as a dating technique, said: "This work demonstrates that little or no 'old' ivory, like that held in government stockpiles, is ending up on the black market, which is good news for the security and monitoring of those stockpiles."
She added that it also provided the first "actionable intelligence on how long it's taking illegal ivory to reach the marketplace".
"The answer: not long at all, which suggests there are very well developed and large networks for moving ivory across Africa and out of the continent," Ms Chesson said.
It also shows a common excuse used by ivory traders – that their supplies date from before the trade was banned – is likely to be untrue.
The study involved measuring the amount of the carbon-14 isotope in the tusks. This was released into the atmosphere all over the world by the open-air atomic bomb tests in the mid-20th century.
It is taken up by plants and eaten by animals, but levels have gradually been declining. This decrease in levels can be used to date material like bone, tusks and teeth to within a year.
Professor Thure Cerling, of Utah University, who was lead author of a paper about the research in the journal Proceedings of the National Academy of Sciences, said the data could be used to help catch poachers.
"If all of the seizures are really recent, within the past two to three years, we can use that to determine the overall killing rate of elephants is in Africa," he said.
"The extinction of elephants and other wildlife due to demand for illegal wildlife products is a major problem. I'm glad we can apply the latest science to that."
Animals in decline

Show all 8
While most of the ivory was from animals killed within three years, some of the killings had taken place much more recently.
Study co-author Professor Kevin Uno, a geochemist at Columbia University's Lamont-Doherty Earth Observatory, said ivory was "oving through the system fast".
"Some of the elephants were killed just before their tusks were thrown in the shipping container," he said. "That has huge implications for our estimates of the number of elephants being taken."
But despite this, the average time lag between killing and seizure has been going up since 2011.
Professor Uno said this might be a sign that smugglers are waiting longer before sending a shipment because the supply from poachers has started to slow down because there are fewer elephants left to kill.
Dr Samuel Wasser, of Washington University, helped collect samples of ivory seized by police in various African countries between 2002 and 2014 for the study.
He said seeing so many tusks in one place had been distressing, particularly the tusks of young elephants shot by poachers as a tactic to attract adults.
"Sometimes, many of the tusks are so small that you can't understand why the animal was even killed," he said. "Tusks can weigh less than one pound, with almost no carvable ivory on them."
Register for free to continue reading
Registration is a free and easy way to support our truly independent journalism
By registering, you will also enjoy limited access to Premium articles, exclusive newsletters, commenting, and virtual events with our leading journalists
Already have an account? sign in
Register for free to continue reading
Registration is a free and easy way to support our truly independent journalism
By registering, you will also enjoy limited access to Premium articles, exclusive newsletters, commenting, and virtual events with our leading journalists
Already have an account? sign in