Julian Sands is the latest to go missing. Is the climate crisis behind a string of California hiker tragedies?
Extreme winter weather is becoming more common in the Golden State, Josh Marcus reports
Saturday 21 January 2023 15:02 GMT
Comments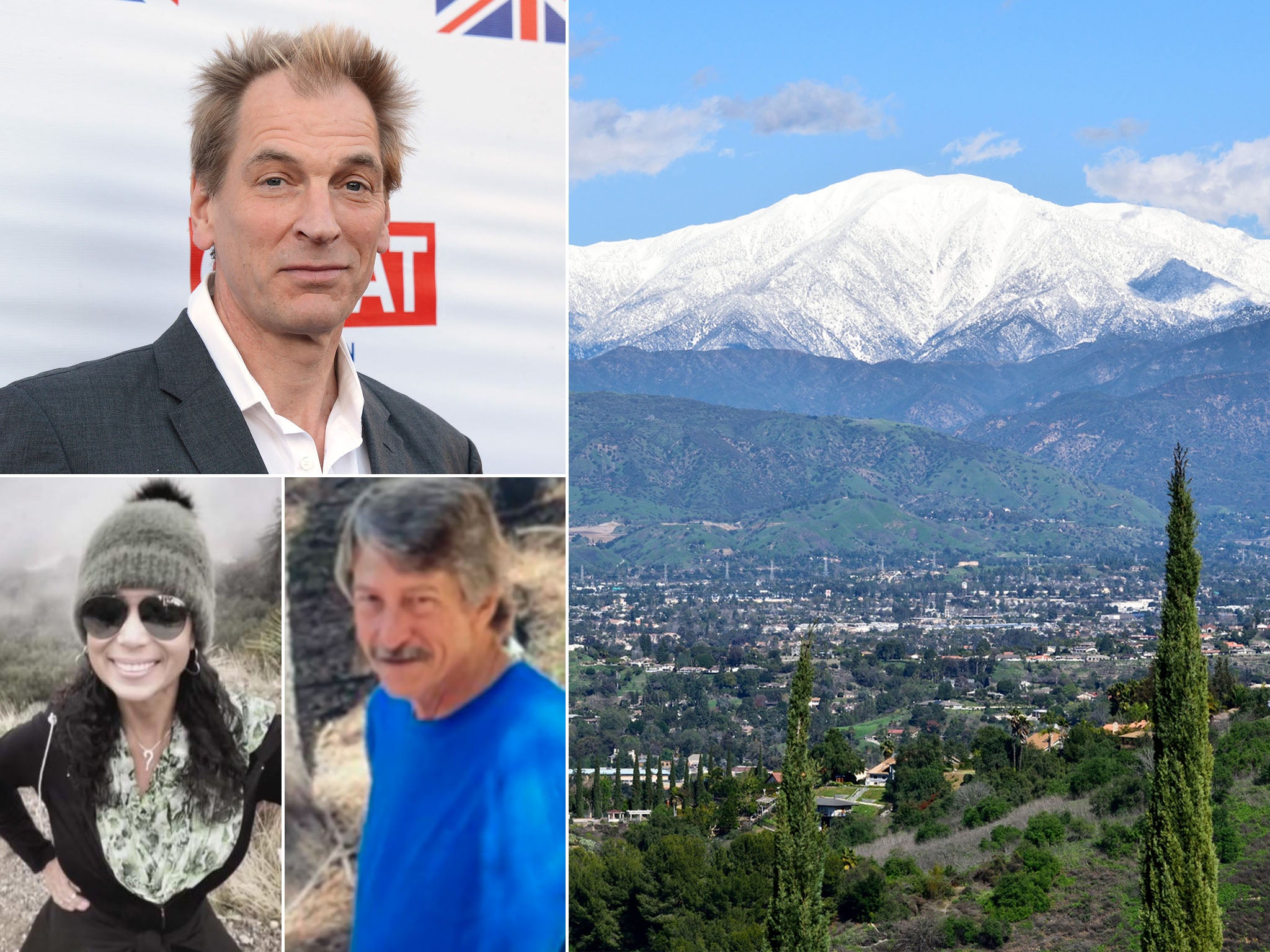 On a clear day, the peak of southern California's 10,000ft Mount Baldy looms over the Los Angeles skyline.
The mountain is emblematic of a growing threat: the deadly impact of the climate crisis on one of America's favourite pastimes, the great outdoors.
This month, as climate-amped superstorms battered California, first responders have carried out 14 rescue missions on Mount Baldy's peak, the highest summit in the San Gabriel mountain range.
Two people have died and a third man, the British actor Julian Sands, is still missing after nearly a week.
"We've had so many storms over southern California. Those conditions up there are extremely dangerous at the moment," Mara Rodriguez, of the San Bernardino County Sheriff's Department, told The Independent.
Conditions are so treacherous on the mountain – wind-blown sheets of thick ice, avalanche risk and heavy snow – that police have often been unable to carry out rescue efforts on the ground.
"We had to pull ground crews out Saturday evening," Ms Rodriguez said of the search for Sands, who has been described by family members to The Independent as a "heroic mountaineer" and experienced outdoorsman.
"We haven't been able to reinsert them due to the condition of that area. There's concerns about avalanches up there. The ice is just crazy dangerous so all of our search efforts at this point have been by air."
Multiple people have died or been reported missing in the San Gabriel mountains during the storms.
Crystal Paula Gonzalez, a mother-of-four known to family as the "Hiking Queen", died after falling more than 500ft down Mount Baldy last Sunday.
Her last posts on Facebook revealed how she had decided to turn around because of deteriorating conditions on the mountain.
"Our mother was a kind, loving, lively soul," her daughters said in a statement. "She had a thirst for adventure that she instilled in all of us during our childhood. She inspired those that met her on the trails. She loved life and life loved her back."
Another experienced hiker, Bob Gregory, 61, has been missing since last Friday on Mount Islip in the San Gabriel range.
Mr Gregory had shared a trail map of his planned route but rescue teams have been unable to locate him. Deep snow has impeded ground missions and limited rescuers to aerial searches over the massive snow drifts.
"My worst fear is that you know accidents, accidents happen," his son, Jimmy Gregory, told local TV station KCAL. "He probably slipped. He probably went off the wrong trail. Or even the weather right now – weather is, really, a big factor right now."
In early January, one missing hiker, 63-year-old Jeffrey Morton was found dead in southern California's Carbon Canyon Regional Park after failing to return from a pre-dawn hike.
Officials said poor weather in the area had hampered their ability to use helicopters in the search.
Such dangerous conditions will only worsen due to the climate crisis, Joe Biden said on Thursday, as he visited California to assess the damage from the severe storms.
Landslide blocks flooded road during California storm
"If anybody doubts climate is changing, they must have been asleep for the last couple of years," Mr Biden said.
"Extreme weather caused by climate change means stronger and more frequent storms, more intense drought, longer wildfire seasons, all of which threatens communities across California."
The recent storms that have swamped California are called "atmospheric rivers" – bands of water vapour that form over the ocean and can be hundreds of kilometres wide.
When these atmospheric rivers hit the heights of mountain ranges, the water vapour becomes heavy snowfall.
Atmospheric rivers increase the risks of flash flooding and rock slides as California has witnessed across the state in recent weeks.
And the problem is worsening due to the climate crisis, scientists have warned. As the air heats up, it becomes capable of holding more water and leads to more rainfall.
Organisations like the American Hiking Society (AHS) have warned about the impacts of the climate crisis on outdoor pursuits.
"World renowned trails like the Pacific Crest Trail (PCT), have been forced to close sections due to fires, drought conditions leave hikers without water sources, and views are obstructed and health impacted by smoke," the AHS said. "Impacts like extreme heat, flooding, and other exacerbated weather events are being felt around the world."
And it's not just during winter rain storms.
Extreme heatwaves and wildfires, both exacerbated by the climate crisis, have led to the temporary closure of hundreds of kilometres of the Pacific Crest Trail, one of the US's most treasured hiking trails which begins at the Mexica border and runs 4,264km (2,650 miles) through California, Oregon, and Washington to Canada.
"We see a lot of people altering their trip plans because of smoke, because of fire impacts," Jennifer Tripp, trail operations manager for the PCT, told local TV station KCRA.
Last autumn, extreme heat was blamed for several hikers' deaths in California and Arizona.
The new challenges to hiking in California are a reminder that the climate crisis goes beyond just impacting natural systems like polar bear migration or shark habitat, but extends to how humans interact with those systems, sometimes with deadly results.
This article was amended on January 23 2023. A caption previously identified one of the men photographed as missing hiker Bob Gregory, but this was not the case. The image shows Jeffrey Morton, whose body was found in January.
Join our commenting forum
Join thought-provoking conversations, follow other Independent readers and see their replies