Keep your hair on: Trump blasts Scotland over turbine project
American billionaire sweeps into Edinburgh to fight plan for a wind farm near his golf course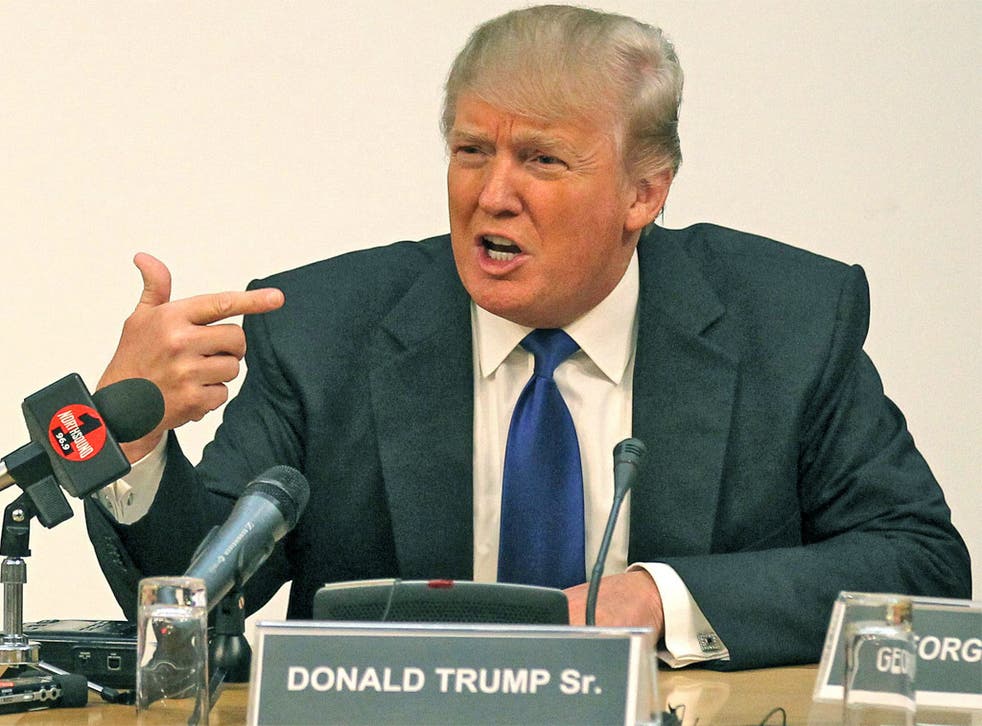 When Donald Trump and his entourage swept into the Scottish Parliament yesterday morning, a stiff breeze barrelled down from the Edinburgh crags and threatened to lift the famously thin but coiffured locks from the American entrepreneur's head.
As it did so, a bemused bystander remarked quietly: "Aye, now we know why he doesn't like the wind."
But as Mr Trump – or simply The Donald as he tends to be known – made it clear several times yesterday, he's not actually against wind per se: it's just wind farms he doesn't like.
Specifically, the American billionaire doesn't like one particular wind farm, a project of 11 turbines which has been earmarked for the coast just off the shores of Aberdeenshire.
Mr Trump has just finished building what he modestly describes as "the world's best golf course" on that same coast and is appalled that these "horrible, horrible industrial turbines" are going to be erected within sight of the first tee.
Yesterday, Mr Trump was invited to "give evidence" to the Scottish Parliament's Energy and Tourism Committee and explain just why he was so opposed to this wind farm.
But when he was asked what "evidence" he had to back up his claim that wind farms were destroying tourism, he replied simply: "I am the evidence." He took much the same omniscient tack when asked about opinion polls which showed a majority of Scots in favour of wind farms.
"No one knows more about polls than me," he declared.
He was then asked about tourism. "I am an expert on tourism. I have won many, many awards," he said.
Mr Trump decided to remind the committee on no fewer than five occasions that his mother had been born on the Isle of Lewis, something, he suggested, which not only gave him a great love of Scotland but the right to point out that the country was making a mistake – and a big one at that.
"I do not think you should ruin the beauty of Scotland," he said. He then derided the Scottish Government's carbon dioxide reduction targets as "ridiculous, phoney and random" and the wind turbines as "monsters".
But Mr Trump reserved his harshest criticism for Alex Salmond – an enthusiastic devotee of wind energy.
The Scottish First Minister and the entrepreneur had been close when Mr Salmond wanted Mr Trump's multimillion pound investment in the north-east of Scotland but the two powerful men fell out when it became clear that Mr Salmond wouldn't halt the turbines off the Aberdeenshire coast.
Now they are like a married couple taking it out on each other in the courts with every grievance aired painfully in public.
Looking back on a dinner the two shared in New York five years ago, Mr Trump talked about how well they had got on. "But now I call him Mad Alex," Mr Trump declared, adding: "I feel betrayed because I invested my money on the basis of statements made to me. They lured me in, I spent my money and now I could regret it."
Then it was over and Mr Trump was outside, braving both the wind and two rival groups of demonstrators – one of which cheered him while members of the other swore at him.
It may have been a typical day in the life of Donald Trump: it certainly wasn't for the Scottish Parliament.
Join our new commenting forum
Join thought-provoking conversations, follow other Independent readers and see their replies