Workers in collapsed Mayfield candle factory reveal 'terrifying' moment tornado devastated building
'We all just rocked back and forth, and then boom, everything fell on us'
Harriet Sinclair
Saturday 11 December 2021 21:27 Comments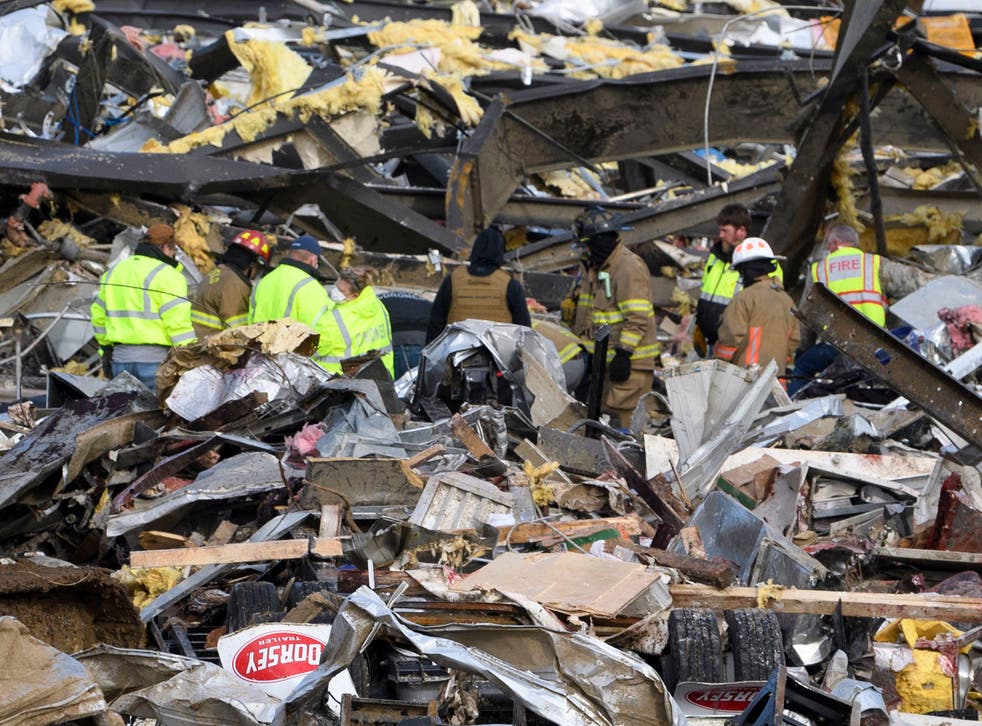 Workers inside a Kentucky candle factory have revealed their terror and shared how they cried out for help after the buillding collapsed on top of them amid a series of tornadoes that have swept across six southern and Midwest states.
At least 79 people have been confirmed dead after 18 tornadoes hit the states, in what is believed to be the deadliest tornado system Kentucky has seen in living memory.
Among the devastation, a candle factory in Mayfield, Kentucky was hit, trapping workers inside. In audio recorded by one of the people stuck in the factory, the workers call for help - with one of them saying a wall is stuck on her.
"I don't know who's watching," on person says in the audio, obtained by MailOnline.
"We got hit by a hurricane. I'm at work in Mayfield and we are trapped.
"Please y'all, give us some help. We are at the candle factory in Mayfield. Please, please. Y'all! Please send us some help. Somebody please send us some help, we are trapped.
"The wall is stuck on me. Nobody can get to us, y'all, we can't move."
Governer Andy Beshear has said that there were about 110 people inside Mayfield Consumer Products when it collapsed. CNN reported that 100 people were still missing as of midday on Saturday.
Kyanna Parsons-Perez, 40, was one of the staffers trapped inside when a candle factory in Mayfield, Kentucky collapsed as it was hit by a tornado.
The storm came after the workers had been moved to a shelter area.
"We felt the wind. My ears started popping, and then it was like the building, like we all just rocked back and forth, and then boom, everything fell on us," Ms Parsons-Perez told CNN. "It was the most terrifying thing that I have ever experienced in my life."
"At first, I was really calm, and I was trying to keep my coworkers calm ... but then, after being pinned down for so long, and my legs were hurting and I couldn't move them and I couldn't feel them and stuff like that, I started to panic myself," she said.
Register for free to continue reading
Registration is a free and easy way to support our truly independent journalism
By registering, you will also enjoy limited access to Premium articles, exclusive newsletters, commenting, and virtual events with our leading journalists
Already have an account? sign in
Join our new commenting forum
Join thought-provoking conversations, follow other Independent readers and see their replies