Lord Lawson's climate think-tank under review after adviser offers to write paper for sham oil company
Exclusive: Charity Commission investigating a range of 'potential concerns' about the Global Warming Policy Foundation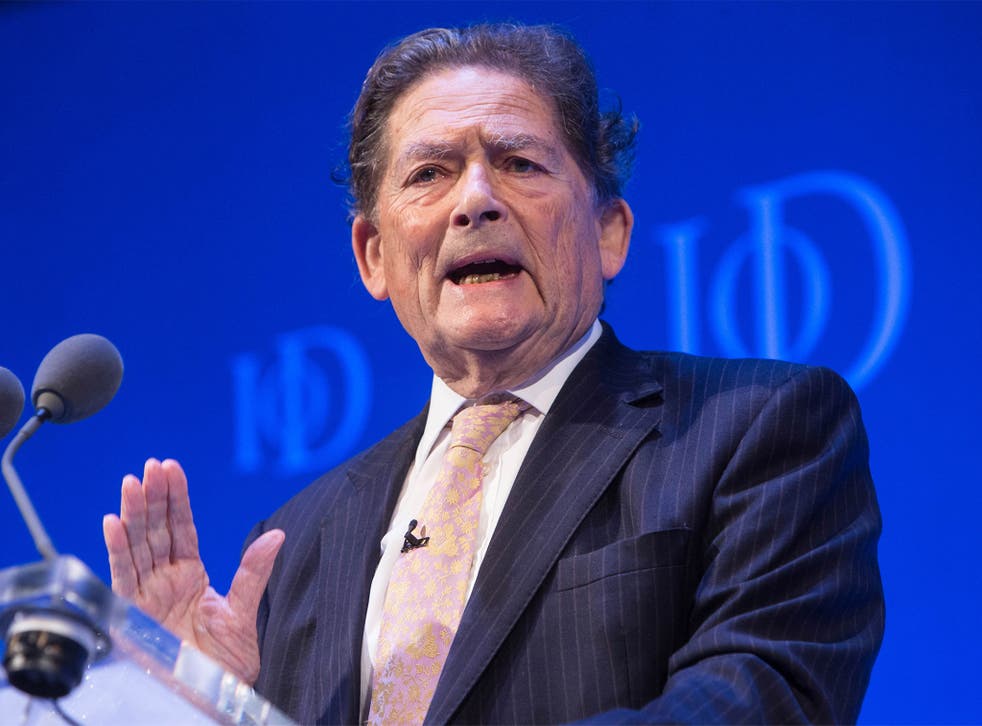 Lord Lawson's climate-sceptic think-tank is under review by the Charity Commission, it has emerged, as one of its leading advisers was revealed in an undercover sting to have offered to write an academic paper casting doubt on global warming on behalf of a sham oil company.
The review, which is looking at a range of "potential concerns" about the Global Warming Policy Foundation (GWPF), was launched within the past few months after complaints from environmentalists that the group is a campaigning – not an educational – organisation. The Charity Commission confirmed its review will look at new information that emerged from a Greenpeace investigation this week.
Investigators found that Professor William Happer – a Princeton University physicist, prominent climate sceptic, and member of GWPF's Academic Advisory Council – was willing to write a report highlighting the benefits of carbon emissions after being approached by an investigator posing as a consultant for a Middle Eastern oil and gas company. In emails sent to investigators, Professor Happer said he could write the paper if a fee of $8,000 (£5,270) was donated to the CO2 Coalition, a group set up to "shift the debate from the unjustified criticism of CO2 and fossil fuels".
He also said that any paper would be likely to undergo "major changes" if submitted to a peer-reviewed, scientific journal, and suggested it be reviewed under a process used by the GWPF, whereby the group's own advisers and selected external experts carried out the peer review.
Lord Lawson, a former Conservative Chancellor, stood by Professor Happer and said the GWPF, which he chairs, has a "very thorough peer review process … in many ways better than the standard peer review system in most academic magazines".
However, the GWPF director Dr Benny Peiser acknowledged the think-tank's trustees should "review" Greenpeace's findings and "decide how to handle advisers".
John Sauven, Greenpeace UK's executive director, said the organisation had "serious questions to answer". "Does it condone a member of its academic council agreeing to be secretly sponsored to write a report by a group purporting to be from a Middle Eastern oil company? Have reports by senior figures in Lawson's foundation been secretly paid for by the fossil fuel industry?
"Does it accept that the foundation's so-called 'peer-review' process is flawed?"
Dr Peiser said the GWPF had "never taken a commission from outside" and had "no corporate donors or any donors to do with energy interests whatsoever".
Peer review by a scientific journal is considered the gold standard for academic publication. Sense About Science, the group which campaigns for unbiased reporting of scientific findings, states that research findings can be considered valid when they have been "peer reviewed and published in a scientific journal".
The group has warned that organisations which claim to have papers peer reviewed but "have only shown it to some colleagues" show themselves to be "biased".
However, Dr Peiser defended GWPF's peer-review process. "Peer review cannot only happen through peer-reviewed journals. There have been reports of serious problems within the conventional peer-review process," he told The Independent. "Can you imagine if every report we submitted went to a scientific journal – all the protests of people saying 'we would never accept that for publication'? Not because it's right or wrong, just that they do not want it to be published."
Climate change around the world - in pictures

Show all 17
He said the GWPF was "discussing with [the Charity Commission] how to handle complaints" against it.
A spokesperson for the Charity Commission said: "I can confirm that we have a case open assessing a number of potential concerns about the charity. While that case is open, we cannot comment in detail on it. I should make clear that this is not a formal investigation (statutory inquiry). We are assessing potential concerns that have been identified. We have not drawn conclusions as to what, if any, regulatory role there might be for us."
Lord Lawson said: "We have a large number of people on our advisory council. They're not part of the staff of the GWPF. They're distinguished academics. Happer is a distinguished academic."
Professor Happer has not denied the veracity of emails obtained by Greenpeace. He said he had only responded to the undercover inquiries "for an opportunity to get more publicity" for his views on the benefits of CO2. "I considered this an opportunity to try to educate more people on what I think is the truth about CO2," he said.
Join our new commenting forum
Join thought-provoking conversations, follow other Independent readers and see their replies