Mail on Sunday attacked over 'fake global warming graph'
Article alleged US scientists had manipulated data to 'dupe' world leaders into spending billions on climate change but supposed whistleblower says there is 'not an issue of tampering with data'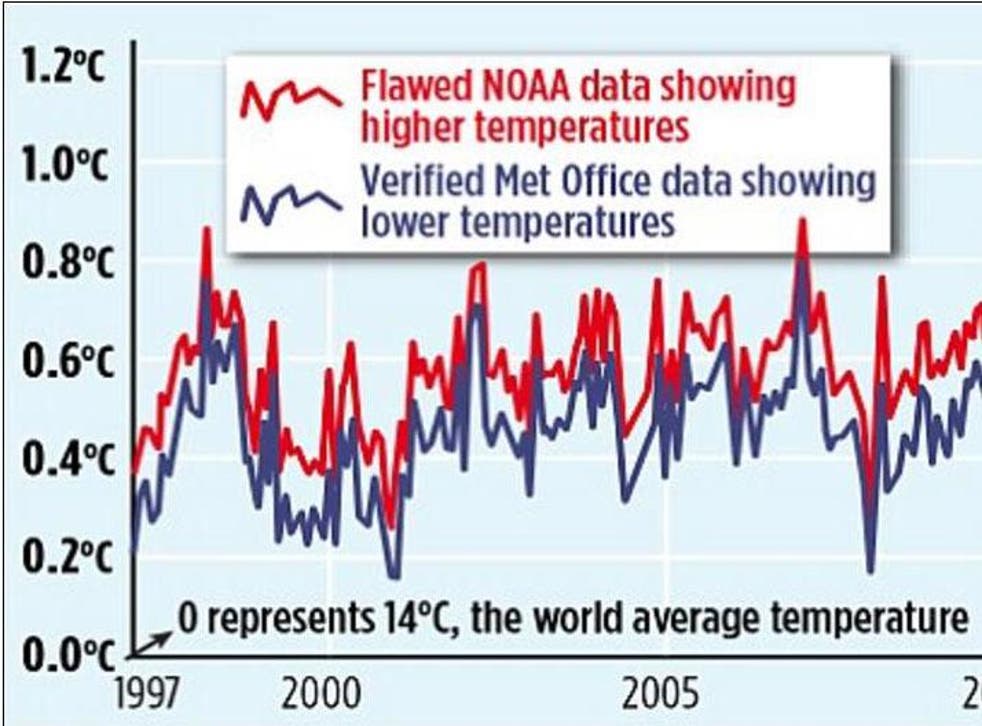 The Mail on Sunday has been attacked for using a "fake graph" in an article about global warming as its supposed whistleblower contradicted the story's central claim that US Government scientists had "manipulated" climate data.
The article, headlined Exposed: How world leaders were duped into investing billions over manipulated global warming data, claimed it had "astonishing evidence" that the US National Oceanic and Atmospheric Administration (NOAA) had rushed out an academic paper that exaggerated global warming in order to influence world leaders meeting at the Paris Summit on climate change in 2015.
The journal paper found that global warming had not slowed down after 1998 as previously thought by some scientists. Its findings were later confirmed by other scientists at the Met Office, Nasa and other institutions.
The Mail on Sunday quoted a former NOAA scientist, Dr John Bates, as saying the lead author of the paper, Thomas Karl, had insisted "on decisions and scientific choices that maximised warming and minimised documentation" and "in an effort to discredit the notion of a global warming pause, rushed so that he could time publication to influence national and international deliberations on climate policy".
But in a subsequent interview with E&E News, Dr Bates stressed he did not believe the data itself had been manipulated to present a false picture.
"The issue here is not an issue of tampering with data, but rather really of timing of a release of a paper that had not properly disclosed everything it was," he said.
Dr Bates published a blog about his concerns at about the same time The Mail on Sunday article was published.
The newspaper also published a graph showing "flawed NOAA data showing higher temperatures" alongside "verified Met Office data showing lower temperatures".
However the two sets of figures compared the temperatures to different baseline dates, a glaring and simple error that means they are not comparable in the way shown.
When adjusted so they are comparable, the Met Office figures are roughly the same as the NOAA ones – as the Met Office itself confirmed.
Dr Gavin Schmidt, the director of Nasa's Goddard Institute for Space Studies, described the graph as a "hilarious screw up" by the "#FailOnSunday" in a message on Twitter.
He showed The Mail on Sunday's graph alongside the correct one.
Ed Miliband: PM must discuss climate change with President Trump
In a blog post, Bob Ward, policy and communications director at the Grantham Research Institute on Climate Change and the Environment in London, wrote that the newspaper's graph was "fake".
And he said The Mail on Sunday had "a track record of unreliable reporting on climate change and of misrepresenting the science".
In a statement sent to The Independent, the newspaper made a distinction between the words 'change' and 'adjust'.
"Bates was quoted out of context. He is sticking by his claim that Karl made bad scientific choices and so skewed the temperatures dataset, and is posting a new blog on this tonight," it said.
"The 'no tampering' claim [by Bates] was a reply to the question: 'So are you saying he actually changed the figures?'
"Of course, he never alleged that. It was about how they were 'adjusted.'"
CIA director nominee Mike Pompeo refuses to accept Nasa's findings on climate change
The paper admitted it had made an error about the graph but said it had corrected this online.
"We made an inadvertent error, and took swift steps to correct it online," it said.
"Even scientists have to issue corrigenda to their peer-reviewed papers. These are highly technical subjects. But the substance, as previously pointed out, stands."
However the online graph still showed a significant gap between the NOAA and Met Office figures.
10 photographs to show to anyone who doesn't believe in climate change

Show all 10
The Met Office itself has published a graph showing its figures, known as HadCRUT4, compared to those from NOAA and other bodies, Nasa, Berkeley Earth and Cowtan and Way.
"In general, the agreement between the data sets is very good. They all display a similar increase in estimated global average temperature over time," it says.
David Rose, the journalist who wrote the story, told The Independent: "The core of my story stands. The Karl et al 'Pausebuster' 2015 paper breached NOAA's own Climate Data Programme rules.
"It used a preliminary, experimental land dataset that had not passed an Operational Readiness Review.
"In other words, it used unverified data, unstable software, and was not properly archived. It also deployed a newly issued sea dataset that adjusted temperatures from buoys upwards in such a manner that that, in Bates's words, involved poor scientific choices that maximised warming.
"Its pending replacement will reverse this, and so produce lower values and a lower recent warming trend."
Join our new commenting forum
Join thought-provoking conversations, follow other Independent readers and see their replies