Fund more lab-grown meat to fight climate change, experts tell EU leaders
Chatham House calls for official backing for high-tech food to cut greenhouse gas emissions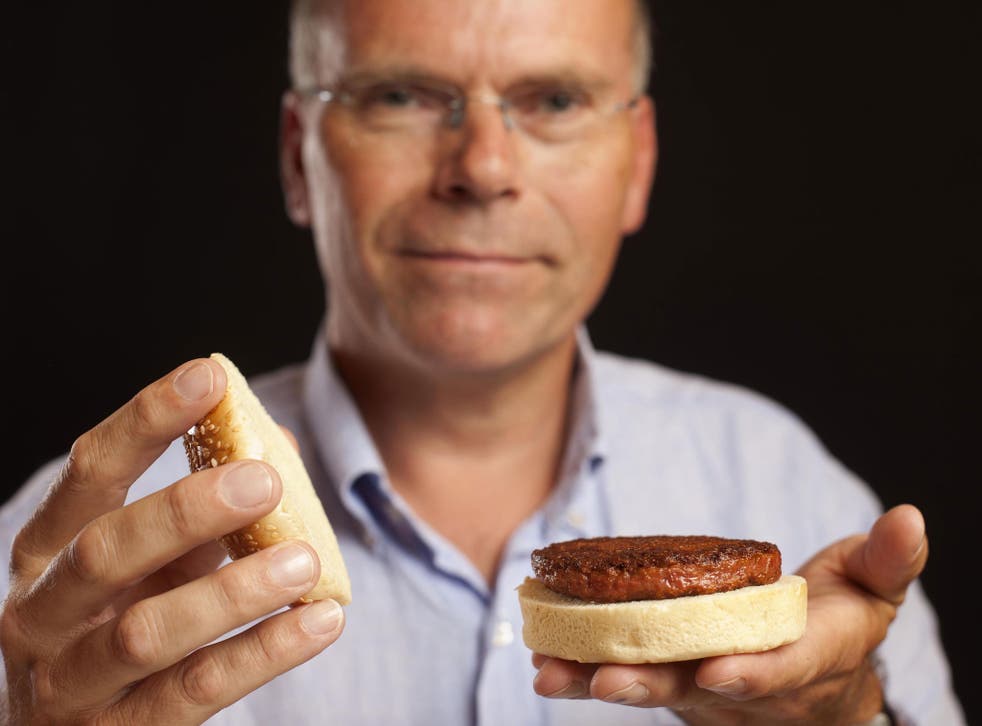 Experts at an influential think tank are calling on EU leaders to back the expansion of more lab-grown meat to enable Europe to help tackle climate change.
The Royal Institute of International Affairs, known as Chatham House, says new high-tech foodstuffs will be vital to the EU meeting its goals on climate change, human health and drug resistance.
Animal agriculture is a significant driver of carbon dioxide emissions, through deforestation when swathes of land are used instead to grow feed crops for livestock.
According to the UN Food and Agriculture Organisation, livestock accounts for 14.5 per cent of global emissions.
Raising meat animals on farms is also a significant source of methane, which is about 20 times more potent than carbon dioxide.
Extinction rebellion: Climate change protesters block London bridges

Show all 25
The report recommends that policymakers write new regulations on labelling and product naming, and invest in research and development of lab-grown meat.
It also says EU chiefs should prioritise development of the "meat analogues" industry – lab-grown meat and plant-based food that resembles meat.
Lab-grown meat – dubbed "clean" meat – is made without killing animals, but by taking a muscle sample from an animal, collecting stem cells and growing them into muscle tissue.
Backing a change to such a diet would "play a vital part in addressing the detrimental climate, animal welfare and public health impacts of unsustainable meat consumption", according to experts.
Demand for plant-based "meat" is already growing, with a global market for such products worth 4.08 billion euros last year.
Investment in the technologies so far has been driven by start-ups.
Laura Wellesley, of Chatham House, said: "The EU has been a hotbed of innovation in plant-based 'meat' and cultured meat. If it wants to reap the rewards of that innovation, policymakers need to respond now to the challenges and opportunities that this new industry presents.
"Innovation in plant-based meat and cultured meat could help the EU to deliver on some of its most ambitious policy priorities."
Legal challenges to such meat substitutes are expected based on the 2017 European Court of Justice ruling that plant-based foods cannot be sold using terms such as milk, butter or cheese.
Support free-thinking journalism and attend Independent events
Eleonora Evi MEP said: "Our food system is contributing to an environmental and climate catastrophe and excessive meat consumption is the key factor. It is our responsibility, as decision-makers, to reverse this trend.
"Meat analogues have the potential to become a powerful ally."
Register for free to continue reading
Registration is a free and easy way to support our truly independent journalism
By registering, you will also enjoy limited access to Premium articles, exclusive newsletters, commenting, and virtual events with our leading journalists
Already have an account? sign in
Register for free to continue reading
Registration is a free and easy way to support our truly independent journalism
By registering, you will also enjoy limited access to Premium articles, exclusive newsletters, commenting, and virtual events with our leading journalists
Already have an account? sign in
Join our new commenting forum
Join thought-provoking conversations, follow other Independent readers and see their replies