Thawing permafrost turns Arctic from carbon sink into carbon emitter, study finds
Some 1.7 billion tonnes of carbon released by ice melt during winter – twice as high as previous estimates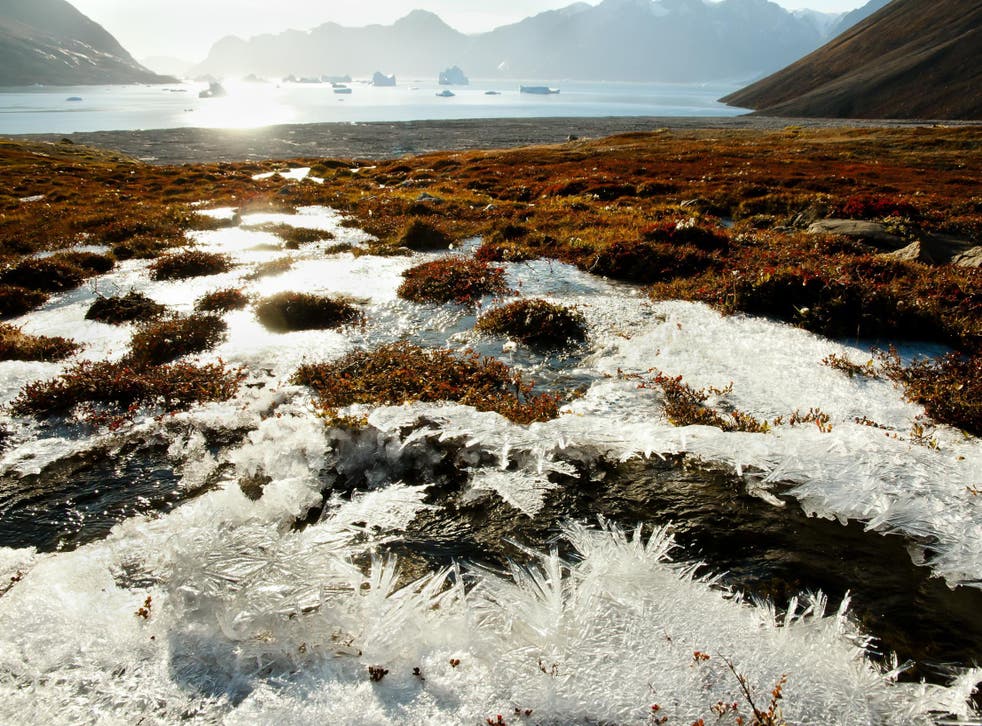 The Arctic is home to vast swathes of permafrost which lock in large amounts of carbon and stop it from being emitted into the atmosphere and contributing to global warming.
However, new research shows that a warming climate means permafrost is thawing so quickly the region is now a source – as opposed to a sink – of emissions.
In summer, vegetation absorbs carbon dioxide, but this is dwarfed by the amount released during winter.
Scientists estimate 1.7 billion tonnes of carbon is released annually by permafrost between October through to April.
This is almost twice as high as previous estimates and far exceeds the 1 billion tonnes of carbon sucked up during the growing season.
Climate change in the world's fastest-warming town

Show all 18
Researcher Dr Jennifer Watts, from the Woods Hole Research Centre (WHRC), said: "This study is an important step forward in understanding how carbon dioxide loss from soils is outweighing uptake of carbon dioxide from the atmosphere by vegetation.
"We've known for a while that thawed soils release carbon dioxide during the summer, but we really didn't realise how much carbon dioxide is being emitted during the snow-covered winter months."
By 2100, winter carbon dioxide emissions from the Arctic could increase by 41 per cent under a worst-case scenario, according to the paper, published in Nature Climate Change.
Permafrost is ground that remains at below 0C for two years or longer.
Currently this carbon-rich soil covers 24 per cent of land in the northern hemisphere and holds more carbon than has ever been released by humans.
Researchers collected data from decades of ground measurements across the Arctic and then used a model to predict how this would change as temperatures warmed.
More than 75 scientists working in 12 different countries found that if countries could stick to the Paris climate agreement and limit warming to 2C, the increase in carbon dioxide emissions would be 17 per cent.
"We've known that warmer temperatures and thawing permafrost have been accelerating winter carbon dioxide emissions, but we haven't had a clear accounting of the winter carbon balance," said lead researcher Dr Sue Natali from WHRC.
"These results, which provide a new baseline for winter carbon dioxide emissions from the Arctic, indicate that winter carbon dioxide loss may already be offsetting growing season carbon uptake and these losses will increase as the climate continues to warm."
The study did not look at the amount of methane (another greenhouse gas) released from melting permafrost, which is also expected to rapidly increase as temperatures warm.
"Given the rapid pace of warming in the Arctic, there is an urgent need to expand monitoring networks and to tightly link these observations to models to help guide decision-making," Dr Natali said.
"This study highlights the need to greatly reduce fossil fuel emissions in order to keep permafrost region carbon from entering into the atmosphere."
Support free-thinking journalism and attend Independent events
Earlier this year, researchers found permafrost had begun thawing in the Canadian Arctic more than 70 years early because of climate change.
The study found thawing levels were 150 to 240 per cent above historic levels, according to researchers led by the University of Alaska Fairbanks who warned the rate of melting was "truly remarkable".
Woods Hole Research Institute has issued a correction saying the amount of carbon dioxide released was measured in billions of tonnes instead of millions. The article has been amended to reflect that.
Register for free to continue reading
Registration is a free and easy way to support our truly independent journalism
By registering, you will also enjoy limited access to Premium articles, exclusive newsletters, commenting, and virtual events with our leading journalists
Already have an account? sign in
Register for free to continue reading
Registration is a free and easy way to support our truly independent journalism
By registering, you will also enjoy limited access to Premium articles, exclusive newsletters, commenting, and virtual events with our leading journalists
Already have an account? sign in
Join our new commenting forum
Join thought-provoking conversations, follow other Independent readers and see their replies