As it happened
ended
1679782045
Mississippi tornado: 'Mile-wide' tornado kills at least 26 in US South
Several towns devastated in Mississippi and Alabama, thousands without power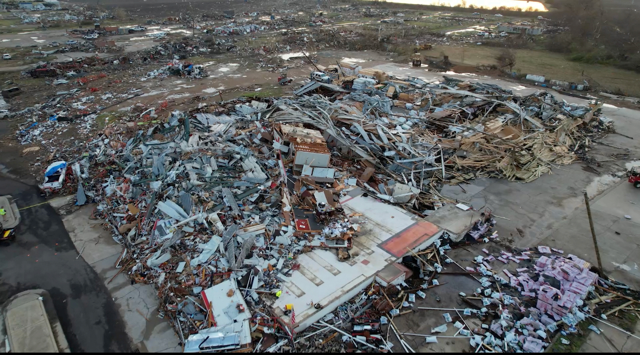 At least 26 people have been killed after tornadoes tore through parts of the US South overnight, according to emergency officials.
A number of towns appeared to have taken direct hits in Mississippi and Alabama, and people remained trapped under rubble on Saturday morning.
The rural towns of Silver City and Rolling Fork, Mississippi were hit by a reportedly "mile-wide", 70mph tornado along with Winona and Amory in Alabama. The massive supercell storm also brought hail the size of golf balls.
1679756570
Watch: Towns devastated after tornadoes tear across south
Devastating tornado destroys homes in Mississippi, leaving 23 dead
Louise Boyle
25 March 2023 15:02
1679758087
'People are trapped'
People were still trapped on Saturday morning in the town of Rolling Rock, Mississippi, near the Louisiana border, former mayor Fred Miller told FOX Weather.
"The west part of Rolling Fork is a residential area, and just a number of houses over there have been completely destroyed," Mr Miller said. "Highway 61, where most of our businesses are, all of the businesses on 61 have been completely destroyed. People are trapped in a couple of the eateries, and people are trying to get them out now."
Mississippi Governor Tate Reeves tweeted on Saturday that he had "just completed" a command briefing with "our disaster response team."
'Devastating damage -- as everyone knows," he tweeted. "I am on my way to Sharkey County to be with the people first hit. We are blessed with brave, capable responders and loving neighbors. Please continue to pray."
Sheila Flynn
25 March 2023 15:28
1679758946
First tornado-related death recorded in Alabama
An Alabama man has been killed after being trapped inside his mobile home during the Friday night tornadoes, CNN reported.
A spokesperson for the Morgan County emergency department confirmed the death and told the outlet it was unclear whether one powerful tornado or two separate storms devastated the area.
The death toll currently stands at 24, with the Morgan County fatality the only recorded so far in Alabama.
Sheila Flynn
25 March 2023 15:42
1679759839
Stormchaser and multimedia journalist Jordan Hall tweeted devastating footage on Saturday morning of the tornado aftermath in Rolling Fork in Mississippi's Sharkey County.
About 30 percent of county residences are mobile homes or housing other than homes or apartments, according to a 2021 survey by the federal Census Bureau, The New York Times reports; a fifth of the residents in the town, which is predominantly Black, are under the federal poverty line, it adds.
The Mississippi Emergency Management Agency on Saturday morning posted an update confirming "dozens injured, 4 missing due to last night's tornadoes.
"We have numerous local and state search and state rescue teams that continue to work this morning. A number of assets are on the ground to assist those that have been impacted."
About 30 percent of the residences in Sharkey County are mobile homes or housing other than homes or apartments, according to a 2021 survey by the federal Census Bureau. A fifth of the residents of Rolling Fork, which is predominantly Black, are under the federal poverty line.
Sheila Flynn
25 March 2023 15:57
1679761964
Citizens asked not to 'self-deploy'
Mississippi authorities were asking residents on Saturday not to "self-deploy" as the governor and official teams were heading to the sites of devastation throughout the state to assess damage.
"Volunteer Mississippi is asking private citizens not to self-deploy," the Mississippi Emergency Management Agency tweeted. "They will work to match unaffiliated volunteers with affiliated groups on the ground when the time is right. If you would like to donate water or resources the Rolling Fork Civic Center is open to receive them."
Deaths have been confirmed so far in Sharkey, Carroll, Monroe and Humphreys counties in Mississippi.
Dozens were injured as teams worked Saturday to locate the missing and numbers of fatalities were expected to rise, state authorities said.
"Our neighbors in Mississippi were devastatingly impacted by last night's storms," tweeted Alabama Governor Kay Ivey on Saturday morning. At least one fatality has been confirmed in her state.
She added that she'd connected with Mississippi Governor Tate Reeves to offer her "heartfelt condolences for the lives lost and to offer our support. Alabamians stand with Mississippi!"
Sheila Flynn
25 March 2023 16:32
1679762970
'Eerily quiet' accompanied storm
Cornel Knight told The Associated Press that he and his wife were with their three-year-old daughter at a relative's home in Rolling Fork, Mississippi when the tornado struck.
He said the sky was dark but "you could see the direction from every transformer that blew," AP reported; it was "eerily quiet" as that happened. Mr Knight watched from a doorway until the tornado was, he estimated, less than a mile away, then told everyone in the house to take cover in a hallway, he said
He said the tornado struck another relative's home across a wide corn field from where he was located. A wall in that home collapsed and trapped several people inside.
Rolling Fork mayor Eldridge Walker said power lines were down following the tornado and he was unable to get out of his damaged home. Mr Walker said emergency responders were trying to take the injured to the hospital, which was also damaged, according to WAPT 
Tens of thousands of people were without power early Saturday in Mississippi, Tennessee and Alabama, according to utility tracker Poweroutage.us.
Sheila Flynn
25 March 2023 16:49
1679763631
Mississippi governor declares state of emergency
Mississippi Governor Tate Reeves has issued a State of Emergency in all counties affected by the "severe thunderstorms spawning high straight-line winds and tornadoes resulting in the loss of life and extensive property damage."
He was traveling to hard-hit Sharkey County, where the town of Rolling Fork was essentially wiped out, as were aid and recovery teams and the executive director of the Mississippi Emergency Management Agency (MSEMA).
The National Weather Service also tweeted Saturday that it was "sending out three survey teams today to assess damage across north AL and southern middle TN after last night's storms. The survey results will be shared as teams complete their assessments later today."
MSEMA has also announced several emergency locations offering food and shelter for displaced residents, including the National Guard Armory in Rolling Fork and Old Amory National Guard Building in Alabama.
Sheila Flynn
25 March 2023 17:00
1679764632
Mississippi meteorologist and governor ask for prayers
Both a Mississippi meteorologist and the state's governor asked for prayers amid the devastating weekend storm that wove a 100-mile fatal path.
Matt Laubhan, chief meteorologist for local network WTVA, was presenting live as the tornadoes were developing, telling viewers that, as much as they 'trust him', he wasn't sure how the storm would pan out.
"Argh man, dear Jesus please help them, amen", he prayed, as updates of the tornado's movements came in.
"I tell you where it goes and some of you are like 'that's where it's going to go,' but the reality is this could be changing directions."
On Saturday, as the breadth of destruction became apparent and at least 23 were confirmed dead, Governor Tate Reeves tweeted: "The loss will be felt in these towns forever.
"Please pray for God's hand to be over all who lost family and friends."
Sheila Flynn
25 March 2023 17:17
1679765625
FEMA administrator addresses tornadoes
The head of FEMA on Saturday posted that the agency had been in touch with the governor of Mississippi regarding the devastation throughout the state following the brutal storm.
"I just spoke to @tatereeves about the devastating tornadoes in Mississippi and how @FEMA can help the communities impacted," Deanne Criswell tweeted. "Our thoughts are with the people of Mississippi who are dealing with this terrible trauma."
One Mississippi woman, Wonder Bolden, was holding her granddaughter as she spoke to AP while standing outside the remnants of her mother's now-leveled mobile home in Rolling Forkon Saturday.
"There's nothing left," the 44-year-old hospice worker told AP, looking out at the car that had landed on top of a diner that used to be 60 feet away from her driveway. "There's just the breeze that's running, going through -- just nothing."
She said the family had spent the morning digging through debris, searching for coins her mother had stowed away, and her belongings of her father, who passed away around 25 years ago -- but hadn't been able to come up with much.
Rolling Fork is in Sharkey County, which has been particularly hard hit. The sheriff's office reported gas leaks and trapped residents, while some law enforcement units were also unaccounted for, the Vicksburg News reported.
Sheila Flynn
25 March 2023 17:33
1679766931
President Biden offers sympathy, support to Mississippi
President Joe Biden on Saturday offered his support and sympathy for the Southern residents affected by this weekend's devastating tornadoes.
At least 23 people were killed, dozens injured and more missing throughout Mississippi as crews worked to assess the damage and death toll; one death had been reported Saturday in Alabama. The Mississippi Emergency Management Agency tweeted Saturday morning: "Unfortunately, these numbers are expected to change."
"Jill and I are praying for those who have lost loved ones in the devastating tornadoes in Mississippi and those whose loved ones are missing," President Biden tweeted, adding that he'd spoken with Mississippi Governor Tate Reeves as well as other state representatives "to express my condolences and offer full federal support."
Governor Reeves declared a state of emergency for the areas affected, with Carroll, Humphreys, Monroe and Sharkey counties all reporting deaths.
"I just spoke with President Biden about the deadly tornados we faced overnight. He assured us FEMA would be there to support our response," the governor tweeted Saturday. "The flood of support from governors, businesses, charities, and federal admin has been tremendous—matches the community here on the ground."
Sheila Flynn
25 March 2023 17:55
Join our commenting forum
Join thought-provoking conversations, follow other Independent readers and see their replies