Green campaigners condemn 'disgraceful' North Sea gas discovery hailed as biggest in a decade
'We need to be really clear about this – if these companies were to exploit this new find... that will mean many more people will die because of the impacts of climate change'
Josh Gabbatiss
,
Andy Gregory
Wednesday 30 January 2019 13:35 Comments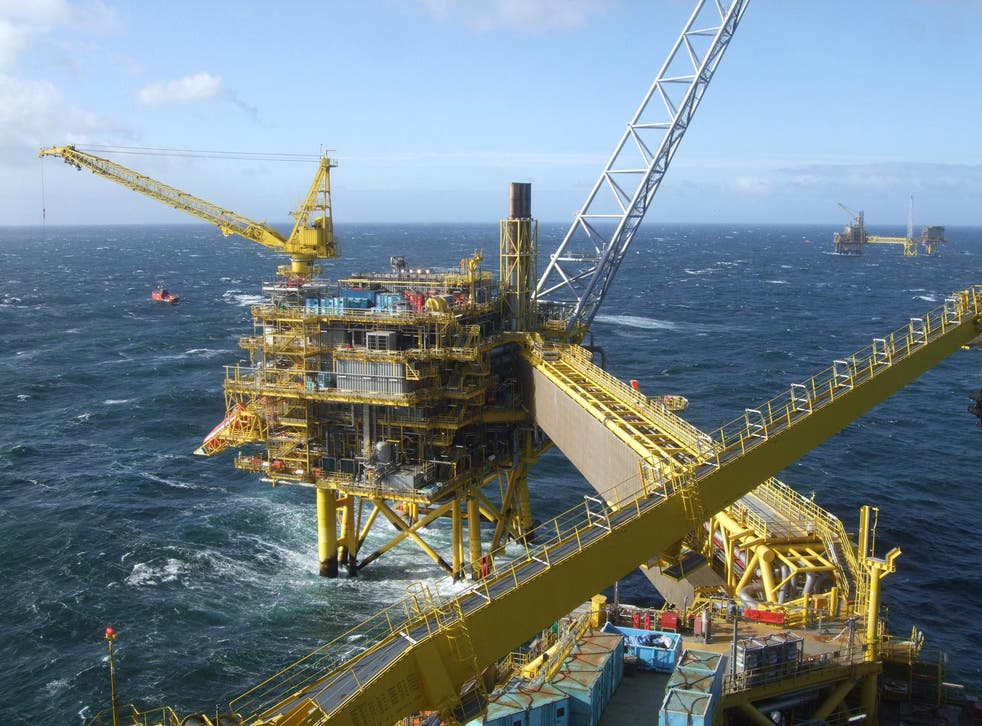 Green campaigners have been left dismayed as a Chinese firm announced the discovery of the biggest gas field in the North Sea for more than a decade.
Drilling revealed gas reserves equivalent to 250 million barrels of oil, which could go a long way to supplying the UK's demand.
But with the nation facing strict targets to cut greenhouse gas emissions under the Paris climate agreement, environmentalists said it was time for an end to fossil fuel extraction in UK waters.
"Scientists couldn't be clearer that, of the fossil fuels we have found, we need to leave 80 per cent in the ground if we have any hope of meeting targets that will deliver on the Paris agreement," said Craig Bennett, CEO of Friends of the Earth.
This comes after a warning by the Intergovernmental Panel on Climate Change that nations around the world, including the UK, must stop burning fossil fuels by around 2030 to avoid catastrophic warming.
"We need to be really clear about this – if these companies were to exploit this new find, and if these fossil fuels were to get burned, that will mean many more people will die because of the impacts of climate change," said Mr Bennett.
Environment news in pictures

Show all 8
China's state-run energy firm China National Offshore Oil Corporation together with French company Total made the announcement concerning the the Glengorm project, east of Aberdeen, on Tuesday.
They now intend to carry out further drilling and testing to assess its viability.
Alongside another discovery by Total in the Glendronach field last year, industry figures said the discovery provided hope for the future of the UK's ailing fossil fuel extraction industry.
"Glengorm is an achievement that demonstrates our capacity to create value in a mature environment thanks to our indepth understanding of the basin," said Kevin McLachlan, senior vice president of exploration at the French firm.
Paul Wheelhouse, Scotland's energy minister, said he welcomed the announcement, which will "help to support security of supply as we make the transition to a low carbon energy system".
As the UK moves to a greener system, many people, including energy minister Claire Perry, have emphasised the importance of gas as a relatively clean fossil fuel during the transition period.
Sir David Attenborough at the United Nations Climate Change Conference in Katowice: Climate change 'our greatest threat'
However, despite warnings about reliance on foreign powers, including Russia, for gas, Mr Bennett said the UK has plenty of gas reserves to last until fossil fuels are phased out for good.
Government advisers have been tasked with setting out a strategy to effectively cut all carbon emissions within 30 years, and campaigners say further development of gas infrastructure is incompatible with such targets.
Scientists have also warned that by using all of its existing reserves the UK will be unable to honour its obligations under the Paris agreement.
Last year, scientists at the Tyndall Centre quantified the carbon budget left for Scotland alone to meet its obligations and found that to avoid even 2C of warming above pre-industrial levels by 2050, 70-80 per cent of current oil and gas reserves should stay in the ground.
"It's absolutely clear, if the UK is to abide by even a weak interpretation of the Paris agreement then it cannot develop this gas in the North Sea," said the study's author Professor Kevin Anderson.
"It needs to be phasing out North Sea development as quickly as possible, obviously with a significant focus on a just transition so those working on it have good employment in industries not generating huge quantities of CO2."
Support free-thinking journalism and attend Independent events
Since the study, BP celebrated a "major milestone" as it hit first oil in the North Sea's Claire Ridge project, from which they believe they could recover 640 million barrels of oil.
Professor Anderson said: "Developing a new reservoir is completely at odds with the Paris agreement and this is a really good bellwether of whether the UK government is genuinely committed to the Paris agreement or whether they just see it as lip service."
He also suggested the Scottish government's claims to be an international leader on climate change are at odds with its attitude towards new developments in the North Sea.
"It's a disgrace that oil and gas exploration is still going ahead in the seas off Scotland," said Caroline Rance, Friends of the Earth's Scotland climate campaigner.
But Mr Wheelhouse said the Scottish government has already introduced a bill setting "the most ambitious climate change targets of any country in the world" with the aim of carbon neutrality by 2050.
"A strong domestic oil and gas industry and supply chain can play a positive role in supporting the low carbon transition," he said.
Register for free to continue reading
Registration is a free and easy way to support our truly independent journalism
By registering, you will also enjoy limited access to Premium articles, exclusive newsletters, commenting, and virtual events with our leading journalists
Already have an account? sign in
Join our new commenting forum
Join thought-provoking conversations, follow other Independent readers and see their replies