Owen Paterson's climate change scepticism 'has blinded him to future flooding risks', claims Labour as winter storm continues to batter Britain
Labour minister claims Environment Secretary has failed to protect UK's defences against storms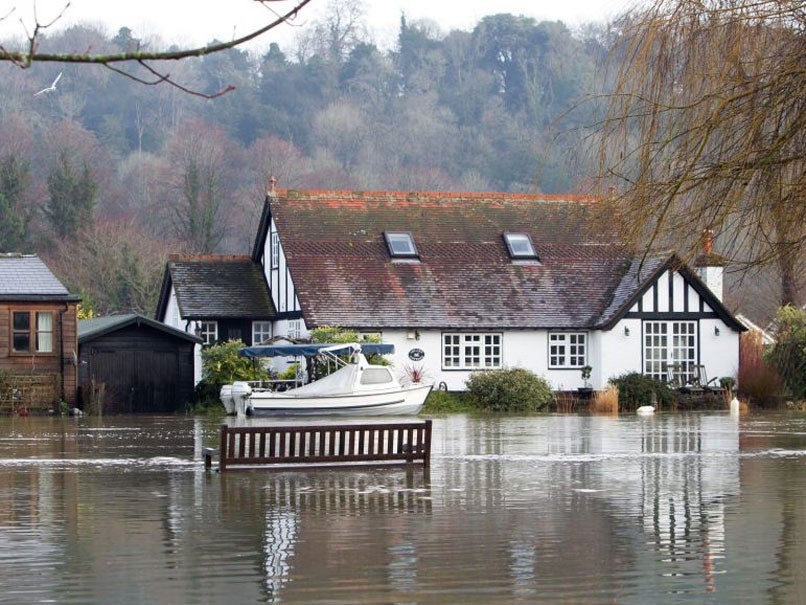 Labour has questioned whether Environment Secretary Owen Paterson's "climate change scepticism" is blinding him to the dangers of flooding in future years, as the worst winter storm for 20 years continued to rage.
The shadow Environment Secretary, Maria Eagle, claimed that Owen Paterson – the Conservative minister who once said Britain would see some benefits from climate change – had failed to protect the budget for flood defences. A source close to Mr Paterson dismissed the comments as "nonsense and a cheap trick", insisting the Government was spending more than ever before on flood defence.
She was speaking after the bad weather claimed another life when a 47-year-old man fell into the River Thames at Oxford while trying to drive his mobility scooter along a flooded path on Saturday evening.
The search continued for missing photography student Harry Martin, 18, who was last seen on Thursday going to take photographs of the stormy seas near his home in Devon. Police said they were " extremely concerned" by his "out of character" disappearance.
The Environment Agency issued one severe flood warning in Dorset - meaning "there is significant risk to life" - and 87 flood warnings where flooding is "expected" across almost every region in England and Wales.
The Met Office issued a "be aware" yellow warning for wind as gusts of up to 70mph are expected on the west and south-west coast of Britain and the east coast of Northern Ireland today.
This will cause "exceptionally high waves", the Met Office predicted. "The public should be aware of the dangers of waves crashing onshore and over-topping shore lines and sea fronts," it said.
In pictures: Storms batter the UK
Show all 35
The Thames, the River Severn and a number of other smaller rivers broke their banks in places on Sunday with the Environment Agency issuing dozens of flood warnings and more than 200 flood alerts.
An agency spokesman warned people to check for further warnings.
Ms Eagle, speaking on Sky News, said that the Government had cut flood defence spending by more than £100 million in real terms. And she suggested Mr Paterson had failed to argue strongly enough in budget negotiations because he does not believe predictions that the UK will be hit by increased storms over the coming decades as the world warms.
"The question is whether Owen Paterson's climate change scepticism — remember, he said that Britain would benefit from climate change — has blinded him to concerns of increasing risk of flooding, and therefore he hasn't protected budgets like he might," she said.
However, Ms Eagle declined to say how much a future Labour government would spend on flood defences, saying she would have to " fight my corner" in Cabinet.
In October, The Independent revealed the Environment Secretary had not had a single briefing on climate change from his chief scientific officer, Sir Ian Boyd, during his then 14 months in office. Mr Paterson is said to be close to leading climate change sceptics such as Matt Ridley, Mr Paterson's brother-in-law, and former chancellor Nigel Lawson.
Leo Hickman, chief adviser on climate change with WWF UK, said that it was "a cause for concern that we have a reported climate sceptic as our Environment Secretary".
"These last few weeks really have been a timely vision of what we might expect of the decades ahead, so we really want our Environment Secretary to be really on top of the game in terms of being well-briefed and forward-looking, not just thinking about the present," he said.
"We are destabilising the climate system by pumping carbon emissions into it. We've got to take a cold-headed, scientific, risk-analysis view of this and think long term. It's not a time for blinkered, closed minds on the science. We want our Environment Secretary and all Cabinet ministers to be totally open to what their scientific advisers are telling them and the science is pretty clear."
A spokeswoman for the Department for Environment, Food and Rural Affairs said the Government was "currently spending over £2.3 billion on tackling the risk of flooding and coastal erosion".
"Together with contributions from other partners, this is more money than ever before," she said.
Forecaster Matt Dobson, of the MeteoGroup, warned the current floods would likely continue for some time as the rain "simply has nowhere to go" with rivers full of water and the ground already saturated.
"It's very unusual to have so many powerful storms come in one after the other in such a short space of time - we haven't seen anything like this since about 1991," he said. "The nasty weather of the last few days is going to continue across the UK, with the combination of high tides and a powerful storm putting coastal areas particularly at risk."
Join our commenting forum
Join thought-provoking conversations, follow other Independent readers and see their replies