Paris climate change talks: Four things you need to know about the upcoming meetings
International tensions remain but there is a new mood of cautious optimism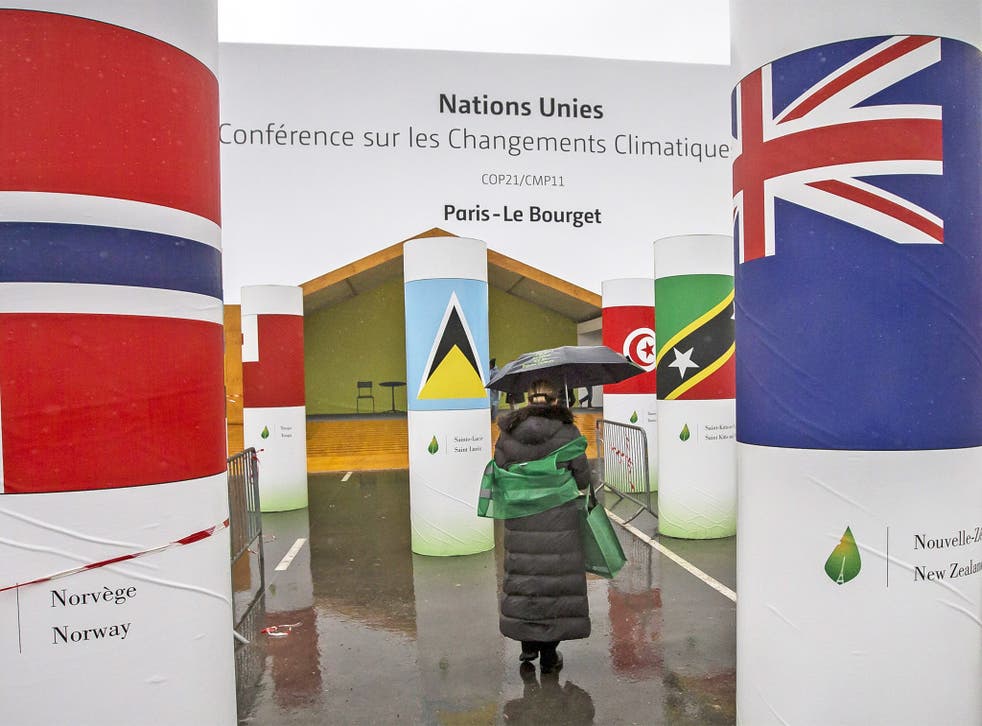 World leaders have the challenge of agreeing how to bring about meaningful action to prevent climate change causing catastrophic damage.
From Monday 30 November to Friday 11 December, professionals from around the world meet in Paris in the hope of reaching an accord on how to do it. More than 160 countries have already said how much they are prepared to cut their carbon emissions by 2030. But these measures put the world on course for a 2.7C rise, which is considered too high.
The hope is that further steps can be taken in Paris to limit the temperature rise to 2C.
What kind of steps?
The UN's climate chief, Christiana Figueres, the EU and many – though not all – countries want any agreement in Paris to include a "ratchet mechanism". This would require countries to revisit and hopefully in-crease their emissions pledges every five years as green technology develops.
There are also hopes a longer-term emissions goal can be established that goes beyond 2030. This might take the form of a pledge to phase out fossil fuels by, say, 2050. Shorter-term actions to fight global warming between 2020 and 2030 – a period with little in the way of climate goals – could also be agreed, while a system to monitor whether countries are meeting their emissions pledges will also need to be worked out.
What are the main sticking points?
The big tension is between the rich countries, which have historically produced most of the CO2 behind global warming and which tend to be less affected by its consequences, and the poorer, developing countries.
Rich countries have pledged to give poor nations $100bn a year by 2020 to help them reduce emissions and adapt to climate change. They are currently giving them just over half that amount. Whether they will get to $100bn – and, more importantly, what happens after 2020 – hangs in the balance.
Developing countries also want "loss and damage" funds, for example to help repair the damage caused by climate change-related events, such as hurricanes. If meaningful steps aren't taken to what has been dubbed the "climate justice" issue, some countries may refuse to sign an agreement and the whole treaty could be jeopardised – an unlikely but not implausible outcome.
Climate change around the world - in pictures

Show all 17
Which countries are most likely to scupper a deal?
Broadly speaking, those that have most to lose from a shift to green energy – the big oil and gas-producing countries such as Russia, Saudi Arabia and Venezuela, for which hydrocarbons provide a huge portion of the national income. And the countries with most to lose from global warming – typically the lowest-lying and the poorest, including the Maldives and the Philippines – because they may feel inclined to stop a deal if they think it is too weak.
What's changed since the Copenhagen summit in 2009?
The 2009 UN climate change summit is generally regarded as a major disappointment that took the wind out of the sails of those fighting global warming. But circumstances are different now. China and the US, the two biggest CO2 producers traditionally hostile to cutting emissions, have dramatically changed their approach. In the meantime, rapid technological advances have brought down the cost of green energy more significantly and faster than anybody expected.
Climate campaigner Sir Jonathon Porritt said: "Six years ago with Copenhagen there was a lot of febrile enthusiasm for what might happen but actually the feel was all wrong. There wasn't any sense that world leaders were going to pull a white low-carbon rabbit out of a hat. Maybe it's crazy to take heart from things feeling different this time but I can't help it."
Hot topic: Ways forward
Oxfam's demands:
* Addressing the lack of finance to help countries to adapt to the effects of global warming
* New contributors of climate finance beyond the traditional rich countries need to step up, including Russia, South Korea, Mexico, Saudi Arabia and Singapore
* Agreeing to a strong review mechanism that commits governments to increase the overall ambition of emissions cuts every five years thereafter so that runaway climate change can be avoided
* Agreeing a long-term goal where rich countries lead the way in phasing out fossil fuels
* Improving the predictability of scaled-up climate finance so developing countries can make adaptation and development plans knowing what funding they can expect
* Announcing new sources of climate finance, such as the EU Emissions Trading Scheme, to stop diverting aid to climate finance budgets
* Provisions for loss and damage, which will ensure that poor people get the support they need where adaptation is no longer possible
Join our new commenting forum
Join thought-provoking conversations, follow other Independent readers and see their replies