Persistent newts put the brake on a Transport Secretary's rail showpiece
The Transport Secretary's plans for a new station have been stymied by Ilkeston's rare amphibians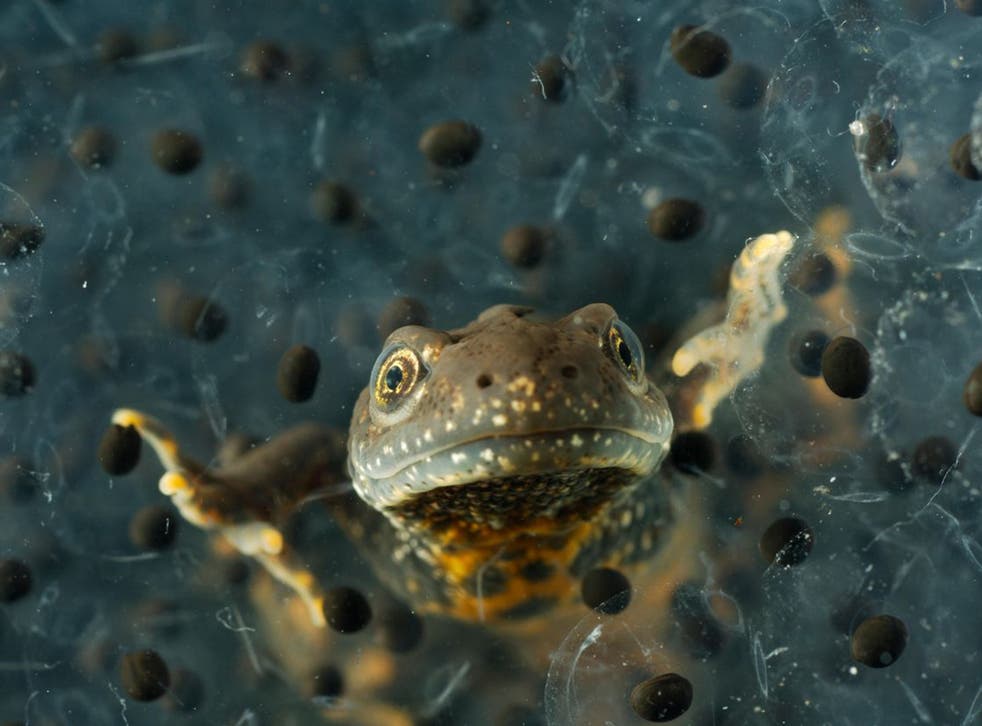 It is a story of David vs Goliath if ever there was one: an 18-month battle between the newt and the minister. And – so far – the newt is winning.
The saga began in 2013 when the Transport Secretary, Patrick McLoughlin, hit on an eye-catching scheme to build a brand new train station in the Derbyshire town of Ilkeston, thought to be the largest conurbation in England not connected to the rail network.
The project, he confidently claimed at the time, was an example of the Government's "determination to transform the railways" and deliver "the biggest programme of rail investment ever".
But, nearly two years on, such rhetoric appears to have been misplaced. Ground has yet to be broken on the new station which should have been open by now.
For Mr McLoughlin has been left powerless in the face of a fearsome 15cm political adversary with (perhaps appropriately) a reptilian appearance.
The difficulties started last summer when work was just about to begin on the £6.5m station. A routine environmental survey revealed that the site was home to a small colony of great-crested newts, an endangered species protected by law. This meant work could not begin until the creatures had been safely trapped and relocated to a new, newt-friendly location.
This was duly done. But, under strict environmental laws, once the newts had been moved, the site had to be monitored to make sure there were no stray newts left behind. Even if one newt were found, the process would have to start from the beginning. And that's what happened.
Despite clearing the original reptiles, new newts kept on popping up all over the site – perhaps attracted by the newt-free zone.
And worse news was to follow. Having failed to keep the site newt-free for the statutory five-day period, Ilkeston then suffered from an early frost – meaning the newts might have begun hibernating for the winter.
Stony-faced officials had to troop into Mr McLoughlin's Westminster office to inform him that the whole scheme had to be put on hold for the winter – with monitoring only allowed to begin again this spring, by which time it was quite likely that even more newts would have moved in. The earliest that the station can now open is 2016 – more than a year later than planned. The minister was not best pleased.
Natural England, the government body charged with protecting the newt, stated: "In order to establish that all the newts have been successfully captured in the site, it is necessary to continue trapping until there have been five consecutive days with no newts captured.
"In this case, no more than three clear trapping days were achieved before frost arrived, increasing the likelihood of newts going into underground hibernation and therefore making it impossible to capture them until the spring.
"Clearly, the timings of this operation have worked against Network Rail. Natural England has worked closely with it during the process to ensure that it can carry out it plans within European environmental laws."
Register for free to continue reading
Registration is a free and easy way to support our truly independent journalism
By registering, you will also enjoy limited access to Premium articles, exclusive newsletters, commenting, and virtual events with our leading journalists
Already have an account? sign in
Register for free to continue reading
Registration is a free and easy way to support our truly independent journalism
By registering, you will also enjoy limited access to Premium articles, exclusive newsletters, commenting, and virtual events with our leading journalists
Already have an account? sign in
Join our new commenting forum
Join thought-provoking conversations, follow other Independent readers and see their replies