New chemicals expected to replace banned pesticides also pose significant threat to bees
Sulfoximine-based treatments currently being considered for use in UK reduce bumblebee colony size and number of male offspring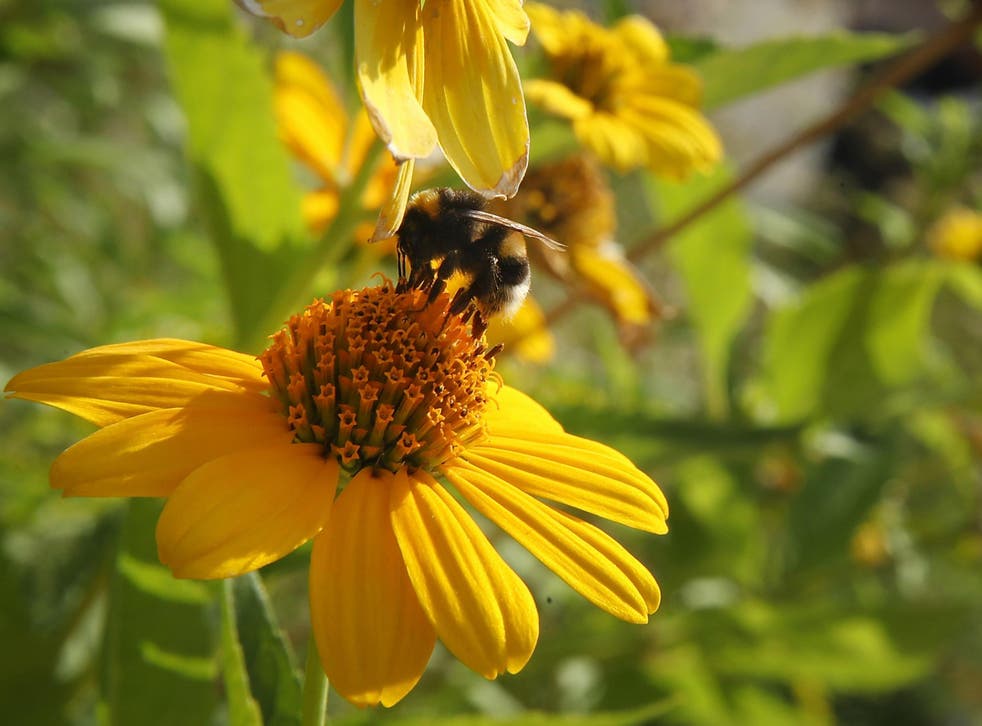 New chemicals touted as the next generation of pesticides appear to have disruptive effects on bee colonies.
The finding comes after a wave of opposition to bee-harming chemicals led to some of the biggest insecticides being banned throughout the EU in April.
In a new study, recently introduced sulfoximine-based treatments were found to reduce both the overall size of bumblebee colonies and the number of male offspring they produced.
These substances are already permitted in 47 countries around the world, and they are currently being considered for use in the UK.
Modern intensive farming relies on huge quantities of pesticides being pumped onto crops, but their future is unclear due to controversy surrounding their knock-on effects on wildlife.
The EU-wide ban on most uses of neonicotinoid pesticides was generally seen as good news for Europe's bees, but such restrictions will only help if the chemicals that replace them are less harmful.
"Neonicotinoids are the most commonly used insecticide in the world, but the evolution of resistance by pests, as well as bans and restrictions on their usage has resulted in a demand for alternative pesticides," explains Harry Siviter, a PhD student at Royal Holloway University of London, who led the study.
"Sulfoximine-based insecticides are a likely successor and are being registered for use globally."
These chemicals are effective against pests that have developed resistance to neonicotinoids, and have already been approved in China, Canada and Australia, as well as five EU nations.
Science News in Pictures

Show all 20
However, the mechanisms by which sulfoximines work do not differ significantly from neonicotinoids, so Mr Siviter and his colleagues wanted to investigate their effects on bee colonies.
They found in colonies exposed to sulfoxaflor – the first branded sulfoximine-based insecticide – the number of sexual offspring produced fell by over a half. These results were published in the journal Nature.
While the chemical does not directly kill bees, it will likely trigger harmful long-term effects in colonies as their health depends on having a complete workforce.
As the product is yet to widely applied to the world's crops the study is preemptive, but scientists said it ought to serve as a warning.
Professor Nigel Raine, a pollinator conservation expert at the University of Guelph who was not involved in the study said the findings mean concerns about bees and insecticides "should not be limited to neonicotinoids".
"This study suggests that exposure to sulfoximine-insecticides, like neonicotinoids, can have substantial impacts on both the rate at which bumblebee colonies grow, and their ability to reproduce effectively.
"Such pesticide impacts on wild bees could have serious ramifications for the pollination of many crops and wild plants."
Dr Richard Gill, an insect ecologist at Imperial College London, agreed that the results were cause for concern, although more work would be required to assess the extent of sulfoxaflor's effects.
With licensing currently in progress or granted for 12 European nations, ClientEarth chemicals lawyer Apolline Roger said "the EU must consider emerging scientific evidence like this and take urgent action when necessary."
"Any substance which could undermine the current ban on bee-harming pesticides – and have serious implications for the future of pollinators, food production and people's health – should be banned."
The authors of the study said there was a need to take "sub-lethal" consequences of new pesticides for pollinators into account when assessing their risk.
"We need to know much more about what levels of emerging insecticides wild bees will be exposed to in the field," said Professor Mark Brown, who co-authored the study.
"Only with realistic and publicly available exposure data for a range of crops can we determine the true risk of these insecticides to wild bees and other important pollinators."
Join our new commenting forum
Join thought-provoking conversations, follow other Independent readers and see their replies