Pesticides even more harmful to bees than previously thought, according to new study
Low nutrient diets resulting from intensive agriculture make insects even more vulnerable to the harmful effects of neonicotinoid chemicals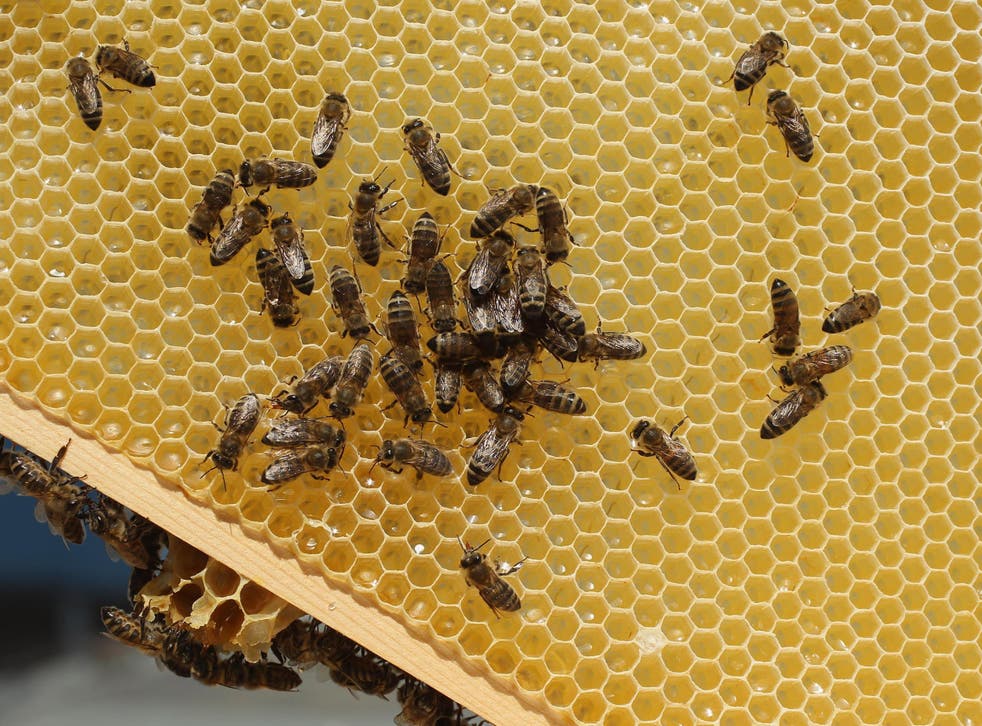 Pesticide use is causing even more damage to honey bee populations than previously thought, according to a new study.
Exposure to agricultural pesticides called "neonicotinoids" has been linked to "large-scale population extinctions" in bee populations.
However, pesticides are not the only pressures on bee populations coming from agriculture.
Intensive agriculture is known to decrease the quality of nutrients, in the form of sugars, available in the nectar and pollen that bees eat.
Now scientists have found that when bees eat a low sugar diet, they are 50 per cent more likely to die as a result of neonicotinoid exposure.
"These findings should cause us to rethink our current pesticide risk assessment procedures, which, based upon our findings, may underestimate the toxic effects of pesticides on bees," said Dr Simone Tosi, a University of California San Diego researcher who co-authored the study.
Neonicotinoid pesticides have received attention in recent months, as the threat they pose to both human and insect health is the subject of policy debates.
In November, Environment Secretary Michael Gove vowed to support a ban on these pesticides in agriculture, stating the evidence of risk to insects was "greater than previously understood".
"We tested the effects of different neonicotinoid pesticides because of a growing concern and evidence about negative effects of these pesticides on pollinators," said Dr Tosi.
"Our results provide the first demonstration that these stressors can synergistically interact and cause significant harm to animal survival."
Crucially, the combination of the low nutrition diet and exposure to pesticides was more than the sum of its parts when it came to impacting bee survival.
To reach these conclusions, the scientists raised bee colonies and fed them diets containing different levels of nutrients and pesticides, then measured the effects of these treatments on bee survival.
Their results were published in the journal Proceedings of the Royal Society B.
Neonicotinoids are known to impair bees' learning and ability to forage, meaning exposure to them could make it harder to find food in the first place.
However, the experiments by Dr Tosi and his team found that low nutrient diets combined with pesticide exposure actually had a more lethal effect than starvation.
Bees fed pure water with no nutrients, but also no pesticides, survived longer than bees fed a diet of low nutritional value with pesticides in it.
"This suggests that poor nutrition makes honeybees more vulnerable to the effects of neonicotinoids," said Dr Christopher Connolly, a neurobiologist at the University of Dundee who was not involved with the study.
"Together, with previous studies, interactions between the many threats to bees appear to increase the risk of pesticide use to our beneficial insects."
Join our new commenting forum
Join thought-provoking conversations, follow other Independent readers and see their replies