Pin-och noir or Sco-Vignon blanc? Say aye to Scottish wine
Warming climate means the first Scottish wine grapes are set for harvest this September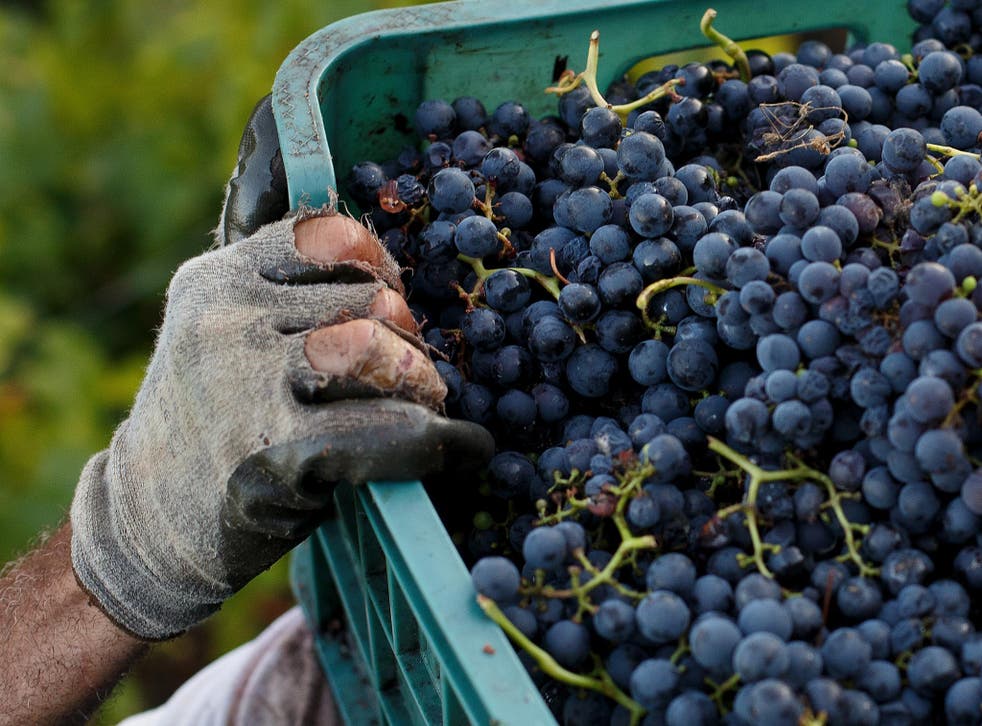 Asked to name the wine most associated with Scotland, a cynic might claim Buckfast, the 15 per cent alcohol drink made by well meaning monks hundreds of miles away in Devon, which north of border has earned the moniker "commotion lotion" for its habit of getting those who drink it involved in fights.
But not for much longer. For in September, as Scots prepare to cast their votes in the independence referendum, the country's first wine grapes are set to be harvested from a sloping vineyard in Upper Largo on the south coast of Fife, just across the Firth of Forth from Edinburgh.
The vines were planted by Christopher Trotter, a chef and hotelier from Aberdeen who trained at London's Savoy Hotel and later settled in Fife with his wife Caroline. He was acting on the advice of one of his farming friends, who had confidently predicted that due to climate change, Fife would "have the climate of the Loire Valley" within 20 years and urged him to "plant your Sauvignon Blanc now".
With the help of another friend who "had a bit of money", Mr Trotter was able to buy 100 vines from Ryedale Vineyards in North Yorkshire, which he planted three years ago. Their roots are now fully developed and with the right amount of sunshine, the grapes should be ready for harvesting in September.
"We have a south-facing, sloped bit of land which overlooks the Firth of Forth, the sunshine is fantastic, and St Andrews, which is 15 minutes' from us, has some of the highest sunshine [levels] in the United Kingdom, never mind Scotland," Mr Trotter told The Independent. "So with all those things put together, I just thought: 'Well, it's worth a go'."
The situation of the vineyard is crucial: no hills to block out the precious sunlight, good drainage to cope with the inevitable rain and little haar, the sea fog common on Scotland's eastern coast. But Mr Trotter's main advantage has been Britain's rapidly warming climate: last July, temperatures averaged 21.4C in Fife, the second highest on record.
"It's a fact that the Champagne growers are nervous that it's getting too hot in Champagne – a lot of Champagne houses are buying properties in England," he said. "The winemaking industry in England was the laughing stock of the world 30 years ago, and now they're making some of the best wines in the world. That in itself is good enough for me to think it's all moving further north."
Mr Trotter is growing three grape varieties: Solaris, Siegerrebe and Rondo. All were chosen for their early ripening properties, meaning they can be harvested in September before Scotland's October wind and frosts begin to bite. Of the three, the Solaris variety from Germany has performed best and, Mr Trotter hopes, will provide a medium-dry white wine ready to be bottled and sold by next summer.
If it tastes good enough, he aims to attract a wealthy investor willing to cover the costs of planting 5,000 vines on the 2.4 hectare site, which could potentially produce up to 15,000 bottles a year.
But while Mr Trotter is looking forward to pouring his first glass of "Chateau Largo", as he has dubbed it, scientists pointed out that the vineyard's very existence should be viewed as less of an agricultural triumph and more of an illustration of the rapid and irreversible effects of climate change.
Andy Challinor, Professor of Climate Impacts at the University of Leeds and a food security expert, said that while increasingly northerly vineyards were "consistent with what we'd expect with global warming", "the overall impact … on agriculture remains negative".
Join our new commenting forum
Join thought-provoking conversations, follow other Independent readers and see their replies