Plastic bag tax: It's here, and it's green, but retailers will decide where the money goes
The Government? No. Local communities? No again. It's the retailers themselves which will choose the beneficiaries – and how much of the millions raised to keep for themselves
Jane Merrick
Political Editor
Saturday 03 October 2015 23:41 Comments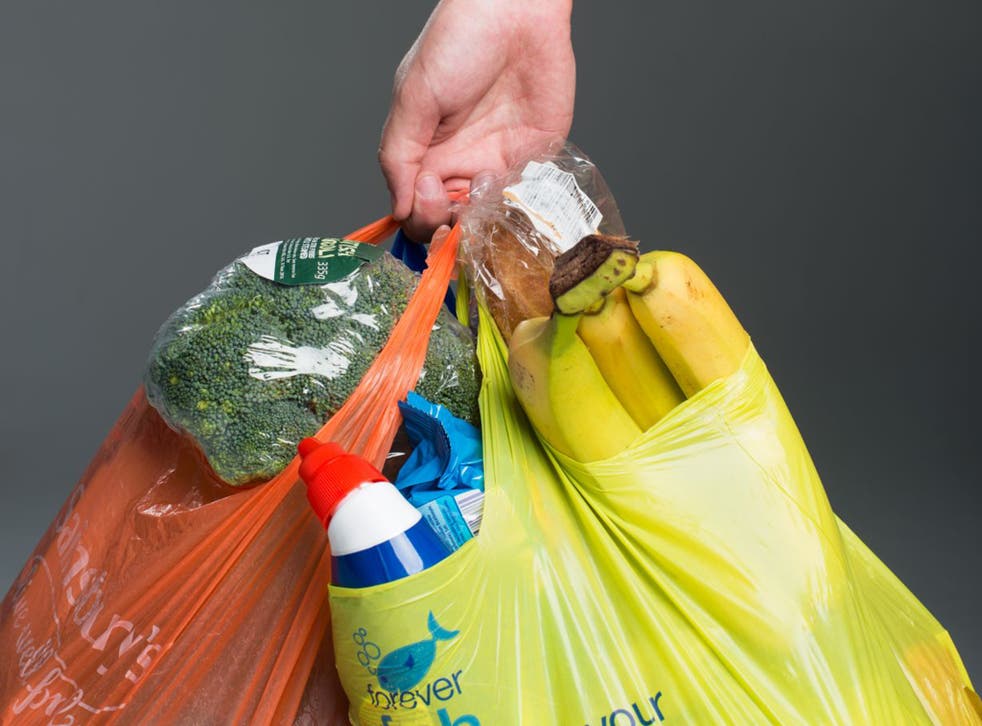 Six out of 10 people think that money raised from the new plastic bag charge, which comes into effect in England tomorrow, should be used by local communities to spend on environmental causes, an exclusive poll for The Independent on Sunday reveals today.
The vast majority of people do not realise that supermarkets and retailers have the power to keep as much of the money raised from the 5p charge on carrier bags as they like, the YouGov poll shows. And despite government guidance that the money raised should be donated to good causes, it has emerged that the legislation that introduced the 5p charge does not state that the money should be donated to charity at all, and there is no legal requirement on stores to hand over the cash raised. Retailers can deduct costs for administration and staff training from the money they collect, which could further undermine trust in the charge.
The survey figures show that consumers risk being misled in the confusion of the introduction of the policy, with 16 per cent wrongly believing that the 5p charge is a tax collected by the Government. Some 19 per cent wrongly think the Government will use the money for environmental causes, while 36 per cent don't know where the funds will go. Only 18 per cent correctly believe that the money will be spent on environmental causes decided by the supermarkets and retailers.
Only 14 per cent think it is right that retailers should decide which environmental causes the cash is spent on. Overwhelmingly, 59 per cent want local people to decide which green charities will benefit from the money raised, while only 15 per cent think it should be up to the Government to choose.
The 5p charge applies to single-use plastic carrier bags at shops and retailers that employ more than 250 people. But there are exemptions for certain goods, such as fresh meat and fish. In Wales, where a 5p charge was introduced in 2011, plastic-bag use has fallen by 70 per cent, while similar reductions have taken place in Scotland and Northern Ireland. However, concerns were raised last night by the head of a grassroots environmental social enterprise, who said that local communities should have a say over where the money would be spent.
Chris Gourlay, the founder and chief executive of civic crowdfunding platform Spacehive, which has raised £3.5m for grassroots projects, said: "Millions of pounds will be raised without the public having a clear idea of where the money will go and who will benefit.
"The legislation doesn't even mention good causes – so who knows where the money will end up? Local communities across the country are best placed to decide how the money is spent. Whether you want to transform a playground, bring an old building back to life or create something completely new, by using civic crowdfunding platforms such as Spacehive, the supermarkets and the Government can make sure there is an easy, democratic and transparent way to give people their say."
In pictures: Plastic pollution around the world

Show all 10
However, Friends of the Earth said the main purpose of the 5p charge, to reduce plastic-bag use, was the priority. Sam Lowe, resource-use campaigner at Friends of the Earth, said: "The main benefit of a 5p plastic bag charge is that it will reduce waste through cutting down on the amount of one-use bags created, and change how shoppers and stores view how they use plastic bags.
"Any money raised from the charge is an added bonus that could help good causes. It would be great if retailers do put the money into environmental causes to mitigate their resource impact. However, we wouldn't want to see the money restricted just to environmental charities." Mr Lowe urged the Government to expand the charge to smaller businesses because the current policy "sends mixed messages to the public, to just apply the charge to big business". He added: "In Wales, 90 per cent of businesses large and small have said their 5p charge hasn't had an impact on trade.
"The Government should also back progressive policy on waste at EU level to make a start on reducing our waste mountain."
Tesco was offering a limited number of free "Bags for Life" last week to help shoppers prepare for the change, adding that it expected the 5p charge to be the "biggest-ever single source of charity funding raised from customers, with tens of millions to be raised".
The supermarket giant has also revamped the design of its single-use carrier bags to make them stronger and sturdier, claiming that fewer would be needed for each shopping trip. Tesco also said it would use the money raised to pay for a large number of local environmental improvement projects in communities right across the UK, but did not clarify how much would be used for administration costs. Shoppers will get the chance to choose which good causes receive the money, with the environmental improvement charity Groundwork handling the funds.
Rebecca Shelley, group communications director for Tesco, said: "We want to do everything we can to help our customers minimise the impact of the charge as well as their impact on the environment, by helping them recycle and re-use their bags. We're also going to work together with our customers to make sure the millions that will be raised from the bag charge goes towards making a real difference for our local communities."
A spokesman for Marks & Spencer, which has charged 5p for its standard food carrier bags since 2007, said the money raised would be split, with half going to local charities and community causes chosen by individual stores, and half to various national charities, including Macmillan Cancer Support, Breast Cancer Now and the Marine Conservation Society.
A Waitrose spokesperson said: "Every penny raised from the sale of carrier bags will go into a new community and environmental fund – with no deduction for costs. Worthwhile causes will be decided each year."
Jonathan Isaby, chief executive of the TaxPayers' Alliance, said: "The plastic bag charge is government interventionism at its very worst because it both adds to the cost of living for consumers and creates problems for retailers. There are so many exemptions to the charge that the policy will cause considerable confusion, while the poor definition of the retailer's obligations will leave big question marks as to where the money raised will actually go.
Exceptions to the new rule
Any retailer in England with 250 or more employees must charge 5p for single-use bags from tomorrow. Smaller firms can introduce voluntary charges. The charge is not a tax, meaning the money does not go to the government.
The charge applies to plastic bags with handles that have not been used before. Exemptions include bags for uncooked fish and fish products, uncooked meat and poultry, unwrapped food such as chips, unwrapped loose seeds, flowers, bulbs or goods contaminated by soil, such as potatoes or plants. Also exempt are unwrapped blades including axes, knives and razor blades, prescription medicine and goldfish. Bags at airports or on trains and ships are exempt, as are those used to give away promotional material or for a service such as dry cleaning or shoe repairs. Returnable multiple use bags, known as bags for life, are also exempt. Any bag that contains an exempt item but also, for example, a box of cornflakes, is chargeable.
Biodegradable bags are not exempt because when they break down they can still cause damage. Defra has commissioned a review into whether a genuinely bio-degradable bag can be developed.
Register for free to continue reading
Registration is a free and easy way to support our truly independent journalism
By registering, you will also enjoy limited access to Premium articles, exclusive newsletters, commenting, and virtual events with our leading journalists
Already have an account? sign in
Register for free to continue reading
Registration is a free and easy way to support our truly independent journalism
By registering, you will also enjoy limited access to Premium articles, exclusive newsletters, commenting, and virtual events with our leading journalists
Already have an account? sign in
Join our new commenting forum
Join thought-provoking conversations, follow other Independent readers and see their replies