Plastic in the sea smells like food to fish, finds new study
Anchovies are falling into an 'evolutionary trap' created by vast amount of plastic waste being dumped in the sea
Ian Johnston
Environment Correspondent
Wednesday 16 August 2017 00:14 Comments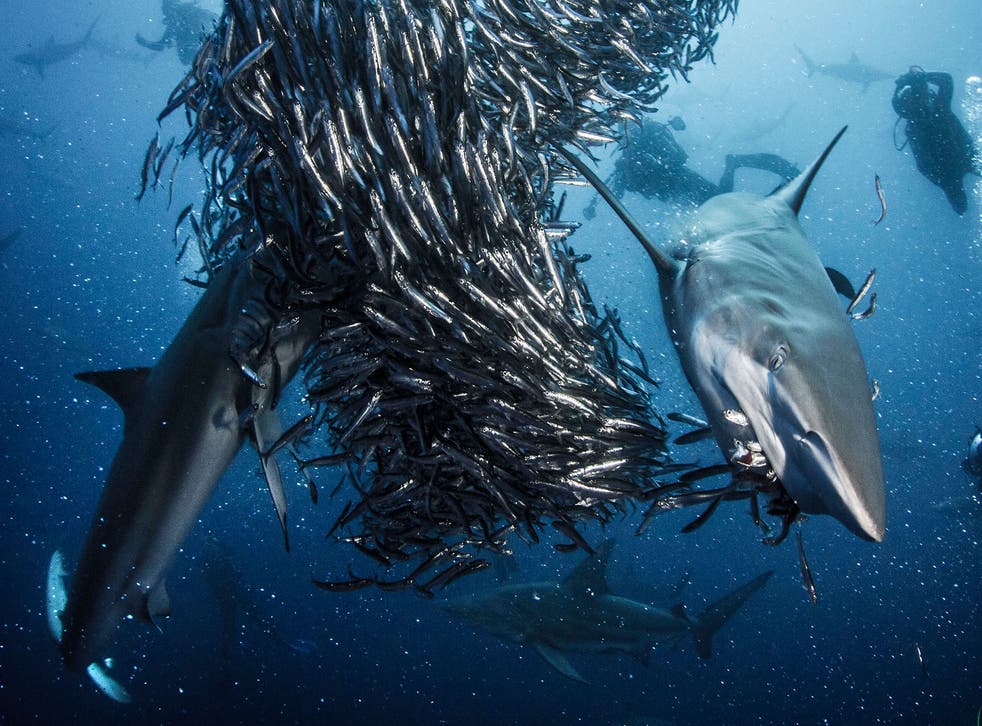 Plastic starts to smell like food to fish after it has been in the sea, according to research that sheds new light on how the artificial, toxic substance is getting into the food chain.
Concern is growing that plastic is accumulating in the tissues of marine life as it gradually breaks down in the sea until it is small enough to pass through the gut wall into the bloodstream and even muscle tissue.
Recent research estimated that 6.3 billion tonnes of plastic waste has been created since the 1950s, when its use started to become mainstream. Most of this has simply been thrown away in what the scientists described as an "uncontrolled experiment on a global scale".
More than 50 species of fish are known to eat plastic and 700 marine species are exposed to it.
In pictures: Plastic pollution around the world

Show all 10
In a study reported in the leading journal Science last year, baby perch were found to actively prefer to eat plastic over the plankton they are supposed to eat.
The new research, which tested the responses of anchovies, found a significant reason as to why plastic was so attractive.
The scientists tested the responses of wild-caught fish to odour solutions made from plastic that had been left for three weeks in the sea compared to "clean plastic".
The biofouled, but not the clean, plastic was found to "stimulate a behavioural response consistent with foraging in captive anchovy schools".
"This is the first behavioural evidence that plastic debris may be chemically attractive to marine consumers," the researchers wrote in the journal Proceedings of the Royal Society B: Biological Sciences.
"These chemical cues may lure consumers, such as anchovy, into regions of high plastic density and activate foraging behaviours, thus making it difficult to ignore or reject plastic items as potential prey."
The researchers, from University of California, Davis, and San Francisco's Aquarium of the Bay, added that plastic accumulated chemicals that were used by some fish, seabirds and sea turtles to find food.
"It is therefore not surprising that [these species] … are frequent consumers of plastic debris," they added.
"In addition, plastic debris has visual cues (eg its colour and shape) that may resemble prey; visual and chemical cues associated with plastic debris likely interact synergistically, exacerbating this evolutionary trap."
Given plastic's attractiveness to marine life eaten by humans, there is concern that it could also start to become a problem for our species. The researchers recommended further research into the negative effects of plastic in the marine food chain, such as increased risk of predation.
"Humans are at the top of these food chains; therefore, results of such future studies may have important consequences for human health," they said.
In addition to attracting smells associated with food, plastic also accumulates toxic chemicals in the natural environment. Other scientists have concluded this effect is so pronounced that plastic itself should be treated as a toxic substance once it gets into the environment.
In the study of baby perch, their preference for plastic over actual food stunted their growth and appeared to make them unable to smell the presence of pikes, one of their main predators. The plastic-stuffed baby perch were found to be eaten four times more quickly by a pike than others fed on a normal diet.
Commenting on the anchovy research, Professor Richard Thompson, a marine biologist at Plymouth University who has studied plastic pollution of the sea, said some 700 species of marine life had been found to come into contact with plastic, including commercially important ones.
"I think that shows the prevalence of plastic debris and a lot of these encounters can result in harm and, in some cases, death," he said.
He suggested the worst affected species might not be filter feeders that take in material randomly because they are used to getting rid of unwanted material. Instead, species that are selective feeders, whose senses are being fooled by the smell or appearance of plastic, might be more at risk.
Professor Thomson said the level of plastic pollution in seafood was not yet high enough to warrant concern about significant effects on human health.
But he added: "If we were having this conversation in 10 or 20 years' time, I might be more concerned."
Register for free to continue reading
Registration is a free and easy way to support our truly independent journalism
By registering, you will also enjoy limited access to Premium articles, exclusive newsletters, commenting, and virtual events with our leading journalists
Already have an account? sign in
Join our new commenting forum
Join thought-provoking conversations, follow other Independent readers and see their replies