Poland is returning 1,000 tons of illegal waste shipped over from UK
Three firms face criminal investigation after shipments were incorrectly labelled as plastic recycling, raising concerns about exports of British waste abroad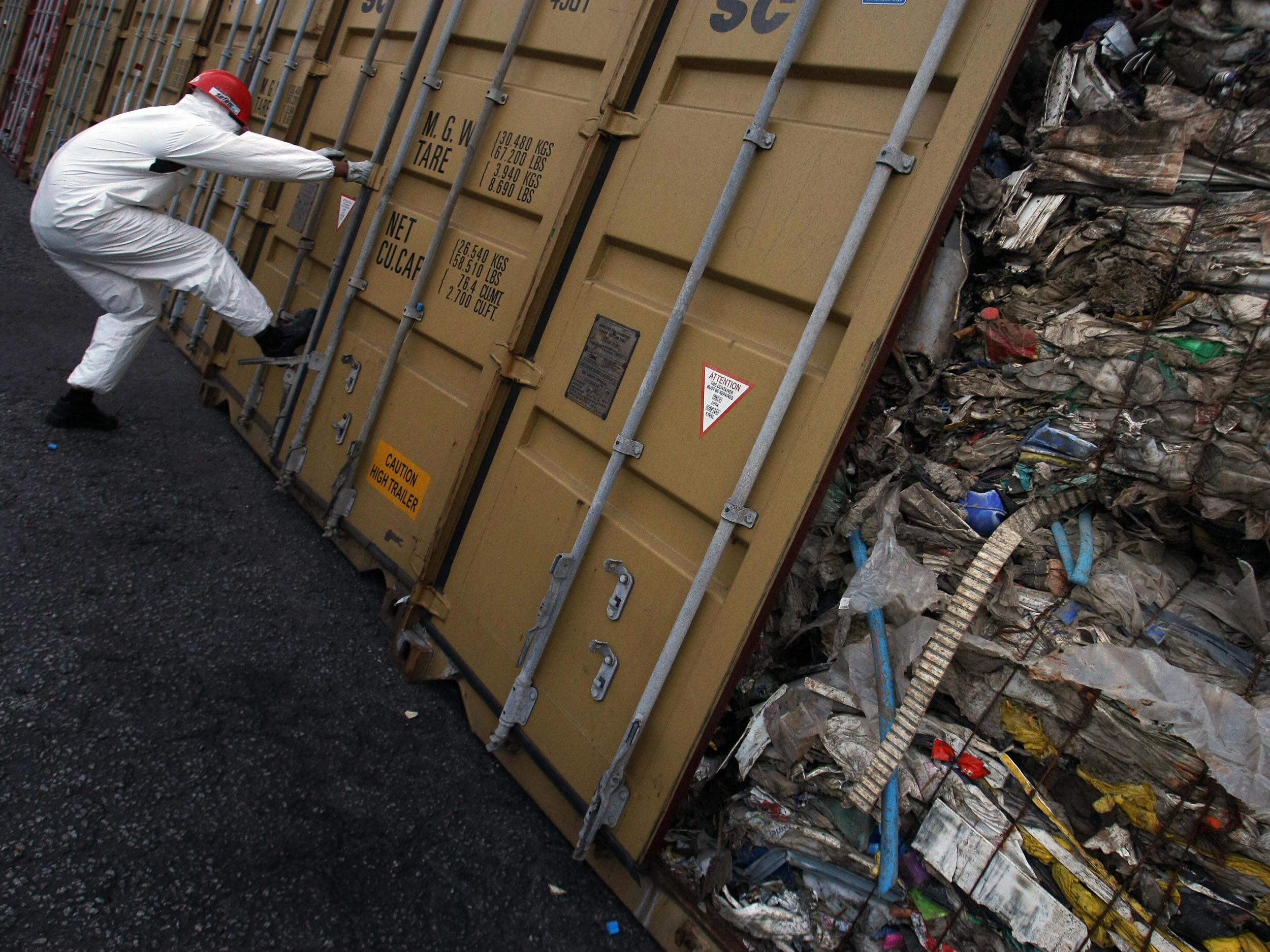 An enormous shipment of waste that was illegally shipped to Poland from the UK disguised as plastic is being sent back to where it came from.
The UK Environment Agency (EA) has confirmed they are working with Polish authorities to return the 1,000 tons of boxes, tins, detergent packaging and engine oil to British shores.
A criminal investigation has been launched into three firms after the illegal waste marked as plastic recycling was intercepted at the Polish port of Gdynia.
Waste and recycling trade body the Environmental Services Association (ESA) warned firms and councils to watch out for waste crime.
"If it's correct as alleged in the press about the involvement of organised criminals then that is very serious indeed and local authorities and businesses need to be vigilant and make sure they understand their duty of care requirements," Jakob Rindegren, recycling policy adviser for the ESA, told Unearthed, Greenpeace's investigative journalism platform.
The news comes amid concerns raised by the National Audit Office that "recycled" packaging material sent overseas could really be dumped or sent to landfill due to inadequate controls to prevent mismanagement.
Previously EA head Sir James Bevan has warned waste crime is the "new narcotics", costing the country £1bn a year, as authorities have not yet woken up to the scale of the problem.
Since China decided to ban imports of "foreign garbage", the UK has had to desperately seek alternative destinations for the massive quantities of waste it currently exports.
Ways to reduce your single-use plastic
Show all 6
Thailand and Malaysia introduced their own temporary bans on plastic imports, and Polish prime minister Mateusz Morawiecki recently announced a crackdown after toxic fires broke out at waste dumps.
"More and more countries are saying 'no, thank you' to Britain's plastic waste. This should be a wakeup call that "out of sight, out of mind" is not a viable solution to deal with the overproduction of throwaway plastic," said Greenpeace senior oceans campaigner Louise Edge.
Many nations currently rely on exporting a huge proportion of their plastic waste.
There are concerns that this situation will be exacerbated if an amendment to the Basel convention on the shipment of waste materials is approved, reclassifying plastic as "requiring special consideration" and restricting US exports to many Asian countries.
Mr Rindegren said it was difficult to predict what impact this would have in the UK.
However, industry experts have previously warned the sector would continue "lurching from crisis to crisis" until new British recycling infrastructure is developed.
Plastic pollution has been high on the environmental agenda in recent months, but campaigners warn that many companies have still not made sufficient changes to the amount of single-use plastic they put into circulation.
"It's high time big consumer brands stopped passing the buck and took some responsibility for the plastic crisis they helped create," said Ms Edge.
Join our commenting forum
Join thought-provoking conversations, follow other Independent readers and see their replies