Million Dollar Vegan: Genesis Butler hopes to urge the Pope to try going vegan for Lent
Pope offered $1m to go vegan for Lent
Pontiff offered cash to give to charity of his choice if he adopts plant-based diet for six weeks 
The Pope is being offered $1m (£764,000) for a charity of his choice if he goes vegan for Lent.
Pope Francis is being urged to give up meat and dairy for the six weeks before Easter by experts who say the move is the single biggest way to cut a person's carbon footprint.
A 12-year-old girl who is the youngest person ever to give a TEDx talk has asked to meet the Pontiff to promote a plant-based diet for him to set an example of being environmentally friendly.
In his second encyclical in 2015, the head of the Catholic church revealed how worried he was about the "grave implications" of climate change such as drinking water availability, biodiversity and melting ice caps.
The cash offer is part of an international campaign, backed by Sir Paul McCartney, highlighting how animal agriculture "has a greater impact on global warming than the fuel emissions from the entire global transport sector combined, is a leading driver of deforestation and biodiversity loss, and causes suffering to billions of farmed animals".
Million Dollar Vegan, the group behind the project, is calling on Pope Francis to try being vegan for Lent to "help fight climate change with diet change".
Pope Francis gives life advice: in pictures

Show all 10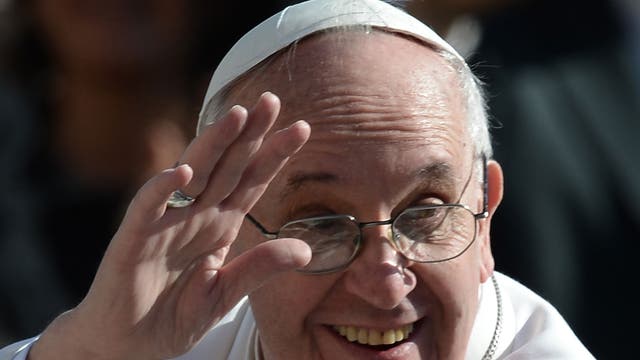 If he agrees, the $1m will come from the Blue Horizon International Foundation, a US-based non-profit organisation that aims for "an animal-free global food system".
The group hopes the Pope's followers will also change their diet for Lent, saying that if all Catholics took part, it would be equivalent to the Philippines not emitting carbon dioxide for a year.
Environmental campaigner Genesis Butler, 12, has written to the Pope saying animal farming contributes to wildlife extinctions and world hunger through inefficient land use.
The letter, printed today in newspapers in 15 countries and also backed by other celebrities, says feeding animals on crops that humans could eat is wasteful.
It is backed by a petition asking the Pope to try being vegan for Lent.
Organisers say farming animals creates more emissions than global transport.
Million Dollar Vegan chief executive Matthew Glover said: "We are launching this deliberately bold, audacious campaign to jolt our world leaders from their complacency.
"For too long they have failed to act on evidence of the damage caused to people and the planet by animal agriculture.
"Worse, many have defended and subsidised that very industry.
"We are thankful that Pope Francis has spoken out on these issues."
Last year the UN said urgent and unprecedented changes were needed in the next 12 years to avert a climate change catastrophe.
Oxford researchers also warned that a massive reduction in the quantity of meat eaten and huge changes to farming techniques were essential to guarantee the planet's ability to support humanity.
Join our new commenting forum
Join thought-provoking conversations, follow other Independent readers and see their replies