Raising palm oil prices could help to save endangered tigers and orangutans, study claims
If money raised from a price premium on palm oil went towards conservation, the habitats of some of the world's rarest species could be protected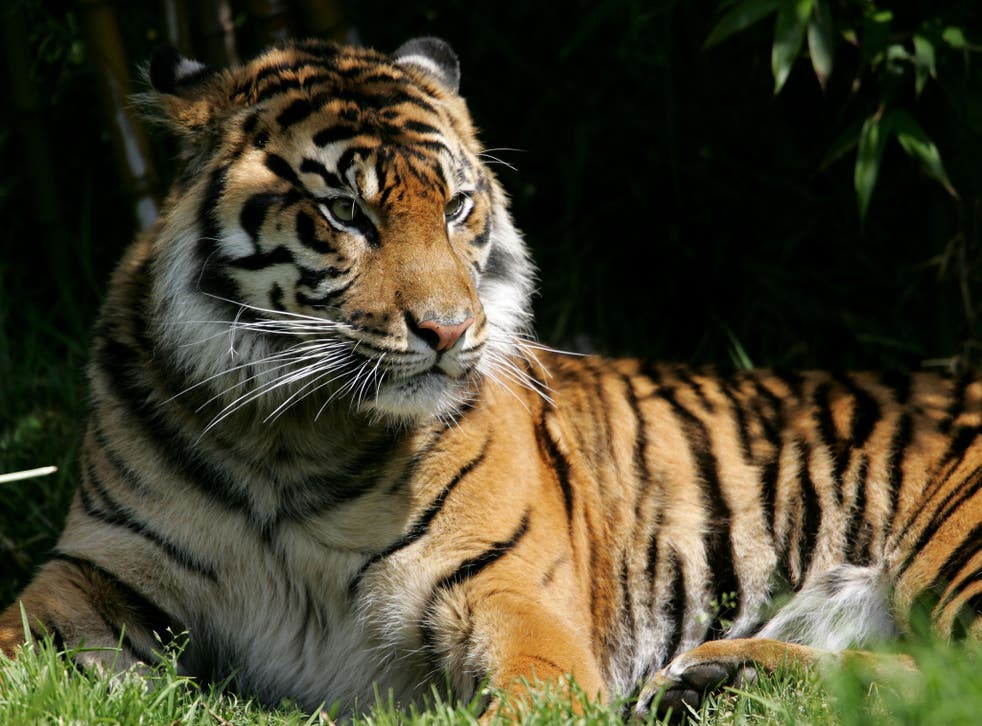 Supermarkets could help to save rare endangered animals such as the Sumatran tiger and the orangutan by increasing the price of products containing palm oil providing the money raised went to forest conservation, a study has found.
Placing a price premium on items containing palm oil ingredients – which amount to about half of all supermarket products – would have a significant effect on protecting the remaining forests that have not yet been completely destroyed by palm oil plantations, scientists said.
Vast areas of tropical forests have already been cleared to make room for palm-oil plantations, which are one of the most profitable cash crops for developing countries. However, they are a major threat to the survival of some of the world's rarest species such as the Sumatran elephant and the Javan rhino.
The study found that consumers would be prepared to pay between 15 and 56 per cent extra for products containing palm oil if they knew that it would help to protect the natural habitats of threatened animals and plants in Indonesia and Africa, where palm plantations have spread rapidly over the past 20 years.
Scientists found in research on supermarket shoppers and a palm-oil company in Sumatra, Indonesia, that the higher prices people were will willing to pay for "conservation grade" palm oil more than made up for the extra costs the company incurred when conserving nearby forests.
"International governments have failed to stem the environmental damage caused by palm oil plantations. We wanted to find a new way of halting biodiversity loss that actually becomes profitable for private companies," said Professor Ian Bateman of the University of East Anglia, one of the study's lead authors.
"Consumers' willingness to pay for sustainably grown palm oil has the potential to incentivise private producers enough to engage in conservation activities. This would support Red List species," Professor Bateman said.
Palm oil is found in about half of the products sold in supermarket shelves. The cheap vegetable oil s now included in many processed foods, such as margarine and cakes, as well as cosmetic items such as lipstick, shampoo and soap – as well as being used as a biofuel.
The study, published in the Proceedings of the National Academy of Sciences, surveyed palm oil plantations, nurseries, forests and cleared land in Sumatra where large areas of virgin forests have been replaced by palm plantations because of the high profitability of the oil crop.
In pictures: Biggest threats to the rainforests

Show all 10
The researchers found that concentrating conservation efforts on areas near existing forests produced the best results, with an emphasis on land that was away from existing roads which reduced the impact on company profits. They used these finding to formulate rules for optimal habitat conservation.
"One way to save species and biodiversity threatened by agricultural expansion is to show companies the business case for conservation. This study shows how important it is for industry and scientists to work together to find potential win-win solutions," said Brendan Fisher of the University of Vermont.
Chris Carbone of the Zoological Society of London said: "Our research shows that habitats surrounding palm oil plantations, although they are affected by agricultural activity, still sustain a number of threatened species. It may be possible to protect, and even encourage wildlife in these areas at relatively low and sustainable economic costs without heavily impacting palm oil production."
Join our new commenting forum
Join thought-provoking conversations, follow other Independent readers and see their replies