Richard Benyon: The bird-brained minister
He is meant to be the Government's wildlife champion. So why is Richard Benyon backing a plan to destroy the nests of protected birds of prey in the interests of pheasant shooters?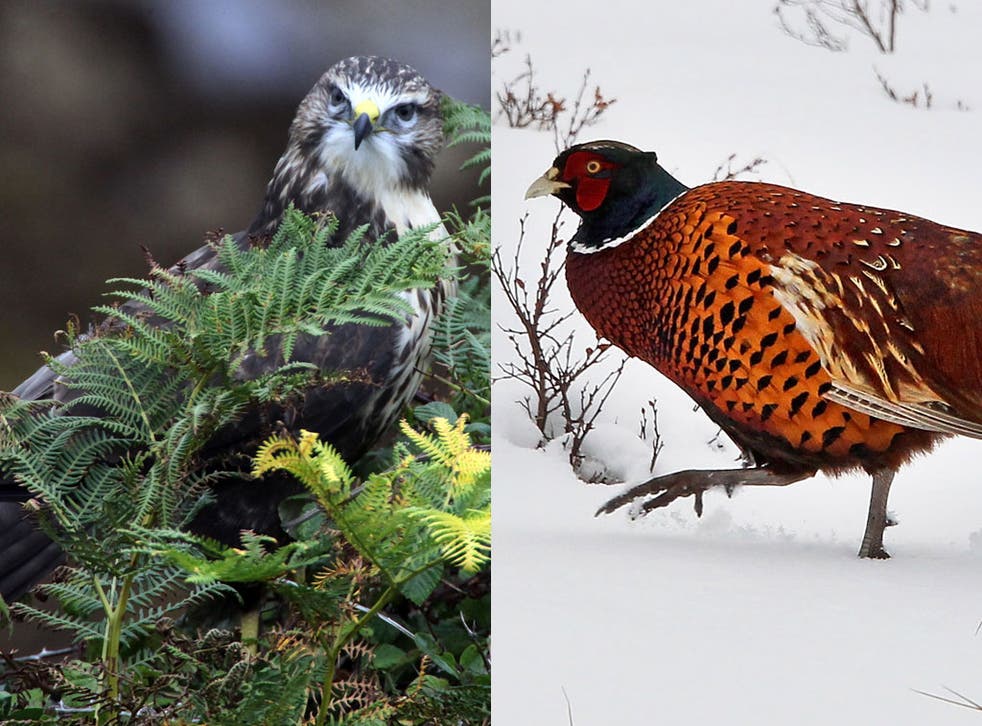 From the end of this week, Britain's minister for wildlife is sending men to destroy the nests of wild buzzards by blasting them with shotguns. Believe it or not, from Friday, a project will begin to destroy buzzard nests in the interest of protecting pheasant shooting estates, which has been personally sanctioned by Richard Benyon, pictured, the minister responsible for wildlife protection at the Department for Environment, Food and Rural Affairs (Defra).
When news of this emerged last week, it sparked outrage from conservationists even exceeding that which greeted the last Defra proposal to do down the environment – the plan to sell off the nation's forests announced in January 2011. That lasted all of three weeks, until David Cameron, still then claiming to run the Greenest Government Ever, ordered it to be withdrawn when the ridicule and the uproar got too much.
The buzzard revelation did not make similarly derisive headlines last week because political news, when it broke on Wednesday, was dominated by remarkable revelations from the Leveson Inquiry. But the buzzard backlash is not going away and now looks set to cause the Government some serious grief. The proposal to shotgun-blast the nests of wild birds of prey, fully protected under wildlife laws, is contained in a Defra research contract drawn up to investigate techniques to reduce the alleged predation by buzzards of pheasant poults.
Poults are the young pheasants which are intensively bred elsewhere like battery chickens, and then released into woodlands on shooting estates so they can be shot when the season begins in the autumn. Forty million of them are released every year; and some estates have been complaining to Defra that buzzards are taking too many of them.
Buzzards are no doubt taking a few. The recovery of the buzzard has been one of the great wildlife success stories of recent times. Once widespread all over Britain, the bird was persecuted to extinction in lowland England by gamekeepers of Victorian shooting estates, and until about 20 years ago was largely confined to the West Country, Wales and the Lake District. But since then, it has begun to spread back eastwards and is now found again in every English county, to the delight of bird lovers who enjoy its majestic soaring –for us in the lowlands, it's a poor man's eagle. And it undoubtedly would take pheasant poults when it can get them.
But how many? The Defra research contract proposal has no figures. Instead, to grab a little statistical credibility, it says that "76 per cent of gamekeepers believe that buzzards have a harmful effect on game birds". Well, they would, wouldn't they? It might have quoted a study carried out by the agricultural consultants Adas, commissioned by the British Association for Shooting and Conservation, which found that on average, the number of pheasant poults taken by birds of prey (all birds of prey, that is, of which buzzards would be just one element) was 1 to 2 per cent, with far more dying as a result of road collisions. But it didn't.
Instead, what has brought the contract into being is the request of a group of six shooting estates in Northumberland, who feel buzzards are taking too many of their poults, however many that may be. Their good fortune is to have found a very receptive listener in Richard Benyon, a millionaire landowner with a 20,000-acre estate in Berkshire and a strong sympathy for the shooting lobby. And now Mr Benyon has personally sanctioned research costing £375,000 of taxpayers' money to investigate buzzard control through measures which include "permanently removing" birds from sites, and giving them to anyone who will take them, and destroying their nests by "for example, using squirrel drey-poking pole, or shotgun from below".
As political misjudgements go, this has the potential to be a corker. It once more cements in place the image of toffs out of touch with what most people feel – regardless of the reality – and it will be attacked without respite by the wildlife lobby, which is far more powerful in the media than the shooting lobby, not least with the growing band of television naturalists. They will harass it, with enormous and growing public support, until it goes down.
It's not just Mr Benyon who's in the frame. David Cameron enjoys shooting – there is a well-known photograph of him on a shoot with his friend Viscount Dunluce – but since becoming Tory leader he has kept very quiet about it, just as he kept quiet about his membership of the smartest of all the gentlemen's clubs, White's, until he resigned in 2008 (he left it out of his Who's Who entry). So does the Prime Minister fully support his Government's proposal to destroy buzzards' nests with shotguns?
Perhaps it will be brought up at the next Prime Minister's Questions.
Breeds apart: the hunter and the hunted
The buzzard
Only 20 years ago populations were mainly restricted to the West Country, Wales and the Lake District as a result of generations of shooting on estates. Greater protection came into law in the 1970s and 1980s and numbers have soared, with a 72 per cent increase between 1995 and 2009. Recent estimates put the number of breeding territories at between 31,100 and 44,000, making the buzzard the country's most common and widespread bird of prey.
The pheasant
Breeding for British shooting estates takes place on an industrial scale. Nearly 40 million pheasants are released into our countryside every year. 15 million are eventually shot. The rest become wild, are run over, die of disease or are eaten by predators – of which the buzzard is one of many. A report commissioned by the British Association for Shooting and Conservation said only 1-2 per cent of poults (young pheasants) are taken by birds of prey.
Register for free to continue reading
Registration is a free and easy way to support our truly independent journalism
By registering, you will also enjoy limited access to Premium articles, exclusive newsletters, commenting, and virtual events with our leading journalists
Already have an account? sign in
Register for free to continue reading
Registration is a free and easy way to support our truly independent journalism
By registering, you will also enjoy limited access to Premium articles, exclusive newsletters, commenting, and virtual events with our leading journalists
Already have an account? sign in
Join our new commenting forum
Join thought-provoking conversations, follow other Independent readers and see their replies