Climate change blamed as huge mounds of rotten seaweed spoil pristine beaches in Mexico
Piles of sargassum, which smells of rotting eggs and turns sea water brown, covers Rivera Maya coast
Emma Snaith
Friday 28 June 2019 10:54 Comments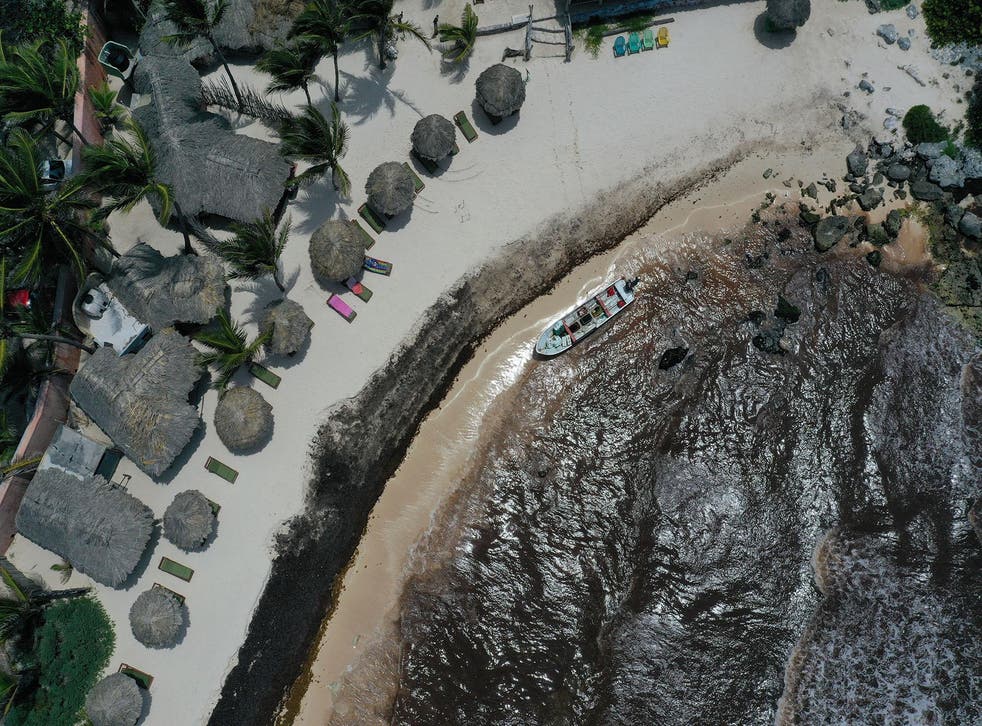 An infestation of rotting seaweed that is blighting many of Mexico's pristine white-sand beaches on its Caribbean coast is believed to be the result of climate change.
Mounds of sargassum, which smells of rotten eggs and turns clear sea water brown, has washed up on the shores of popular tourist destinations including Cancun, Playa del Carman and Tulum.
Mexico has already spent $17m (£13.4m) so far this year in an attempt to clear 500,000 tons of the plant from its coastline, but these efforts are proving futile.
For the past decade, sargassum has been blooming across the Caribbean. Scientists believe this is the result of rising ocean temperatures and agricultural fertilisers and untreated sewage flowing into the Caribbean Sea.
Chuanmin Hu, a professor of oceanography at South Florida University's College of Marine Science, said: "Because of global climate change we may have increased upwelling, increased air deposition, or increased nutrient source from rivers, so all three may have increased the recent large amounts of sargassum."
Rotting seaweed blights Mexico beaches

Show all 10
While small amounts of the seaweed on beaches is considered beneficial and provides habitats for bird and marine species, too much of it increases the sea's acidity and temperature and reduces oxygen. Sargassum is also poisonous for some coral reefs, local fauna and fish.
The pristine beaches of the Riviera Maya coast, which provides half of the country's tourism revenue, are now covered in the seaweed.
The infestation was first reported in 2014 and has worsened every year since. Tourism chiefs fear it could severely affect the local industry as hotel occupancy rates start to drop.
Last month, the Quintana Roo government declared a state of emergency over the issue, describing it as an "imminent natural disaster".
But Mexico's president, Andrés Manuel López Obrador, said the seaweed was a "minor issue" at a press conference in Cancun on Monday. He said that he was not worried about it causing major damage to the tourist-dependent region.
Prior to his visit, residents wrote a letter complaining that authorities had not acknowledged the real scale of this "serious situation".
"Most months of the year our beaches have lost the crystalline colour of their waters and their shades of blue and turquoise green; sea grass and fish die because of the lack of light and oxygen, the turtles and the coral reef are also affected," the letter reads, according to Turquesa News.
"It produces an acid gas with a rotten egg smell [when it decomposes] that can be harmful to human health."
In recent years, hotels have placed nets in the water near to the shoreline to try to keep the sargassum from the beaches, while workers remove the seaweed already on the shore shovels and wheel barrows. But these methods have proved ineffective
"Fighting sargassum is a chore every day," said Cancun Mayor Mara Lezama. "You clean the beaches in the morning, and sometimes you clean them again in the afternoon or at night, and then you have to go back and clean it again."
However, sargassum is not just a problem for Mexico, with many islands in the Carribean also affected.
June Soomer, the general secretary of the Association of Caribbean States, said proliferations of the seaweed "are now considered national emergencies" in some Caribbean countires like Barbados. "We are seeing a major impact on our countries, economically, socially," she added.
Ricardo del Valle, who owns a business in Playa del Carmen, said: "We offer sun and sand, nothing else. That is what we're selling.
"And right now we're fooling our tourists."
Additional reporting by agencies
Register for free to continue reading
Registration is a free and easy way to support our truly independent journalism
By registering, you will also enjoy limited access to Premium articles, exclusive newsletters, commenting, and virtual events with our leading journalists
Already have an account? sign in
Join our new commenting forum
Join thought-provoking conversations, follow other Independent readers and see their replies