Post-Brexit funding gap 'will threaten impartiality of university research'
Exclusive: Greenpeace says 'You wouldn't want lung cancer studies to be heavily reliant on funds from tobacco firms, nor research on pesticides to be dependent on the companies making them'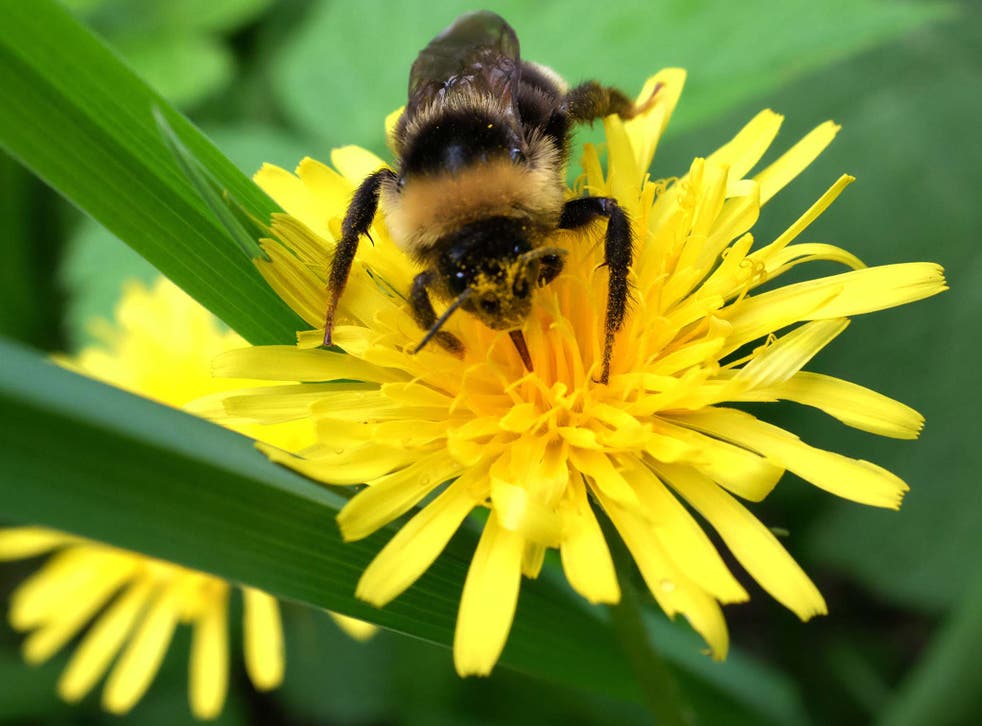 Scientists have raised concerns about the increasing privatisation of academic research once the UK leaves the European Union, after it emerged two multinational pesticide manufacturers have given millions of pounds to universities.
The firms, Bayer and Syngenta, which both sell neonicotinoid insecticides linked to harmful effects on bees, gave a combined total of £16.1m to 70 British universities to fund a range of research projects between 2011 and 2016, according to figures obtained under Freedom of Information Act by Greenpeace. Of this, about £2.6m was spent on plant sciences, including research into pesticides.
Leading bee scientists expressed concern that such private funding could create a conflict of interest for academics and warned that after Brexit a potential shortage of public money for science could force universities to seek more finance from the private sector.
Neonicotinoids were once thought to have little or no negative effects on the environment because they are used in low doses and as a seed coating, rather than being sprayed.
But evidence has been mounting that the chemicals do harm bees – important pollinators of food crops – with one recent study linking their use to "large-scale population extinctions".
As a result, neonicotinoids have been banned by the EU although they can still be used under licence.
However both firms deny there is evidence to show the pesticides cause a significant problem for bees.
According to Bayer's website, academics who reviewed 15 years of research found "no adverse effects to bee colonies were ever observed in field studies".
And Syngenta says: "Many years of independent monitoring prove that when used properly – as they consistently are – neonicotinoids do not damage the health of bee populations."
Between 2011 and 2016, the figures obtained from the 70 universities – about half the total in the UK – show Bayer gave £9m to fund research, including more than £345,000 on plant sciences. Syngenta spent nearly £7.1m, including just under £2.3m on plant sciences.
Ben Stewart, of Greenpeace UK's "Brexit response team", said the decline in bee populations was "a major environmental and food security concern".
"Its causes need to be properly investigated to give us a chance to stop it," he said.
"But for this research to command public confidence, it needs to be independent and impartial, which is why public funding is so crucial. You wouldn't want lung cancer studies to be heavily reliant on funds from tobacco firms, nor research on pesticides to be dependent on the companies making them."
He called on the Government to ensure scientists had access to the same level of funding after Brexit.
"As Brexit threatens to cut off vital public funds for this scientific field, our universities need a cast-iron guarantee from our Government that EU money will not be replaced by corporate cash," Mr Stewart added.
Dr Christopher Connolly, a Dundee University neurobiologist who studies pesticides' effects on bees, said there was "nothing wrong with working with industry – especially in medicine". But he said he was concerned that the independence of British academics could be undermined if private money became all important to universities, particularly after Brexit.
Brexit protest: Thousands march in London

Show all 12
"The opportunities will be greater for industry as the loss of EU research funding will be crippling to the UK," he said.
"If that was the only major source of research funding that was coming, it wouldn't be long before we ended up like the US, where they are very heavily dependent on industry relationships. The UK doesn't fund enough research so researchers have to rely on industry and it's getting worse and worse."
He was scathing about Bayer and Syngenta's claims that neonicotinoids did not harm bees.
"People say it's a controversial area, but it's not really," Dr Connolly said. "Independent scientists tend not to disagree. It's industry that tends to be saying they are safe."
Professor Dave Goulson, a Sussex University biologist who specialises in bumblebees and is the author of the best-selling book A Sting in the Tale, also said there were "plenty" of examples where it was good for industry to work with academics.
"But clearly there are instances where it is not appropriate, particularly if the funding is coming from industry and it's to study the safety of their own products, products they may be making literally billions from selling," he said.
"If you do get money from industry, you are kind of under pressure to keep them sweet so they will give you more money. You will inevitably feel under some pressure to please them, to give them what they want. It creates a conflict of interest."
Professor Joyce Tait, a social scientist at Edinburgh University who studies agriculture and other issues, carried out a study into regulation of the agrochemical industry in 2013, funded by the Government's Economic and Social Research Council (ESRC) and Syngenta.
She told The Independent she had received £20,000 from each.
Professor Tait said the resulting report discussed how the EU dealt with genetically modified crops, which Syngenta makes.
"It wasn't biased in favour of Syngenta but it was at the end of the day critical of the political biases that were very clear within the EU regulatory system [against GM crops]," she said, adding that EU politicians had ignored expert advice from the European Food Safety Authority.
She stressed the ESRC would not have tolerated a report that was skewed in favour of Syngenta.
"If there was any obvious bias, they [the ESRC] would have wanted to pick it up," she said. "Syngenta didn't have any say in what we reported. They weren't pressuring us to bring it out in their favour."
Professor Tait added that she believed "the balance of the evidence is now shifting more towards, yes, the neonicotinoids do have an impact on at least some bee species and we probably need to do something about that".
Syngenta did not respond to a request for comment by The Independent.
Dr Julian Little, of Bayer, said he did not have the total figure for the firm's spending on research in the UK, but said it had given more than £1m to fund research into neonicotinoids' effects on bees by the Centre for Ecology and Hydrology (CEH) in Oxfordshire.
It was also involved in 40 different projects with 23 universities and tended to be funding 12 to 15 PhD students at any one time, he said.
Dr Little, who said the CEH research would be published later this year, stressed they were only interested in the best science – even if it found evidence that might cause the company a problem.
"I've not met too many academics who say 'what result would you like'," he said. "We want to work with the best people, the ones that really know their stuff.
"The people we work with are the best people and they are fiercely independent. I cannot believe for a moment any one of them would go 'oh I better not say that, just in case the company doesn't like it'."
Join our new commenting forum
Join thought-provoking conversations, follow other Independent readers and see their replies