Scientists discover new species of silver boa constrictor snake in Bahamas - but it's already 'critically endangered'
Silver boa described as 'mild-mannered', calm and possibly 'critically endangered' with fewer than 1,000 thought to exist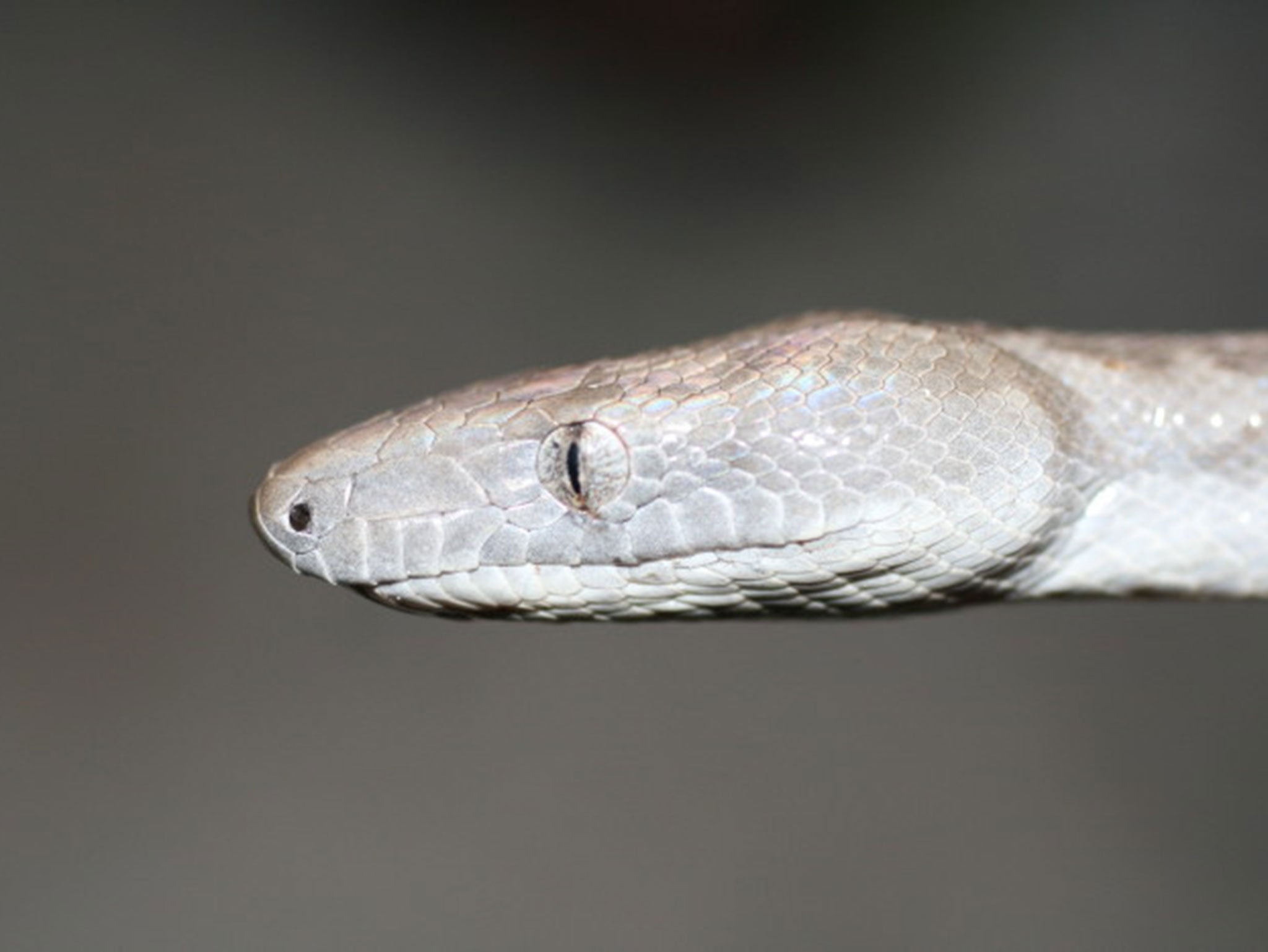 A new species of snake, described as a "calm and mild-mannered" creature, has been discovered in the Bahamas – but it is already feared to be critically endangered.
The silver reptile was found on a silver palm tree on Conception Island, an uninhabited nature reserve, in July last year.
And, after research to confirm it was a separate species, it has been named the silver boa or Chilabothrus argentum, scientists revealed in a paper about the discovery to be published in the journal Breviora.
Read more
Professor Graham Reynolds, of University of North Carolina Asheville, was among the first to see the snake.
"It was exciting. As soon as we saw the first one, we knew we'd found something new," he said.
"It just sat there and looked at us. They are very docile animals, they are very calm, slow-moving, mild-mannered."
Deciding to conduct a systematic search that night, they then found four others of the same species before deciding to get some sleep on the beach.
"As I was sleeping I woke up to a disturbance and there was something on my face and I realised it was a boa," Dr Reynolds said.
"It came out of the forest and crawled around on top of me. Maybe I smelled like the other snakes or something. I've never heard of that happening [with a boa].
"It was confusing at first but I thought it was incredible. I couldn't believe it."
He put the snake in a cloth bag and released it later after taking its measurements, an experience the snake seemed to take in its stride.
The beach encounter was all the more remarkable because the silver boa appears to be highly specialised, living and hunting in the trees.
Because they move so slowly, they catch their food mainly by sneaking up quietly on songbirds while they are resting in the trees at night.
"We've watching them stalk and hunt," Dr Reynolds said. "It grabs its prey and wraps it up. We think they mostly eat birds."
The rarest animals in the world
Show all 23
Their silver skin is unusual -- snakes usually have a camouflage pattern – and the reasons behind its evolution are unclear. "The silvery colour is pretty striking. At night it shows up well in a flashlight," Dr Reynolds said.
They grow to up to a metre long but are slender, weighing as little as 300 grams.
It is believed there are less than 1,000 individuals and that they are under threat from feral cats.
"We found evidence of feral cats on the island and we know these cats eat other boas," Dr Reynolds said. "The boas really have no defence against cats."
Robert Henderson, a curator at the Milwaukee Museum of Natural History and one of the world's experts on boas, said finding a new snake species – and particularly a boa – was a "rare" and "exciting" event.
"Worldwide, new species of frogs and lizards are being discovered and described with some regularity," he said. "New species of snakes, however, are much rarer.
"The beautiful Bahamian Silver Boa, already possibly critically endangered, reminds us that important discoveries are still waiting to be made, and it provides the people of the Bahamas another reason to be proud of the natural wonders of their island nation."
Join our commenting forum
Join thought-provoking conversations, follow other Independent readers and see their replies