Scientists express alarm at 'devastating' impact of climate change on coral reefs
Extreme weather events may have an irreversible effect, according to marine experts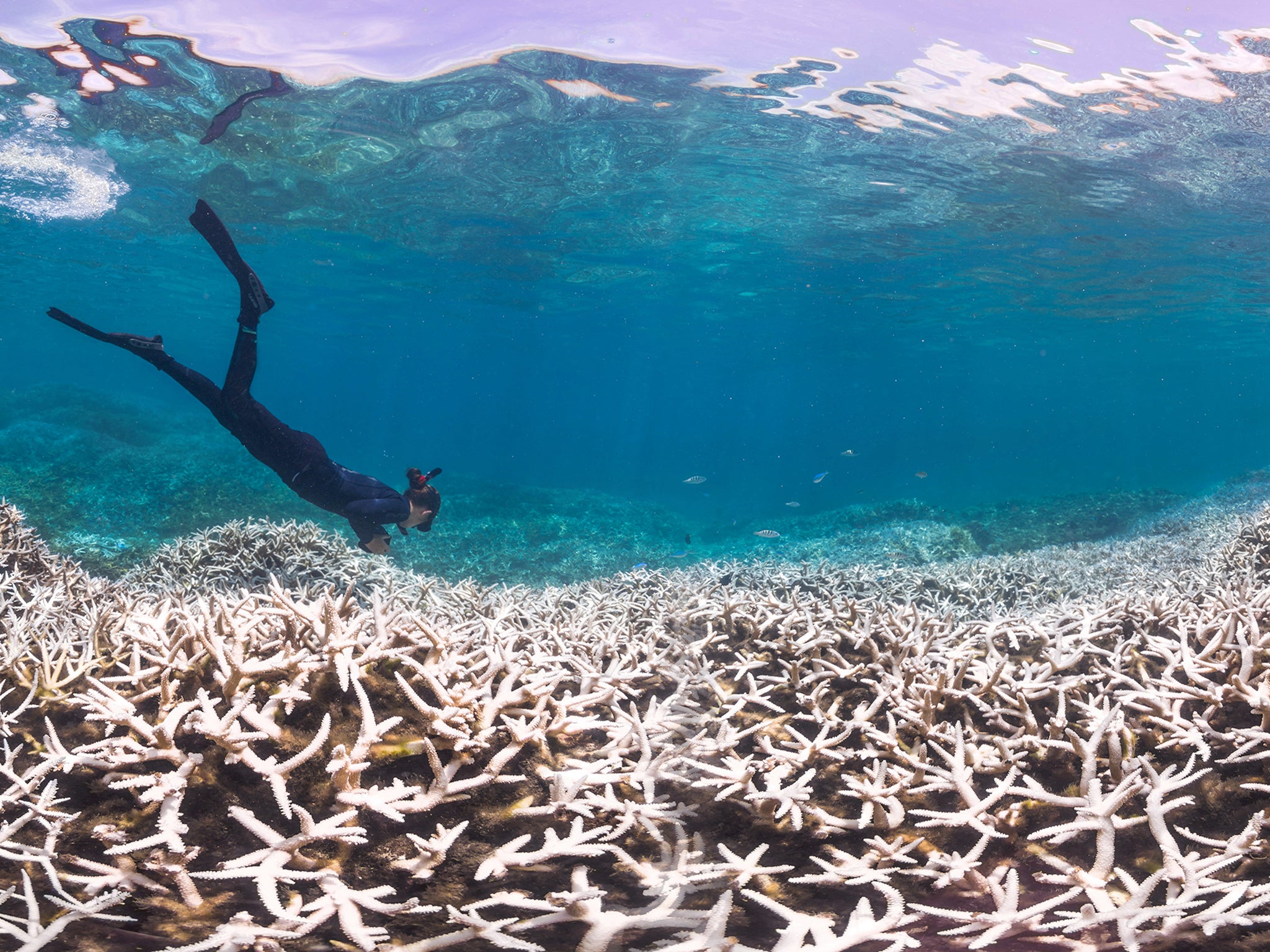 Scientists have expressed alarm at the "devastating" impact of climate change on the world's coral reefs.
More than a third of Earth's reefs are now under threat due a process known as bleaching, in what could be the worst crisis ever to hit these vital ecosystems.
Bleaching, where the symbiotic relationship between algae and small animals called polyps breaks down, can occur under heat stress and has been linked to multiple weather events including the latest severe El Niño phenomenon. The process can kill off coral at an alarming rate and the damage may be irreversible.
Kim Cobb, a marine scientist at the Georgia Institute of Technology, told The New York Times of the damage to the Pacific Ocean's Kiritimati Island reef.
After visiting it on a recent dive, Ms Cobb said: "The entire reef is covered with a red-brown fuzz, It is otherworldly. It is algae that has grown over dead coral. It was devastating."
Coral bleaching happens when high temperatures and bright sunshine cause the metabolism of the algae to accelerate massively until they start creating toxins. The algae are what give coral reefs their vivid colour.
Justin Marshall, the director of Coral Watch at Australia's University of Queensland, added: "This is a huge, looming planetary crisis, and we are sticking our heads in the sand about it."
Coral reefs in danger of being destroyed
Show all 2
Mark Eakin, the Coral Reef Watch coordinator at the National Oceanic and Atmospheric Administration in Maryland, said: "We are currently experiencing the longest global coral bleaching event ever observed. We are going to lose a lot of the world's reefs during this event."
The health of coral reefs is essential to the ocean's ecosystem. They provide food and shelter to 25 per cent of marine species and support enough fish to feed more than one billion people. Around 30 million small-scale fishermen depend on reefs for their income, according to estimates.
Everywhere from Hawaii in the Pacific to Réunion, off the coast of Madagascar, to East Flores, Indonesia, and the Florida Keys in the Atlantic, damaged or dying reefs have been found.
Join our commenting forum
Join thought-provoking conversations, follow other Independent readers and see their replies