SeaWorld lawsuit claims park profits from 'deceptive business practices' and that orcas suffer abusive treatment
This is the second time SeaWorld has been sued in less than three weeks
Roisin O'Connor
Saturday 11 April 2015 12:08 Comments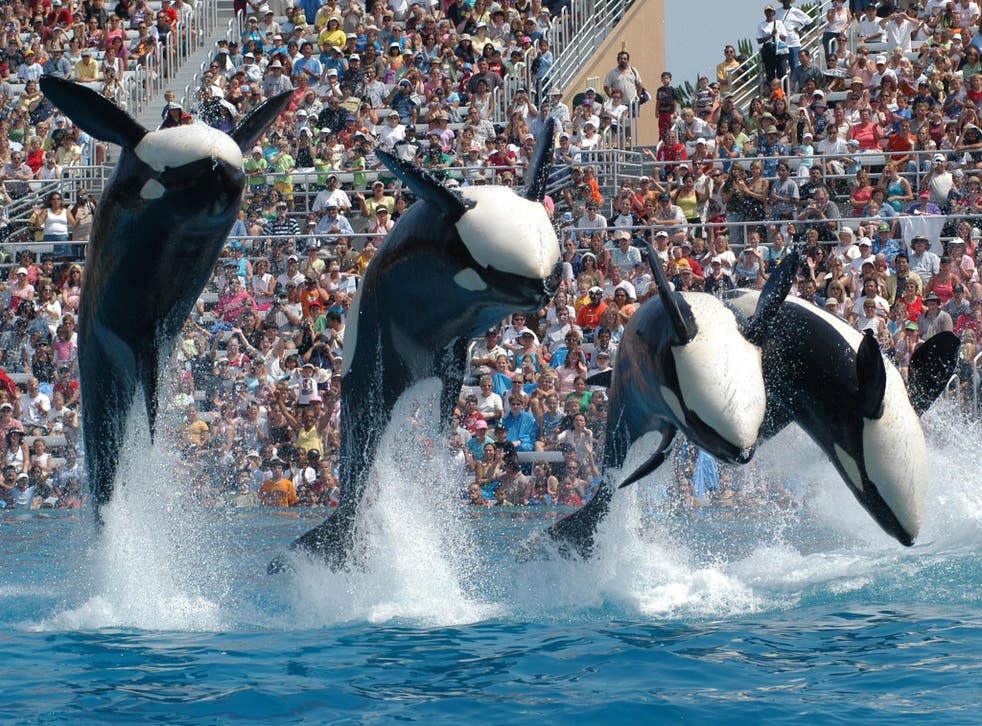 A new class action lawsuit has been filed against SeaWorld in Florida which accuses the marine park of keeping its killer whales drugged and suffering from sunburn in shallow pools.
Joyce Kuhl of south Carolina is suing SeaWorld in Orlando following a visit in 2013, demanding reimbursement for a $97 ticket and for millions of other visitors via a federal class action lawsuit that could, if successful, cost the park billions of dollars.
Kuhl has accused SeaWorld of Florida and its sister parks of a "campaign of misinformation" to contain alleged orca mistreatment and poor conditions, and said she wouldn't have bought a ticket had she known the "true facts".
According to the Orlando Sentinel, she claimed the company was spinning an illusion which "masks the ugly truth about the unhealthy and despairing lives of these whales".
The lawsuit alleges SeaWorld is making millions of dollars in profit via "false, misleading and deceptive business practices".
It also details claims of a chlorine solution "many times stronger than household bleach" and other chemicals dissolved in the water where the whales are confined after being caught or bred.
It accuses SeaWorld of keeping orcas in holding pools as shallow as 8ft where they suffer from sunburn and alleges that employees have to disguise the injuries by painting black zinc oxide onto the mammals.
Kuhl's lawsuit contends out that in the wild orcas typically live between 30 and 50 years, alleging that at SeaWorld most orcas die in their teens or early 20s.
Where not to visit if you love animals

Show all 9
This is the second time SeaWorld has been sued in less than three weeks after a similar lawsuit was filed in California in March which alleged the company was misleading the public by claiming the captive orcas were happy.
SeaWorld said the California lawsuit was "clearly a publicity stunt intended to generate more news coverage" of a recently-published book about the park by John Hargrove, a former SeaWorld Trainer.
"There is no higher priority for SeaWorld than the health and well-being of its animals," the statement insisted.
SeaWorld has suffered a storm of criticism from the public, regulators and animal welfare campaigners since one of its trainers was killed by a male orca in 2010.
A subsequent 2013 documentary, Blackfish, which alleged cases of chronic mistreatment of whales and attracted additional scrutiny, was then followed by the resignation of SeaWorld's chief executive Jim Atchinson.
In February, SeaWorld Entertainment reported a 2.7 per cent drop in revenue in its fourth quarter, below Wall Street expectations, which equated to over a quarter of a billion dollars.
For the full year, revenue dropped from $1,460.3 million in 2013 to $1,337.8 million in 2014.
Fred Jacobs, SeaWorld's chief spokesman, told the Times: "The lawsuit filed [yesterday] appears to be an attempt by animal [rights] extremists to use the courts to advance an anti-zoo agenda.
"The suit is baseless, filled with inaccuracies, and SeaWorld intends to defend itself against these inaccurate claims."
He added that SeaWorld's parks are "regularly inspected" by the US government and "two professional zoological associations".
Register for free to continue reading
Registration is a free and easy way to support our truly independent journalism
By registering, you will also enjoy limited access to Premium articles, exclusive newsletters, commenting, and virtual events with our leading journalists
Already have an account? sign in
Register for free to continue reading
Registration is a free and easy way to support our truly independent journalism
By registering, you will also enjoy limited access to Premium articles, exclusive newsletters, commenting, and virtual events with our leading journalists
Already have an account? sign in
Join our new commenting forum
Join thought-provoking conversations, follow other Independent readers and see their replies