Solar energy prices in India tumbles to new record low making it cheaper than fossil-fuel generated power
The price of solar energy is 18 per cent lower than the average price for electricity generated by coal-fired plants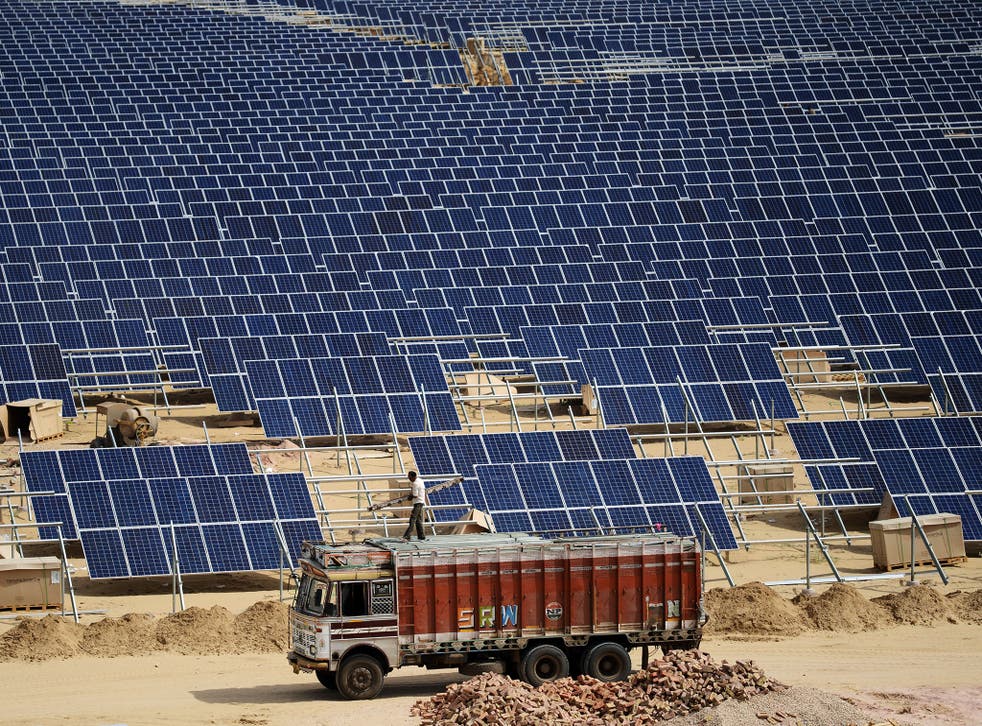 The price of solar energy in India has tumbled to a new record low, making it cheaper than fossil-fuel generated power.
The latest solar power tariffs show the price of solar energy is 18 per cent lower than the average price for electricity generated by coal-fired plants.
At an auction in Rajasthan earlier this week, Phelan Energy and Aaada Power offered to charge 2.62 rupees per kilowatt-hour (kWH) of solar-generated electricity, according to The Economic Times of India.
A previous record for the lowest bid was set last month with a price 3.15 rupees per kWH.
Alan Fotheringham, president of strategy and development for the Wood Group, which provides services to the energy industry, told The Independent India was setting an example that quick energy transition from fossil fuels to renewables is possible.
He said that the country was "demonstrating that when the conditions allow, it is possible to move very quickly to transition the energy mix.
He added: "We have seen strong and steady growth of the solar energy market in India to become one of the largest and strongest markets. With a huge population and a huge demand for energy, growing investments and political willingness, all the ingredients are there for the transition to happen."
Shortly after the auction India Energy Minister Plyush Goyal tweeted: "Another milestone towards PM @narendramodi's vision of clean affordable power for all."
Last month, Mr Goyal said building coal-powered plant would be costlier than a solar plant. The minister added that India would meet its ambitious target to deploy more than 100 gigawatts of solar power by 2022.
Grandmothers School, India

Show all 12
The price of solar has been falling in the last three years as Indian Prime Minister Narendra Modi's government aimed to boost its green footprint.
The country is the world's third largest emitter of greenhouse gases and forecasters are anticipating its emissions could double as the country aims to lift millions out of poverty.
But solar consultancy firm Bridge to India, said India is expected to become the third biggest solar market in the world in 2017 with a capacity rise of 76 per cent compared to last year.
This will be helped by the fact the price of solar modules and solar inverters have fallen by 29 per cent over the past year, the firm said.
Upon ratifying the Paris Agreement, Mr Modi committed India to generate 40 per cent of the country's electricity from non-fossil fuel sources by 2030.
Traditional Indian bull-taming sport resumes
But a report by India's electricity agency predicted the target would be exceeded by nearly three years ahead of schedule.
It forecasted the total capacity of renewable energy generated could reach 275 gigawatts by 2027.
The country has quadrupled its solar energy capacity in the last three years and the government set a target of building 175 gigawatts of solar energy capacity by 2030, The Times of India reported.
India is also home to the world's largest power plant in the south of the country in Kamuthi, Tamil Nadu, which stretches across 2,500 acres and has 2.5million solar modules.
New national targets aim to generate 175 gigawatts of solar, wind and biomass energy by 2022.
Join our new commenting forum
Join thought-provoking conversations, follow other Independent readers and see their replies