Government accused of trying to kill off UK solar industry before it can become cheapest form of electricity
Official figures project solar will be less expensive than gas in the next few years, but a massive new tax hike could put that at risk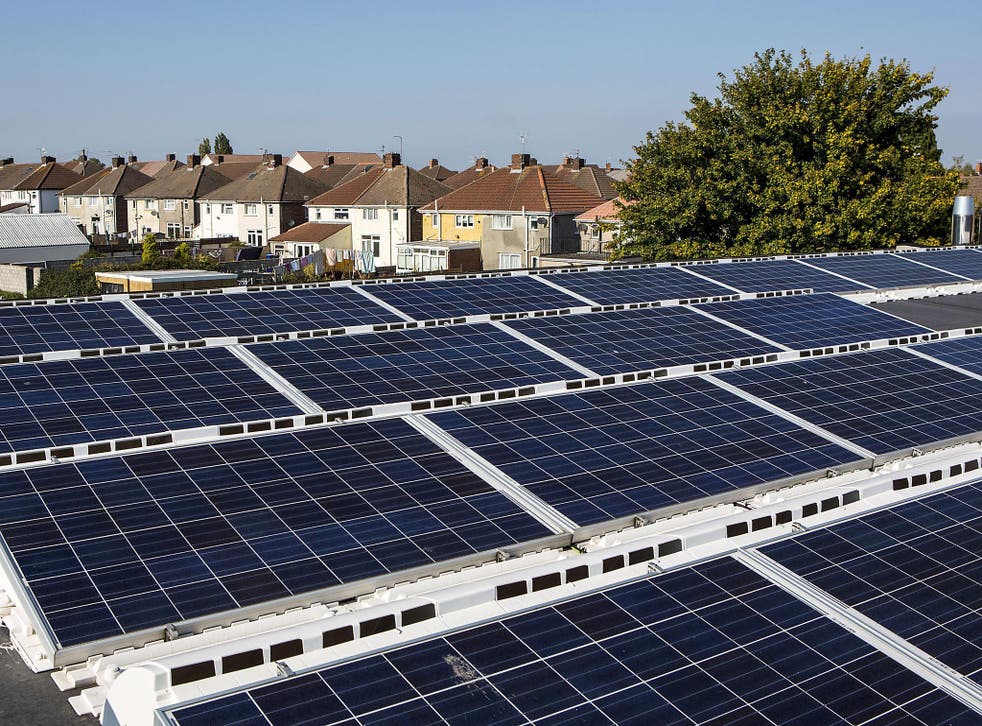 The Government has been accused of trying to kill off Britain's solar energy industry just as it is about to become one of the cheapest suppliers of electricity – with no need for any kind of state subsidy.
In fact, according to the Government's own projections, only onshore windfarms could provide cheaper power within the next decade or so – and the Conservatives pledged in the party's election manifesto to "halt their spread".
Amid ongoing concern about rising energy prices, the industry expressed disbelief that the Treasury is about to impose a swingeing business tax on firms with rooftop solar schemes, which could increase the bill by up to eight times. Domestic installations could also be hit by a VAT increase from five to 20 per cent.
And large-scale solar has been excluded from Government auctions of contracts to supply electricity to the grid for the lowest guaranteed price, effectively a form of state subsidy.
Representatives of the Solar Trade Association (STA) plan to meet Jane Ellison, the Financial Secretary to the Treasury, on Thursday in a bid to persuade the Government to drop the business rate increase and to give the sector a "level playing field" with fossil fuels.
At the same time, a group of children will deliver a letter to the Treasury appealing to scrap the business rate rise after they helped to raise funds to install panels on their state school, Eleanor Palmer Primary in Camden, London.
Unlike private schools, exempt because of their charitable status, it will be forced to pay the new tax.
It comes on top of cuts to subsidies and regulation changes since the Conservatives came to power in 2015, which have been blamed for causing the loss of more than 12,000 jobs.
Speaking ahead of the meeting with Ms Ellison, Leonie Greene, of the STA, told The Independent: "The damage to solar jobs and the industry has been severe and put major investment by the British public in this vital industry at risk.
"It is a massive own-goal to derail the solar industry after a success that has shaken up the entire UK energy sector for the benefit of consumers.
"There is strong consensus amongst mainstream energy analysts globally that solar will dominate future power systems. Hampering the British solar industry now is akin to shackling mobile phone operators on the cusp of the telecoms boom – extremely unwise.
"It is bewildering that a Government that says it wants the cheapest, clean power for consumers, has pulled the rug from under the cheapest and most popular, solar. They urgently need to look at solar again."
She appealed to the Treasury to give solar "fair tax treatment", such as the enhanced capital allowances enjoyed by fracking companies.
Solar currently gets some support from the so-called "feed-in tarrif" – recently slashed by 65 per cent by the Government – but Ms Greene said the STA was asking the Government to boost the sum of money available by £6m over the next three years.
Solar Technology in the UK

Show all 7
This compares with a £10m state subsidy given to a coal-fired power station in Wales to supply electricity when needed for a single year.
According to Government projections, solar and onshore wind are expected to become the cheapest forms of electricity in the next few years.
In a report, the Department for Business, Energy and Industrial Strategy said a solar project commissioned next year was predicted to cost between £62 and £84 per megawatt hour (MWh) with onshore wind coming in at £49 to £79/MWh.
This compares with between £60 and £62 for the cheapest form of gas and £154 to £166 for a more expensive gas system.
By 2030, the gap dramatically widens with the cheapest gas costing about £100/MWh compared with solar at £52 to £73 and onshore wind at £45 to £72.
Ms Greene said: "Solar needs very little support today, but it does need a little and support was withdrawn just that bit too early.
"That's tough enough, but incredibly the industry is being further threatened with needless tax hikes. We have now spent six months arguing against a tax hike that doesn't apply to some fossil fuels.
"Forget renewables subsidies, we are increasingly having to fight for solar to benefit from the tax breaks that fossil fuels receive, just to try to level playing field.
"What kind of message does that give to businesses and investors after the Paris Agreement on Climate Change?"
Solar plane breaks record
Renewable energy companies, large and small, criticised the Government.
Dale Vince, founder of leading renewable energy firm Ecotricity, accused the Government of trying to kill off the solar industry for political reasons.
"There's not a massive amount of it left, but there was a kind of renaissance of something happening," he said.
"Everyone thinks within a year or two the fall in the cost of equipment will more than make up for what the Government has done.
"[But the new business tax] is like kicking the solar industry when it's down … they don't want to give it a chance to get up.
"If the focus is on the cheapest kinds of energy for the public, then it is a mistake to exclude the cheapest forms of energy available to us, which is wind and solar.
"I think it's ideological. People on the right side of the political spectrum tend to be into nuclear, fracking, fossil fuels and people on the left tend to be into clean and green stuff."
Solar Technology in the UK

Show all 7
Stephen Barrett, of Bristol-based firm Solarsense, which mainly installs panels for homes and businesses, said doing so was a cheaper way to get electricity than buying it from an energy firm "if you take the fact it's for 20 years".
And he said the cost of panels had plunged in recent months as the price of electricity had risen sharply, so installing them would be effectively "insuring yourself against future price rises".
"Most people look at it as if they had put that investment in, what's their return for the year. Even that is around 10 per cent return," Mr Barrett said.
He said the industry was close to the point where it would not need a subsidy.
"A lot of people think because the Government cut the feed-in tariff, it's kind of all over, it was just a boom," he said.
"But the Government had to cut the tariff because solar panels were coming down in price.
"We're getting to the stage where we don't need any incentives. We did the Glastonbury Festival site, which was the largest rooftop at the time, five-and-a-half years ago. It cost £550,000 to install and that would now be installed for £120,000."
Mr Barrett's criticism of the Government was that it had cut the feed-in tariff "a year too early and too much".
"They should have staged it out, then they would have kept an industry going," he said.
"By the end of the year, we'd really be seeing the feed-in tariff as a bonus."
Solar panels brings cheap energy to India
Even Sainsbury's weighed in, saying the Government's plans showed a lack of commitment to fighting climate change.
Paul Crewe, the supermarket giant's head of sustainability, energy, environment and engineering, said: "Renewable energy plays a vital role in cutting the UK's carbon emissions in line with the Paris Agreement on Climate Change.
"The decision to impose a substantial increase in the business rates levied on roof-top solar PV systems goes against this, and penalises the responsible organisations that are taking action against climate change. Ultimately it will have a detrimental effect on the move towards renewables.
"While Sainsbury's remains committed to reducing carbon emissions, at a time when businesses face wider economic pressures and uncertainty, these changes will undoubtedly dissuade other organisations from exploring sustainable approaches."
A Treasury spokesman said: "Since 2010 nearly £52 billion has been invested in renewables and as a country we have more than trebled our renewable electricity capacity.
"The revaluation of Business Rates was carried out independently by the VOA and will ensure that bills are fairer as they will more closely reflect the property market. To help businesses adapt we have put in place £3.6 billion of transitional relief."
Join our new commenting forum
Join thought-provoking conversations, follow other Independent readers and see their replies