Solar projects placed along 'Pacific Flyway' major migration paths are burning wings of birds
Campaigners are calling for research into the number of bird deaths caused by green energy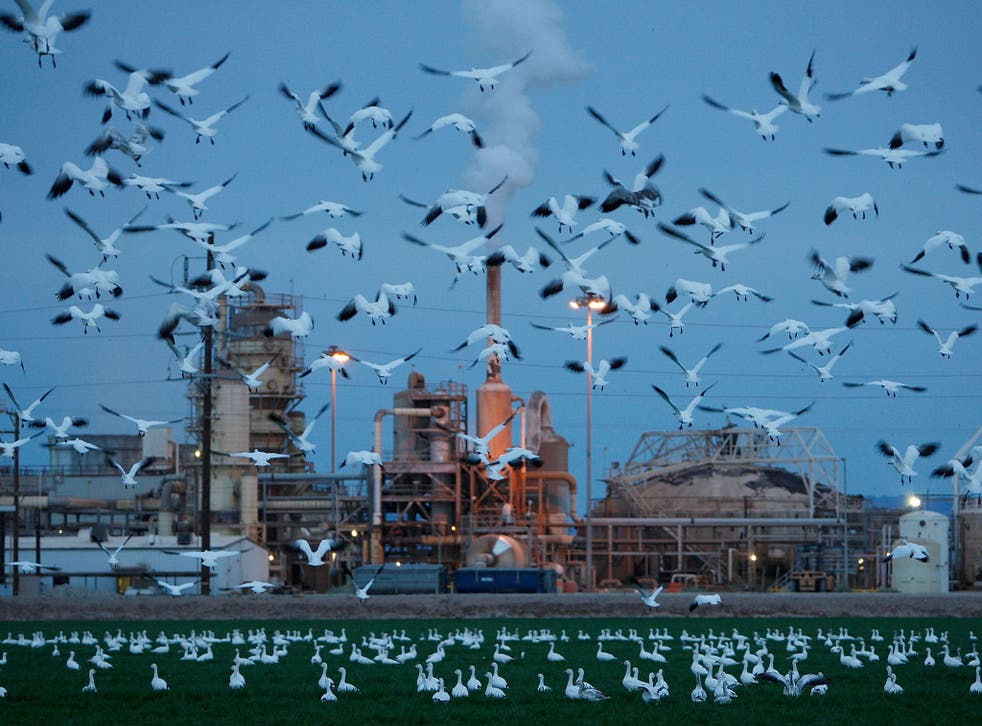 Animal rights campaigners are calling for research into how many birds die as a result of solar energy, following claims that solar panels built across major migration paths are injuring bird wings.
Many of California's major solar plants are located across the four major north to south trajectories for migrant birds, known as the 'Pacific Flyway'.
Birds are diving into the reflective surfaces of these solar panels, believing them to be bodies of water, or are being burned by concentrated solar. Thirty-four birds were found dead or injured at BrightSource Energy's Ivanpah plant in California, which will soon go online, a report by The Desert Sun found.
"Dozens" of other birds have been discovered with singed wings near two other solar panel facilities. More recently, nineteen birds were found dead at the 550-megawatt photovoltaic plant Desert Sunlight plant. The carcass of a Yuma clapper rail, a federally endangered bird, was discovered near the project in May this year.
Some of the dead fowl are allegedly protected by the Migratory Bird Treaty Act.
Environmentalists are now trying estimate the number of bird deaths caused by major solar projects as BrightSource Energy's proposed Palen project comes closer towards being approved.
The project, located in Riverside County, would involve inserting two 750-foot-tall solar towers and thousands of reflecting mirrors near a pair of the region's key refuges and stopping points for birds migrating along the Pacific Flyway.
This presents the issue of radiation, known as solar flux, emitting from the project's reflecting mirrors which will surround the two towers. Sunlight from the mirrors will superheat liquid in boilers at the top of the towers, producing steam which will then power a turbine. The radiation bouncing off from the mirrors could therefore be enough to burn the bird's wings, the report claims.
Mark Osborne, senior news editor for PV Tech and Photovoltaics International told The Independent another potential problem for birds could be wind turbines. He said: "Both technologies need to study this issue to establish overall impact levels on birds and possible preventative measures. I would expect this to be done in respect to the US plant as in-depth environmental work on natural habitat was done on all such plants being built in such areas."
California state officials have asked for legal briefs addressing the acceptable level of avian mortality. BrightSource did submit a presentation on methods of deterring birds from the soar projects, such as water canon blasts and fake owls at a public hearing
However, estimating the number of bird deaths potentially related to green energy could take years, warned Eric Davis of the US Fish and Wildlife Service. "Bird migration studies have to wait for bird migrations", he said. "This is going to be months and years of trying to better understand the problem and then make better management decisions as we gain more scientific understanding."
The California Energy Commission committee reviewing the proposed Palen project has asked parties involved in the project to brief the committee on what the legal level of avian mortality is sufficient to trigger curtailment of operations.
Join our new commenting forum
Join thought-provoking conversations, follow other Independent readers and see their replies