Starbucks launches 5p cup charge across all British outlets to cut plastic waste
Scheme follows success of trial in London stores which saw reusable cup use increase by 126 per cent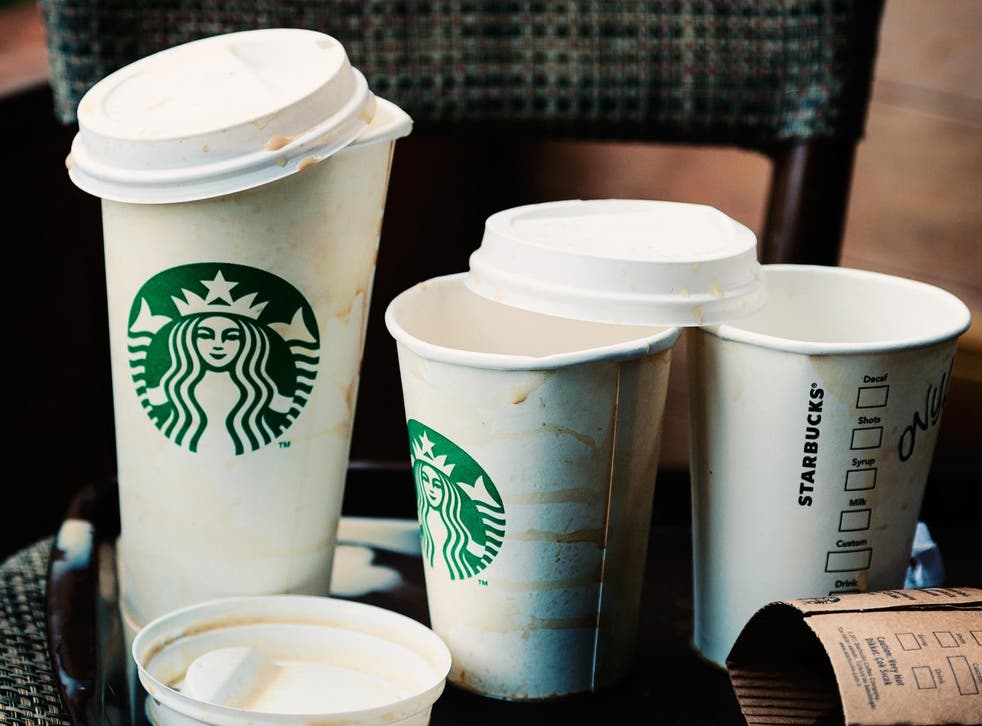 All Starbucks outlets in the UK will add 5p to every drink served in a paper cup in a bid to cut down on plastic waste.
The move follows a successful three-month trial in London, which saw a remarkable rise in the number of people drinking from reusable cups to avoid the charge.
Funds raised from the initiative will go towards supporting recycling and sustainability efforts with Hubbub, an environmental charity the coffee giant has been collaborating with on the project.
"We saw encouraging results from the first three months of this trial with Hubbub, and what stood out to us was the positive response we had from our partners (employees) and customers who continue to push us to innovate and find ways to reduce waste," said Martin Brok, the president of Starbucks Europe, Middle East and Africa.
"Extending this to all our stores across Britain is an exciting step and we're hoping this charge will remind customers to rethink their use of single-use plastic as it has with plastic bags."
The Independent's Cut the Cup Waste campaign has pushed for businesses and politicians to find solutions to the 2.5 billion disposable cups thrown away in the UK every year.
Latte levy: The plastic problem inside your coffee cup
While recycling centres for plastic-lined coffee cups do exist in the UK, only a tiny fraction of them end up there as it is not economically viable for waste management companies to take them to the appropriate facilities.
Ministers and environmental groups have called on both government and industry to take a lead in efforts to ensure coffee cups do not contribute to the rising tide of plastic waste that threatens ecosystems around the world.
These efforts culminated in a commitment by the UK's largest coffee retailer, Costa Coffee, to recycle half a billion coffee cups a year by 2020.
Starbucks has come under fire from campaigners, who have called on it to make good on its pledge proposed a decade ago, to replace current cups with "100 per cent recyclable" alternatives.
Michael Gove caught using plastic coffee cup after campaigning for reduced use in order to save the planet
In response to this pressure, the coffee chain has committed $10m (£7m) to bringing a fully recyclable and compostable cup to the market within three years.
"Single-use plastics is an issue that has become more significant in people's minds than ever before. The trial proved this, showing that customers have an increased awareness of the need to reduce waste from single-use cups," said Trewin Restorick, CEO and founder of Hubbub.
Hubbub works to instil green behaviours in people, and recently installed Britain's first "recycling reward" machines at a service station in Kent to encourage people to dispose of their cups by providing them with cash vouchers.
A report released by the charity after the three-month trial in London stores showed the number of customers bringing in their own cup or tumbler increased in trial stores by 126 per cent, from 2.2 per cent of people before the trial to 5.8 per cent after.
As a result, the scheme will be rolled out nationwide from 26 July.
"A 5p charge is an effective way to prompt this change. We're excited to be working with Starbucks, particularly as they take on board the findings of the trial and introduce the charge across the whole of the UK," said Mr Restorick.
"We look forward to discovering what more can be done to encourage people to use reusable cups."
Register for free to continue reading
Registration is a free and easy way to support our truly independent journalism
By registering, you will also enjoy limited access to Premium articles, exclusive newsletters, commenting, and virtual events with our leading journalists
Already have an account? sign in
Register for free to continue reading
Registration is a free and easy way to support our truly independent journalism
By registering, you will also enjoy limited access to Premium articles, exclusive newsletters, commenting, and virtual events with our leading journalists
Already have an account? sign in
Join our new commenting forum
Join thought-provoking conversations, follow other Independent readers and see their replies