Turn off street lights at night to help pollinating insects, scientists say
Local authorities switching off lights to save money may have a positive knock-on effect for ecoystems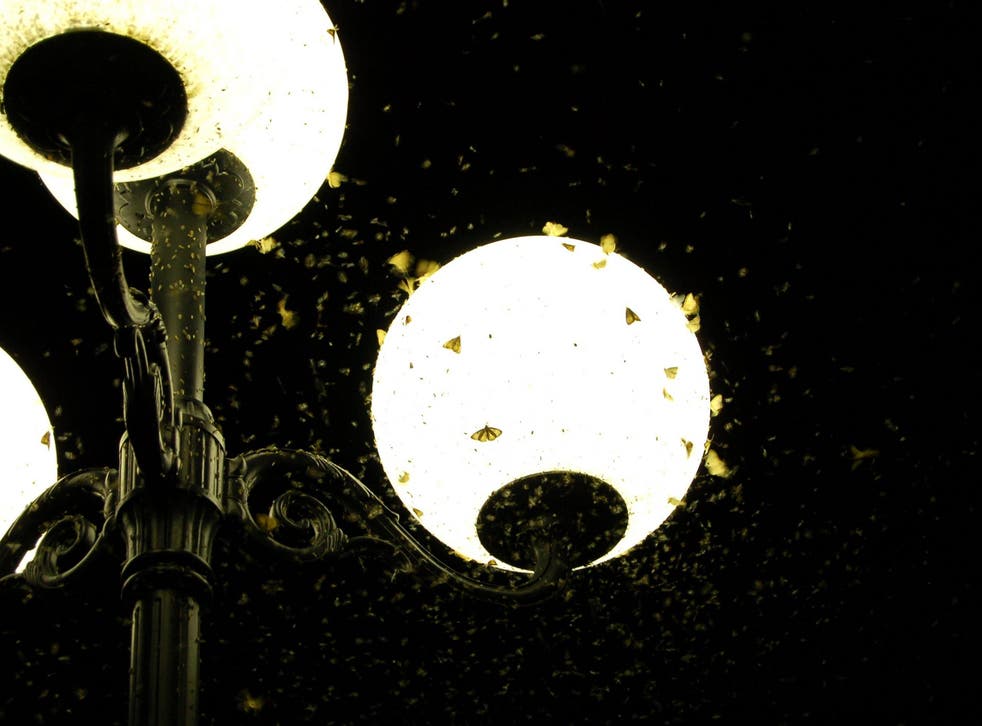 With streetlights throwing the nocturnal wildlife into disarray, scientists say turning them off late at night could stop this pervasive pollution from harming UK wildlife.
Moths pollinating plants, bats hunting prey and spiders that emerge under cover of darkness are all suffering under the glare or artificial lights.
Sky brightness is increasing at a rate of around 6 per cent every year around the world, and scientists have warned this disruption of natural dark and light cycles is damaging the health of everything from cells to whole ecosystems.
Meanwhile, in a bid to cut energy use and save money, many councils in Britain have begun turning off streetlights as the night progresses.
While there are social issues, such as safety, associated with such a decision, a growing body of research suggests it could be having a positive knock-on effect for the environment.
A new study published in the journal Ecosphere suggests keeping the lights off between midnight and dawn is enough to prevent the disturbance to animal behaviour that they trigger.
Researchers have only recently begun to realise the important role moths play in pollinating plants – potentially including vital crops like peas and oilseed rape – after bees and other daytime pollinators retire for the evening.
Past studies have suggested street lighting prevents moths pollinating as they end up flying into the glare instead, exhausting themselves and leaving them vulnerable to predators.
Science news in pictures

Show all 20
To their surprise, the scientists undertaking the new study found pollination actually increased on areas of fields where lights shone throughout the night as moths flocked to there.
While this result may seem positive, the scientists emphasised the importance of keeping any disruption to natural systems to an absolute minimum.
"Under any environmental change, some things are going to do well and some are going to do badly – but that has the consequence of throwing things out of balance," Dr Callum Macgregor from the University of York told The Independent.
Support free-thinking journalism and attend Independent events
Fortunately, the scientists noted that when lights were switched off for part of the night flower pollination remained normal, indicating minimal harm to the habitat.
Given their findings, they suggested the decision being taken by some councils to turn lights off may actually be giving local wildlife a boost.
"We have street lighting for a reason, and even as ecologists we are not saying we should turn off all streetlights tomorrow permanently – but where we can reduce the use of them… then it will have a positive impact," said Dr Macgregor.
"Our study suggests that turning off street lights in the middle of the night is a win-win scenario, saving energy and money for local authorities whilst simultaneously helping our nocturnal wildlife."
Join our new commenting forum
Join thought-provoking conversations, follow other Independent readers and see their replies