Support for fracking falls to lowest ever level, finds official government survey
Destruction to natural environment the main reason for opposing fracking
Anti-fracking campaigners deliver petition with more than 300,000 signatures to government
Public support for fracking has reached its lowest level yet, the latest research suggests.
Just 12 per cent of people support drilling for shale gas, according to a survey by the department for Business, Energy and Industrial Strategy (BEIS).
The number of people opposing fracking rose to 40 per cent up from 35 per cent of people in December 2018.
The quarterly BEIS Public Attitudes Tracker survey questions 2,000 adults across Britain about their views on energy and climate change.
Friends of the Earth clean energy campaigner Jamie Peters said: "With support for fracking at all all-time low and overwhelming public concern about climate change, it's time to pull the plug on this destructive, unnecessary and unwanted industry."
Opposition to fracking was highest in northwest England with 50 per cent of people against it and lowest in London where only 30 per cent of people opposed it.
The main reason for opposing fracking was concern about destruction to the natural environment. Risk of earthquakes and contamination of water supplies were also key concerns.
Twenty-two per cent of people said they had never heard of fracking.
How fracking works and where it could happen

Show all 2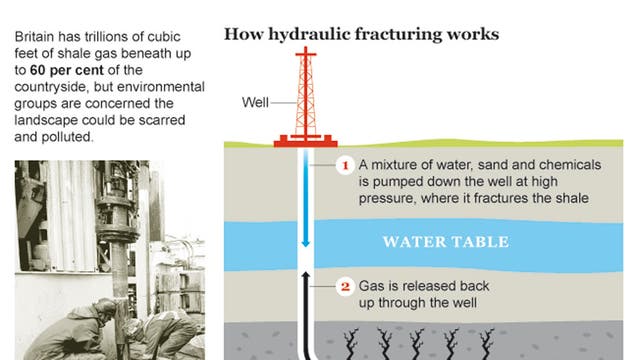 A BEIS spokesperson said: "The Government believes shale gas could be an important new domestic energy source to help reduce the need to import gas, and at the same time deliver economic benefits including the creation of well paid, quality jobs.
"That's why the Government has given the industry significant support to develop while ensuring our world-leading regulations remain in place to ensure fracking happens safely and responsibly."
The proportion of the UK public who were "very concerned" about climate change hit 35 per cent, which is the highest level since the survey started in 2012.
Seven out of ten people said climate change was already affecting the UK and more than half of people said they noticed higher temperatures.
Groups opposing fracking said the survey showed ministers needed to back renewable energy.
"This means abandoning support for climate-wrecking fracking and fossil fuels and instead championing energy saving and power from the wind, waves and sun. This is what the science requires and the public demand. It's time to stop dithering and get on with it," said Mr Peters.
Other groups said the survey showed fracking is failing to win the support of communities.
A spokesperson for Frack Free Lancashire said: "The results are indicative of the battle the shale gas industry has faced since appearing in communities where they are not wanted.
"With the damning report by the IPCC released last month, urgent global action to decarbonise is now needed. This also means there is no need or room for a new dirty fossil fuel industry like fracking."
Join our new commenting forum
Join thought-provoking conversations, follow other Independent readers and see their replies