Surge of investment in farming threatens £5trn catastrophe
Agriculture in UK and around world unable to recover costs from natural disasters because of speculative boom, warns report
Tom Bawden
Friday 09 August 2013 10:15 Comments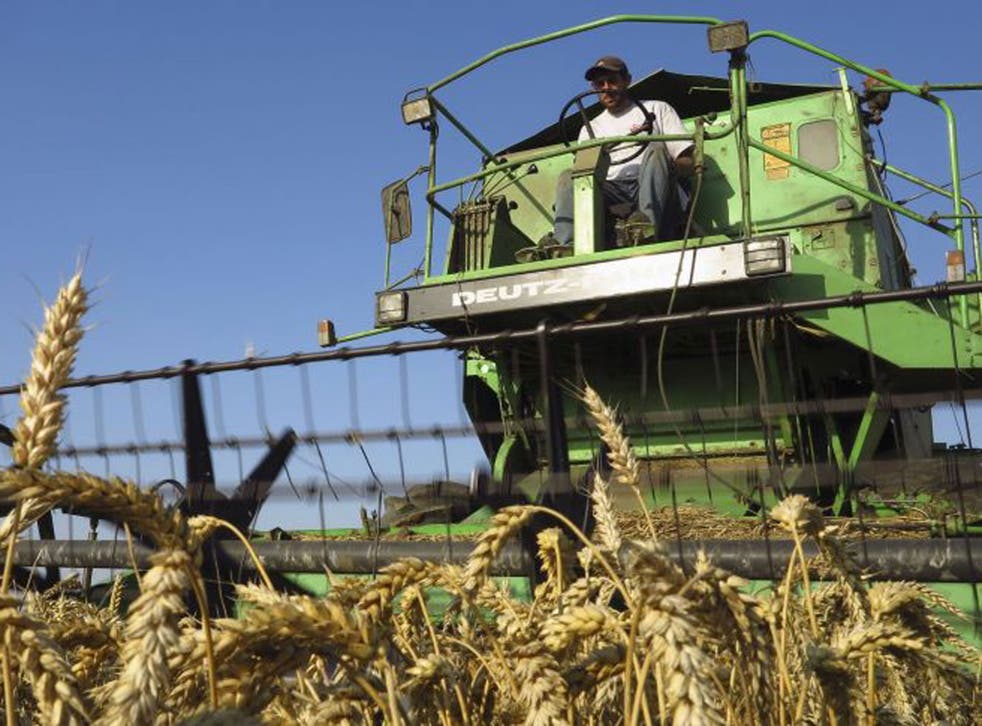 The threat posed to agriculture by environmental hazards such as climate change and water scarcity is now so great that it could wipe as much as £5 trillion off the value of the world's farm land, equipment and stock in any one year, a heavyweight study is warning.
Agriculture in the UK and worldwide is under huge financial and physical stress. A surge of investment on the back of a boom in the global food commodities market meets an increasingly precarious physical environment for farming – creating a dangerous asset bubble that threatens to burst, according to the Oxford University research.
As a result, the total value of the world's estimated $14trn worth of "farmland assets and agricultural capital stock" could see trillions of dollars wiped off its value in a single year – with a one in 20 chance that the figure could hit $8trn (£5.2trn) the report said.
"Potential losses at this scale would be catastrophic and no private insurer could cope. This is going to be an issue in the UK and globally," said Ben Caldecott, programme director at the University of Oxford's Smith School, adding that he was not able to quantify the risk for Britain.
The research team based their risk estimates on traditional insurance methodologies and stressed that an $8trn devaluation would only result from an environmental catastrophe.
"It could be a tipping point in biodiversity decline or habitat degradation making agricultural zones significantly less productive. Or, more likely, a combination of things coming together," he said.
But the chance of smaller, but still enormous, write-offs across the global agricultural industry in the coming years is high, as, for example, increasing cases of drought and flooding make land less productive and the influx of investors becomes an exodus. This would have far-ranging and unexpected consequences across the world, the report finds.
"For example, the Arab Spring has demonstrated how water supply constraints in North Africa, coupled with extreme weather in Russia can affect food security and prices and contribute to governmental collapse and broader geopolitical tension," the report said.
The report doesn't predict which parts of the world would be hit hardest by environmental hazards, how they might suffer or what it would mean for food supplies and future investment in farming.
However, farming experts said any environmental misfortune big enough to prompt huge write-downs would clearly have a huge impact on food supplies, as well as future investment in farming. It could also hit people's pensions because many of the investors that have piled into the agriculture sector in recent years have been pension funds.
Farmland is increasingly bought as an investment, to be managed by another party, rather than by farmers. Financial institutions see it as an opportunity to improve their returns by switching their money from flagging stock markets into fast growing agricultural land and food production.
But Mr Caldecott warns they could be in for a shock because many have based their decision on whether to buy into farming on financial models that largely ignores the dangers posed by environmental risk factors.
"The amount of value potentially at risk globally is significant," Mr Caldecott said, drawing an analogy between the financial crisis that is still hurting the global economy and the problems faced by agriculture.
"The financial crisis has highlighted how the relationship between the owners of an asset and the actual physical asset can become disconnected in the chase for increasing financial returns," Mr Caldecott said, referring to the packaging up of thousands of high-risk US subprime mortgages into bonds that resulted in huge banking losses that are widely regarded to have triggered the recession.
"It also highlighted how investments which can be viewed as completely rational within one set of analytical and institutional structures can nevertheless be completely irrational outside those structures. The orthodoxy of not valuing environmental externalities is one such set structure that is coming under increasing pressure for change," he added.
The environmental risk factors include increasing weather variability and water scarcity, loss of biodiversity and ecosystem services, increased risk of agricultural diseases, viruses and pests and overfishing. The report notes, for example, that "in a warmer climate, there will be an increased risk of more intense, more frequent and longer lasting heatwaves… models project increased summer dryness and winter wetness in most parts of northern, middle and high latitudes."
Economic factors include greenhouse gas and land use regulations, which are designed to help the environment, but will reduce the value of farmland, at least in the short term.
The growth in agricultural land values has been phenomenal, recording a four-fold increase in the past 10 years, and is still growing fast in most parts of the world since. In the UK, prime arable farmland – a benchmark – has more than tripled to £8,000 an acre in the past decade, according to Savills, recording a 6 per cent rise in the first half of 2013 alone.
Register for free to continue reading
Registration is a free and easy way to support our truly independent journalism
By registering, you will also enjoy limited access to Premium articles, exclusive newsletters, commenting, and virtual events with our leading journalists
Already have an account? sign in
Join our new commenting forum
Join thought-provoking conversations, follow other Independent readers and see their replies