Tests reveal that rare bird of prey was shot illegally
Killing of hen harrier sparks calls for greater protection of fragile species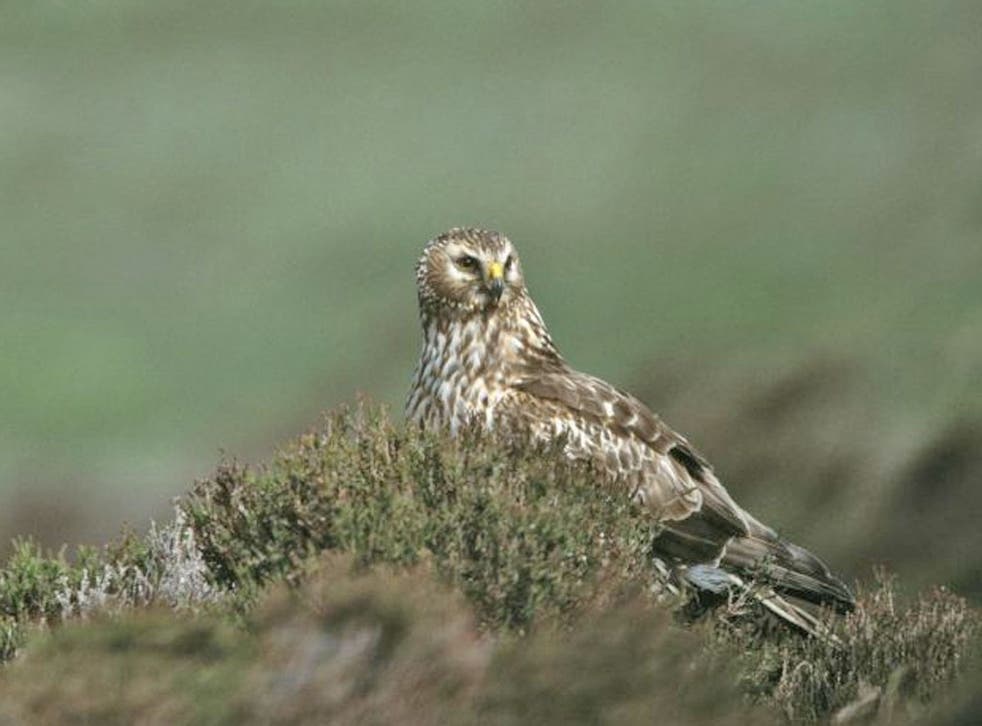 In most of the country's bird species, the loss of one individual doesn't count for much. For the hen harrier, it is a blow that could spell the end of England's fragile population of one of our most powerful and charismatic birds of prey.
Today it was confirmed that a female hen harrier found dead in the Yorkshire Dales in July was illegally shot. The bird – known as Bowland Beth – was found in a moorland area used for grouse shooting. There is now only one breeding pair of hen harriers left in England.
Equipped with a satellite tagging device, Beth was one of the last hopes for England's hen harrier population, which has been in terminal decline for years. Proof that she was illegally killed will reignite the conflict between conservationists and grouse shooting estates, which have been blamed for decades of persecution of Britain's bird of prey population.
The RSPB estimates that the country could support 300 pairs, and has blamed the bird's decline on "a determined effort to eradicate them from our countryside".
Hen harriers hunt small mammals and birds, including red grouse, which has led to conflict with shooting estates in the north of England.
Wildlife crime experts used techniques never before deployed in the UK to analyse the carcass, finding traces of lead in the bird's leg bone – evidence of illegal killing that could lead to a prosecution.
North Yorkshire Police's Wildlife Crime Unit is investigating the death. There is no suggestion that the North Yorkshire estate on which Bowland Beth was found was responsible for her death, as it is believed she may have flown for several miles after being shot.
The hen harrier is a protected species under the Wildlife and Countryside Act 1981. Offences carry a fine of up to £5,000 or a six-year jail sentence.
The wildlife film-maker and conservationist David Cobham, who had closely followed Bowland Beth's progress from her fledging in 2011, said that the time had come for the Government to act on bird of prey persecution on driven grouse moors.
"What I hope is that this might give Defra a kick up the bum and make them do something," he said. "They keep talking about the conflict with grouse moors – well now there's only one pair of hen harriers breeding in England. That's no conflict.
"Anyone who owns a grouse moor appears to have an idea that they are above the law. The birds must be left alone, and then solutions must be found to ensure hen harriers and grouse shoots can live side by side without conflict."
Figures compiled by the RSPB between 2007 and 2011 recorded illegal shooting, poisoning or trapping of at least 20 birds of prey in the Yorkshire Dales. The organisation's conservation director, Martin Harper, said the killing of Beth should galvanise the Government to invest in wildlife crime investigations.
"We need Government to bring solutions to the table via an emergency recovery plan. The first step is to confirm long-term funding for the National Wildlife Crime Unit," he said.
The UK's largest shooting organisation, the British Association of Shooting and Conservation, condemned the killing. "Anyone shooting a protected species damages shooting and the countryside and has no place among the law-abiding shooting community," said the BASC spokesman Christopher Graffius.