The birdmen of Wormwood Scrubs
Prisoners join the hundreds of thousands of Britons recording sightings at this weekend's annual Big Garden Birdwatch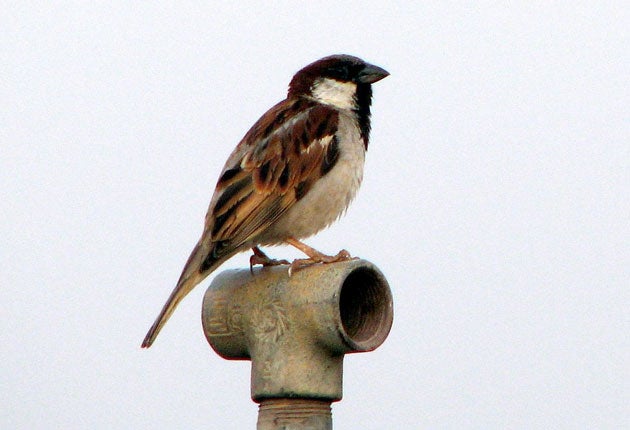 The world's biggest mobilisation of citizen scientists – alias the RSPB's Big Garden Birdwatch – got under way this weekend, with the number of Britons giving an hour of their time to count the birds seen from their windows expected to top an astonishing 600,000.
Most will have been watching from the comfort of a warm house, but there are other, more unusual vantage points. They include canal boats, lighthouses, the US embassy, and even prison cells. Regular participants in the past have included the birdmen of Dartmoor, Wormwood Scrubs and Leyhill. Altogether, inmates at 20 jails have taken part in previous years. The RSPB said yesterday it had had a "storming response" from the public, with participation 20 per cent up even on last year's record. And, in a possible first for birdwatching, the organisers reported that their Twitter feed was proving the third most popular in the UK.
Conservationists were hoping that the survey, expected to cover nearly 300,000 British gardens, would allow them to determine just how badly the winter freeze – the coldest for 30 years – has affected birds in the UK, especially smaller species. A preliminary read-out about that will be available tomorrow.
But some unusual sightings had been already reported to the RSPB by yesterday evening. They included marsh tits in mid-Wales, great spotted woodpeckers, black caps, nuthatches, tree-creepers, and some species not normally seen in town and suburbs, such as large number of fieldfares and redwings. These have probably been drawn to built-up areas by the lack of food in their usual haunts.
The Big Garden Birdwatch started in 1979 as an activity for younger members of the RSPB, and 3,000 took part. It has morphed into the largest mass-participation wildlife survey in the world. Last year, more than half a million joined in – 10 times the number of eight years before – and they spotted 73 different species and a total of eight million birds. Participants simply watch their patch for an hour, recording any species that deign to land, note how many, fill out a form, and send it off the RSPB – online or by post. The final results, announced in March, give a good snapshot of bird populations.
There are some firm favourites in the running to make the top 10 this year. House sparrows, starlings and blackbirds will be there, but the RSPB is more concerned about smaller birds, such as the long-tailed tit. The little bird has had a hard time of it recently. Weighing the equivalent of a 50p coin, it suffers greatly in harsh weather. It made the top 10 for the first time last year, after a run of mild winters boosted numbers, but there are fears that this year's particularly cold season may have drastically stunted populations of small birds. Reassuringly, six were seen by the keen spotters at the US embassy.
Flying high: Top 10 birds in 2009
1. House sparrow
2. Starling
3. Blackbird
4. Blue tit
5. Chaffinch
6. Wood pigeon
7. Collared dove
8. Great tit
9. Robin
10. Long-tailed tit
Join our commenting forum
Join thought-provoking conversations, follow other Independent readers and see their replies