The future home: self-sufficient in meat, fish, vegetables and fruit
An experiment in self-sufficiency will transform a previously derelict Manchester printworks according to so-called vertical urban farming techniques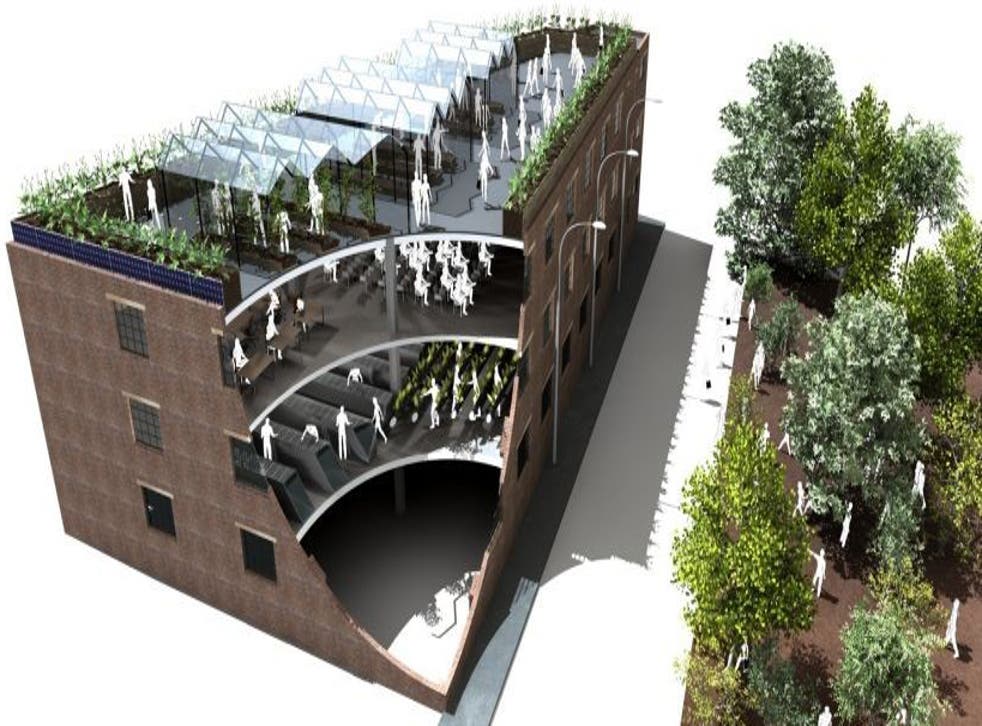 Future homes and workplaces are set to be transformed into complex food production systems becoming self-sufficient in meat, fish, vegetables and fruit, according to research due to go on public display in Britain for the first time next month.
The extraordinary potential of so-called vertical urban farming techniques to feed growing city populations will form one of the centre pieces of this year's Manchester International Festival. Thousands of festival goers are expected to visit the site of a formerly derelict print works on the banks of the Irwell in Salford next month to glimpse the future shape of farming, gardening and shopping.
Based across different levels of the building and surrounding grounds, the project will demonstrate how vegetable, mushroom, meat and fish production systems are able to feed naturally into each other to generate food crops requiring a minimum of tending.
The Biospheric Project is the brainchild of Manchester Metropolitan University PhD student Vincent Walsh from Wythenshawe who for the past two years has been conducting a unique experiment in ways that city-dwellers and designers might respond when oil resources are depleted.
As well as offering a pre-industrial antidote to the suburban allotment the project could also provide a blueprint for supermarkets in the next century where produce is grown in-store rather than being imported from across the world.
"Food is the social fabric of our community. It was the thing that always connected us but that has been lost," said Mr Walsh.
"If supermarkets disappeared tomorrow how many people would know how to feed themselves? Very few. That shows how disconnected we have come from our food for whatever reason. That is what the biosphere is all about. To understand and make us more resilient," he added.
At present the Biosphere offers a fairly limited diet of freshwater fish, mushrooms green leaves, apples, pears and the occasional citrus fruit or plum.
But according to the project founder, the potential is limitless. The concept is based on the traditional African agricultural traditions where crops are grown above each other - for example, coconuts above bananas, over coffee and ground tubers such as yams.
Mr Walsh believes pressure on land and declining energy resources will mean the West will be forced to give up growing vast horizontal fields of single crops in remote farms and transporting them hundreds of miles to urban centres to be consumed. Instead every building and open space in towns and cities will be put into production.
"That's simply what's going to have to happen. Oil is being depleted at a rate of three per cent a year so it is going to run out which means we are going to have to adapt or change our diets back to the pre-industrial era. We also have to look at creating food producing systems in the planning stage, not introducing them as an afterthought," he explained.
Returning to the pre-industrial era means giving up growing annual food plants - such as tomatoes, beans and peas - which did not form part of original north European diets and growing perennials such as kale instead.
It will also mean eschewing energy-hungry fertilisers and working with plants which mimic natural ways of feeding each other.
The plot outside the biosphere was recently a wasteland of needles, abandoned cars and disused microwaves. Today it is on course to become the largest community-owned mushroom farm in Europe.
The second floor of the mill is given over to fish tanks which will accommodate shoals of breeding tilapia, carp and perch. These will be fed from an in-house wormery whilst the fish waste will be pumped upstairs to feed 5,000 leaf crop plants and micro salads on the roof garden.
Alongside the polytunnels will be bee hives and chicken coops. By the time the 10 year project is complete every square inch of the building will be pressed into production.
Mr Walsh, who spent two years sleeping in the abandoned building, estimates that each of the systems will require no more than 10 days care per year. "This is the future, without doubt. The more complex the system the less effort you have to put into it," he said.
Produce be sold at a community shop just 78 steps away in the basement of a neighbouring tower block. "We don't work in food miles - we work in food steps," he added.
Backing the project are international architectural practice BDP and engineering giant Siemens which are hoping to pioneer their Greenius Wall technology at the Biosphere. It will utilise the dormant space on the sides of buildings to grow crops.
BDP North chairman Gavin Elliot said the technology had great value in areas of high population density.
"Architects are always looking at ways of making their buildings more intelligent. You can build a building that looks good but building one that is clever and fulfils a lot of functions - architects will see the benefits in that," he said,
"Why wouldn't you have the vertical façade on the side of a Tesco or Morrisons? They could be growing little gem lettuces there rather than flying them in from Kenya," he added.
Register for free to continue reading
Registration is a free and easy way to support our truly independent journalism
By registering, you will also enjoy limited access to Premium articles, exclusive newsletters, commenting, and virtual events with our leading journalists
Already have an account? sign in
Register for free to continue reading
Registration is a free and easy way to support our truly independent journalism
By registering, you will also enjoy limited access to Premium articles, exclusive newsletters, commenting, and virtual events with our leading journalists
Already have an account? sign in
Join our new commenting forum
Join thought-provoking conversations, follow other Independent readers and see their replies