Theresa May accused of 'pact of silence' with Donald Trump about US threat to quit Paris climate agreement
Prime Minister 'must come out in defence of a global agreement that's our best hope to avoid full-blown climate change'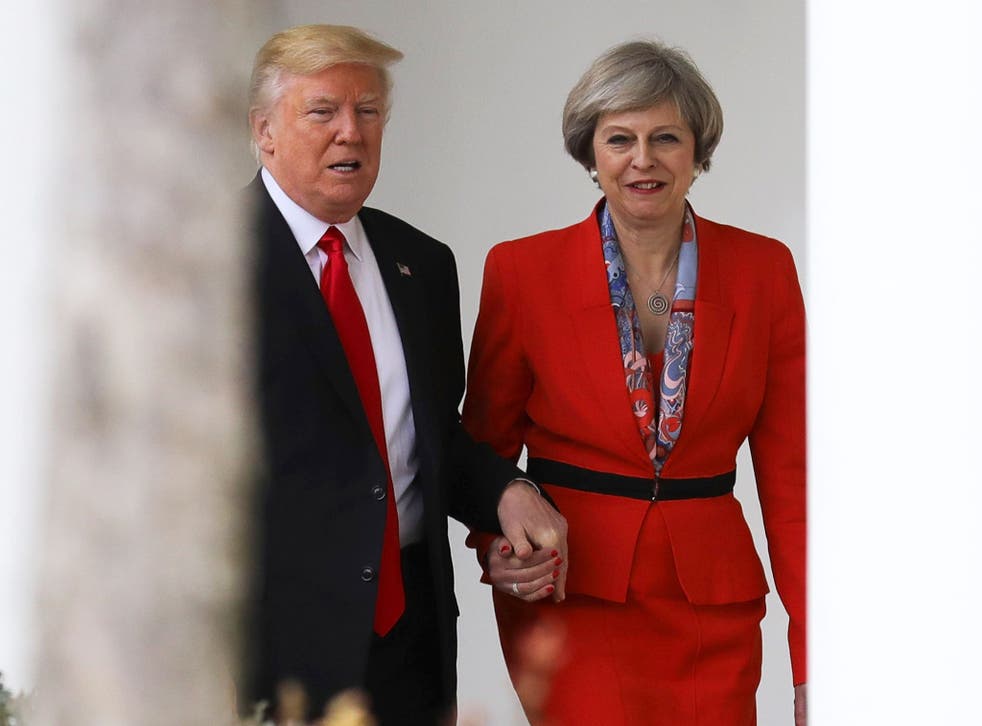 Theresa May has been accused of turning the UK's special relationship with America into a "pact of silence" on climate change by refusing to speak out about the prospect of Donald Trump withdrawing the US from the Paris Agreement.
Germany, France, the European Union and China have all made clear the importance of the landmark deal, and Japan's Prime Minister Shinzo Abe is believed to be planning to write to Mr Trump to that effect.
But Ms May, who held hands with the US President during her trip to Washington, has ignored requests to speak out from campaign groups including Oxfam, the Royal Society for the Protection of Birds, WWF, Christian Aid, Cafod and Greenpeace.
The Prime Minister's closeness to the US President is becoming an election issue, with Labour leader Jeremy Corbyn accusing her of "pandering to an erratic Trump administration".
A petition by Greenpeace calling on Ms May to speak to Mr Trump, saying "if there's one person President Donald Trump will listen to, it's our Prime Minister" because of her apparent good relations with him, has attracted about 150,000 signatures.
And John Sauven, Greenpeace UK's executive director, said: "Theresa May's Government is the only one among the world's six largest economies to have said nothing at all about Donald Trump's threat to pull out of the Paris Agreement.
"The much-vaunted special relationship must not be a pact of silence, but an opportunity to speak frankly.
"Theresa May must come out in defence of a global agreement that's our best hope to avoid full-blown climate change.
"She owes it to the majority of the British public who are concerned about it; to the clean-tech businesses that are creating jobs and building our energy future; and to the next generation.
"She promised to leave our children a healthier environment, but if we don't stop climate change her promise will be worthless."
Climate change is altering global air currents, scientists warn
Calling the UK's silence "shameful", Caroline Lucas, co-leader of the Green Party, said: "Theresa May's failure to challenge Donald Trump and his threat to abandon the Paris Agreement flatly contradicts her claim that she will act to create a healthier environment.
"Failure to act on climate change is not only a betrayal of the vast majority who want to see urgent action, but it also undermines the jobs and the businesses which depend on our shifting to a more sustainable economy."
In a submission to the United Nations, the EU noted the US would not meet its emissions reduction target for 2020 and asked bluntly: "Please could the US provide additional information on how it believes its future implementation of actions will ensure it achieves its targets?"
China made similar comments while the UK simply asked for further details about the effect of recent policy announcement.
Emmanuel Macron told Mr Trump that he would "protect what was made in Paris", the French President-elect's spokeswoman Laurence Haïm told CNN.
And Germany's Vice Chancellor Sigmar Gabriel has also told US Secretary of State Rex Tillerson of the importance of the US staying a signatory to the Paris Agreement.
Mr Tillerson, former head of fossil fuel giant Exxon, is believed to be among those in the Trump administration arguing that the US should not withdraw, along with the President's daughter and assistant, Ivanka Trump, and Defence Secretary James Mattis.
10 photographs to show to anyone who doesn't believe in climate change

Show all 10
However, Environmental Protection Agency chief Scott Pruitt and the chief strategist, Steve Bannon, are believed to be arguing in favour of doing so.
A decision was expected to be made by the end of May, but two meetings by members of the administration to discuss the issue have been postponed without explanation.
The Independent sought comments from Downing Street, the Department for Business, Energy and Industrial Strategy, which is responsible for climate change since Ms May scrapped the dedicated department, and the Conservative party.
No responses were received.
Join our new commenting forum
Join thought-provoking conversations, follow other Independent readers and see their replies