To cull or not? 'Brumby' wild horses divide Australians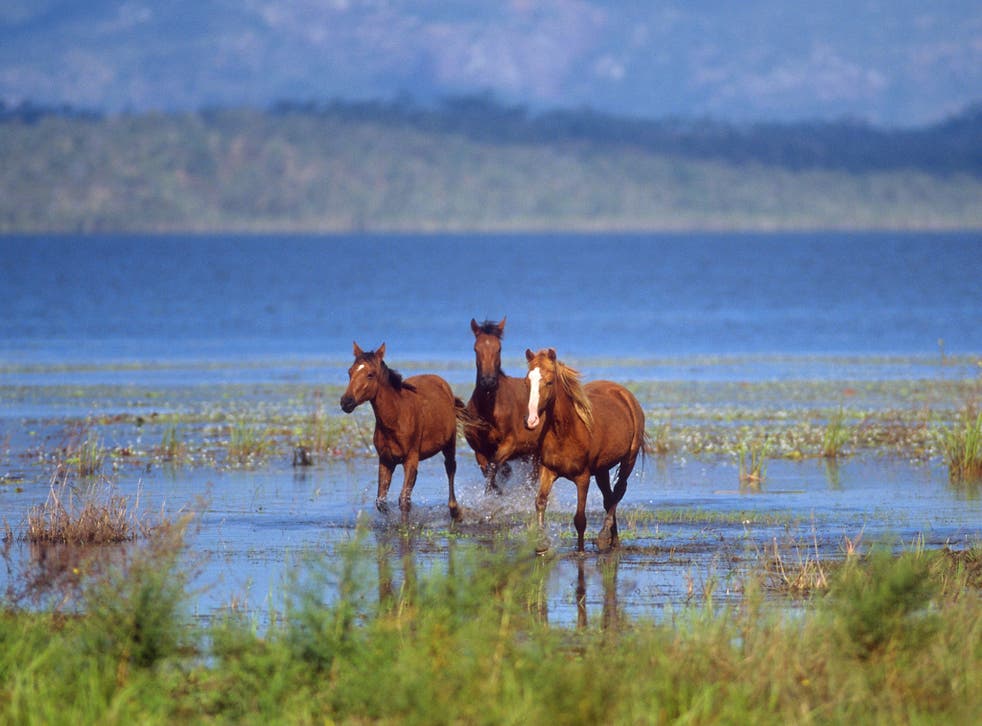 For many Australians, the brumby – or wild horse – symbolises the romance and adventure of the outback.
To others, though, brumbies are pests which trample fragile vegetation and threaten native flora and fauna. Recently their numbers have soared, prompting an agonised debate about how to control populations.
Last month, more than 7,000 horses on two cattle stations in Western Australia's East Kimberley region were killed by marksmen in helicopters. Aerial culling is regularly carried out in the Northern Territory, while in New South Wales the government – which imposed a moratorium in 2000 after photographs of a cull sparked a public outcry – is considering reintroducing it.
Brumbies are descendants of horses which were released into the wild from the 1830s onwards, or which escaped from rural properties. They spread across the continent, where nowadays their numbers are estimated at between 300,000 and one million – making them probably the world's largest wild horse population.
One region where they are particularly numerous is the Australian Alps – the "high country" of Victoria, New South Wales and the Australian Capital Territory, much of which consists of national parks. According to government surveys, the brumby population in the high country has increased by 21 per cent a year over the past decade.
With their hooves, heavy weight and herbivorous diet, the horses are trashing the delicate alpine environment, with its fields of wildflowers and wetlands containing rare and endangered species including corroboree frogs, alpine she-oak skinks and alpine tree frogs.
Conservationists say that brumbies damage swamp and grassland habitats, pollute and erode waterways, spread weeds and compete with native wildlife for food. In Kimberley, the area where they roam has been described by one feral horse researcher as "like looking at the surface of Mars … There was absolutely no natural pasture, and it really did look red and barren."
The recent cull – one of the largest ever carried out in Australia – was supported by the country's RSPCA, not least because horses in the area had been dying because of a shortage of food and water. Although the RSPCA supervised the operation, one activist group, Wild Horses Kimberley, claimed some animals were merely wounded and left to die lingering deaths.
During aerial culls, each animal is supposed to be shot more than once to ensure it is dead. However, the vet who oversaw the brumby cull, Jordan Hampton, has admitted that 1 per cent of animals were not killed properly, and risked "a protracted death".
In Victoria, the state government is developing a new brumby management plan but has already ruled out culling. That has been criticised by the RSPCA, which has accused it of prioritising uninformed public opinion over animal welfare.
The RSPCA's president, Lynne Bradshaw, told Australia's ABC radio that while the notion of a cull was always "unpalatable", animal welfare experts had "honestly looked at all the options, and this was the most humane method".
For all the trouble they are causing, brumbies are still considered an integral part of the nation's settler heritage. Images of them seem to symbolise the freedom of the outback and its open spaces.
Join our new commenting forum
Join thought-provoking conversations, follow other Independent readers and see their replies