Tropical forests are now emitting more carbon than oxygen, alarming new study finds
Worrying report reveals true impact of damage to forested areas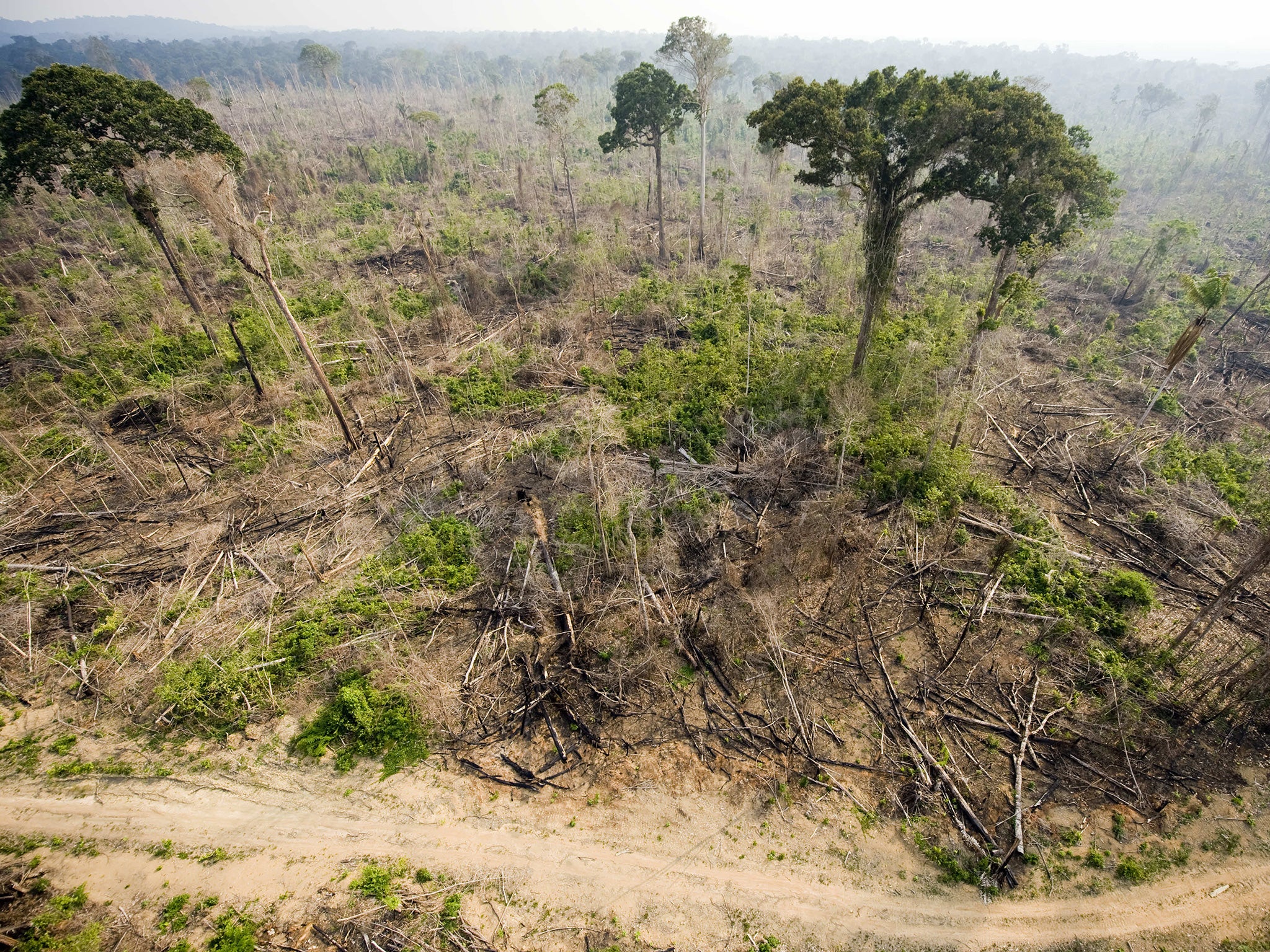 So much of the Earth's forest has been destroyed that the tropics now emit more carbon than they capture, scientists have found.
Tropical forests previously acted as a vital carbon "sink", taking carbon from the atmosphere and turning it into oxygen, but the trend has reversed: they now emit almost twice as much carbon as they consume.
Scientists said ending deforestation and degradation in the tropics could reduce global carbon emissions by 8 per cent.
In a paper published in the journal Science, researchers from Boston University and the Woods Hole Research Center said there is a limited window of opportunity to reverse the trend by restoring forested areas.
They used a new method to assess carbon density, measuring levels not just in areas of complete deforestation but also places where more subtle losses have been caused by forest degradation and disturbance.
Satellite images, laser technology and field measurements were used to record how vast areas of forest have been lost since 2003.
$5,000,000,000,000: The cost each year of vanishing rainforest
Show all 2
Dr Alessandro Baccini, who led the study, said: "These findings provide the world with a wake-up call on forests. If we're to keep global temperatures from rising to dangerous levels, we need to drastically reduce emissions and greatly increase forests' ability to absorb and store carbon.
"Forests are the only carbon capture and storage 'technology' we have in our grasp that is safe, proven, inexpensive, immediately available at scale, and capable of providing beneficial ripple effects—from regulating rainfall patterns to providing livelihoods to indigenous communities."
The study found that the tropics now contribute more carbon to the atmosphere than they take in. 862 teragrams of carbon are emitted while only 437 teragrams are consumed.
More than 60 per cent of emissions in the tropics comes from Latin America, which has witnessed large-scale damage to the Amazon rainforest in recent years. 24 per cent comes from Africa and 16 per cent from Asia.
Dr Wayne Walker, another member of the research team, said: "It can be a challenge to map the forests that have been completely lost. However, it's even more difficult to measure small and more subtle losses of forest.
"In many cases throughout the tropics you have selective logging, or smallholder farmers removing individual trees for fuel wood. These losses can be relatively small in any one place, but added up across large areas they become considerable."
Join our commenting forum
Join thought-provoking conversations, follow other Independent readers and see their replies