Trump's environmental chief to increase security detail spending to $2m after unprecedented death threats
Mr Pruitt receives 'four to five times' the death threats of predecessors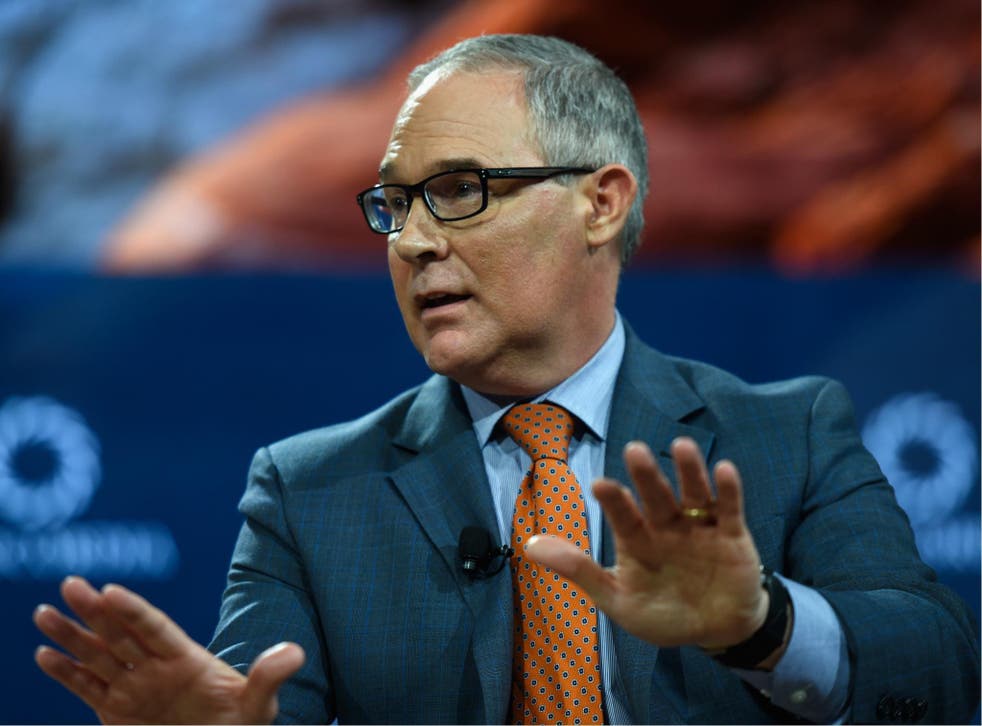 Donald Trump's environmental chief has received so many threats that his security detail is being expanded and will cost taxpayers at least $2m every year.
Congress, having never raised the issue of the level of protection for Scott Pruitt's predecessors, has called into question the cost of 24-hour security for Environmental Protection Agency (EPA) head.
The EPA's Inspector General said that Mr Pruitt has, however, received more death threats than any of his predecessors - at least "four to five times the number of threats" than Barack Obama's EPA lead Gina McCarthy, according to assistant inspector general Patrick Sullivan.
Neither Ms McCarthy or Christine Todd Whitman, George W Bush's environmental chief, had extensive details or even locked their office doors.
Ms Whitman only used agents when travelling on official work.
There have been 70 separate investigations launched into the threats against Mr Pruitt.
Mr Sullivan told CNN the threats come from "both sides" of the political spectrum - those who think the EPA is not doing enough to protect the environment and fight climate change and those who think government is regulating industry too much. Changes are being made to Mr Pruitt's Washington DC office as well.
A new security system with card readers has been installed, costing taxpayers approximately $16,000.
Mr Pruitt, according to government vendor contracts reviewed by CNN, also bought a $25,000 soundproof communications booth for his office though the EPA has another space dedicated to this.
Soldier's widow says Trump 'couldn't remember her husband's name'
Even access to the hallway leading up to Mr Pruitt's office is monitored by security personnel who check identification.
The estimated cost does not include equipment and vehicles needed by the security agents, any training, and travel.
It prompted two Democratic members of Congress, Peter DeFazio and Grace Napolitano, to write to the EPA Inspector General's office about how Mr Pruitt's security expenses "during his first quarter as EPA administrator is nearly double what the two previous administrators spent on security over that same timeframe."
That was before the announcement regarding additional agents.
The increased security spending comes at a tumultuous time at the agency, whose budget Mr Trump plans on cutting by nearly 30 per cent in his administration's bid to bring back the coal industry and deregulate on the federal level.
Consulting scientists have either been pushed out or resigned, publicly citing the Trump administration's politics as a reason. The agency will likely reach its lowest employment level in nearly 30 years.
Mr Trump withdrew the US from the global Paris Agreement, signed by nearly 200 countries in an effort to curb carbon emissions and help poorer countries adapt to a changed planet.
In addition, Mr Pruitt announced the EPA would be repealing and possibly replacing a cornerstone of the Obama administration's environmental legacy: the Clean Power Plan.
Had the CPP been implemented it would have reduced power plants' carbon emissions by 2030 to a level 32 per cent lower than they were in 2005.
Power plants account for almost 40 per cent of the country's emissions - "more than every car, truck, and plane in the US combined," according to the Union of Concerned Scientists.
Register for free to continue reading
Registration is a free and easy way to support our truly independent journalism
By registering, you will also enjoy limited access to Premium articles, exclusive newsletters, commenting, and virtual events with our leading journalists
Already have an account? sign in
Register for free to continue reading
Registration is a free and easy way to support our truly independent journalism
By registering, you will also enjoy limited access to Premium articles, exclusive newsletters, commenting, and virtual events with our leading journalists
Already have an account? sign in
Join our new commenting forum
Join thought-provoking conversations, follow other Independent readers and see their replies