UK 'set to allow deadly clouds of EU pollution that will kill hundreds in Britain'
Theresa May could join 'an unholy alliance of heavily coal-dependent countries' in blocking tough new limits on emissions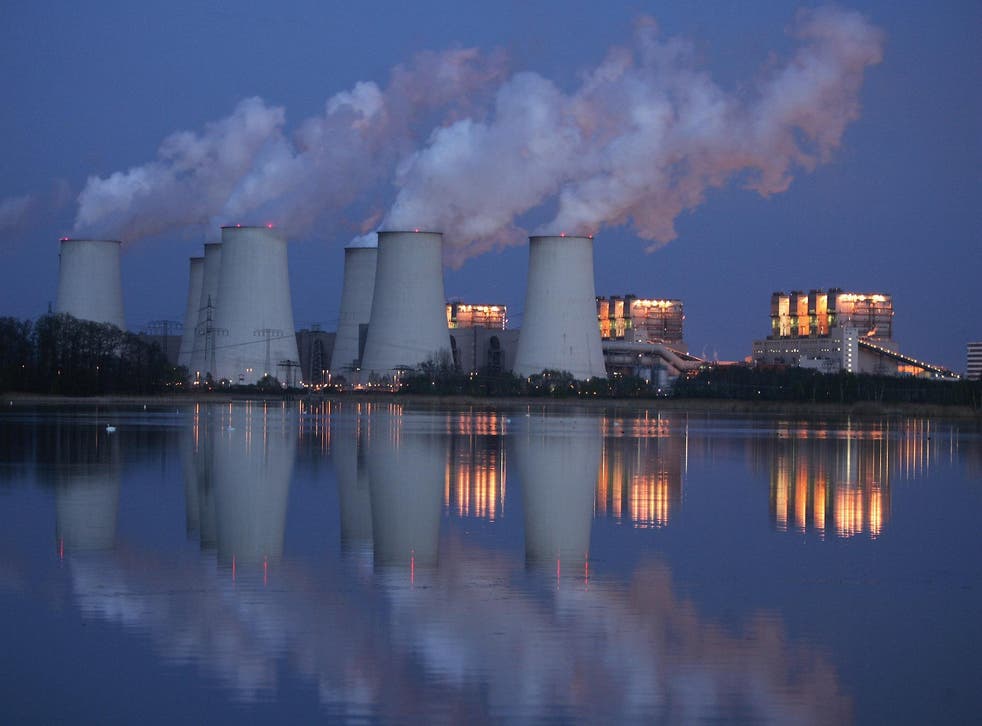 The UK could be about to vote against new European Union air quality standards that would prevent hundreds of premature deaths in Britain caused by air pollution produced on the continent, campaigners have warned.
The new rules would impose stricter limits on fossil fuel emissions from large industrial plants – including power stations – and there is concern that countries heavily reliant on coal will vote down the proposals.
The UK, which has announced plans to phase out "unabated" coal power stations, has repeatedly refused to say what it plans to do but campaigners said it had previously tried to delay the process.
The European Council vote comes a day after Environment Secretary Andrea Leadsom was ordered by a High Court judge to publish the Government's third attempt at an air quality plan to bring the country within EU safety limits.
Ministers had tried to delay publication until after the general election, with their lawyer claiming it would drop a "controversial bomb" into the campaign.
According to a report by the European Environmental Bureau, conservation campaigners WWF and other groups, called Lifting Europe's Dark Cloud, adopting the new "Bref" emission limits could prevent some 20,000 premature deaths a year in the EU.
Currently, 570 premature deaths each year in the UK are estimated to be caused by air pollution from countries in mainland Europe, with Germany (230), Poland (110) and France (80) the worst offenders.
However, British coal plants are estimated to be responsible for 2,870 premature deaths, of which 1,350 occur in other EU countries, with France (350), Germany (320) and the Netherlands (160) the worst affected. UK coal burning is also estimated to add about 1,400 new cases of chronic bronchitis every year.
Anton Lazarus, of the European Environmental Bureau, which is made up of 150 member organisations in more than 30 countries, said they feared the UK was planning to stand in the way of the improved standards.
"An unholy alliance of heavily coal-dependent countries, including Germany, is trying to weaken the new limits at the last minute," he said.
"It would be hugely disappointing to see the UK join this group.
"Given the UK's commitment on [phasing out] coal and the Government's recent comments on air quality, voting for the new standards would be a fantastic opportunity to demonstrate a commitment to reducing toxic pollution.
"Yet Ministers have been evasive about the Government's position so far."
He said the vote appeared to be on a knife-edge. "It's so close that abstaining could make a difference," Mr Lazarus said.
Ministers have twice avoided giving an answer when asked about the issue in Parliament.
The worst countries in the world for air pollution deaths

Show all 10
And, when contacted by The Independent, a Department for Environment, Food and Rural Affairs spokeswoman declined to reveal their intentions.
"The Government is examining the proposed standards for power plants," she said in an email.
"Discussions will be held at the meeting after which the UK Government will cast its vote."
Mr Lazarus said there were ominous signs of British opposition to tougher emissions limits.
Terrifying video shows blanket of air pollution enveloping Beijing
"As recently as last October the UK was still desperately trying to add further delays under the guise of the need to carry out an additional 'impact assessment' [of Bref]," he said.
"Had the UK Government done their homework, they would have seen that the Commission had already dismissed the idea of an impact assessment as 'superfluous', so it was a hopeless attempt."
Given the UK is expected to leave the EU in 2019, it might seem strange for Britain to vote down the Bref standards.
However, Theresa May has promised to transfer as much EU legislation into British law as possible to provide much-needed continuity.
So the improved Bref standards would likely be adopted and it might then be controversial to repeal them.
Sadiq Khan calls air pollution in London a killer
While the grandstanding promise to "phase out coal" by 2025 – made shortly before the Paris climate change summit – sounds impressive, it actually was a pledge to phase out "unabated" coal, meaning coal from plants that had not reduced their emissions to at least some degree. The definition of unabated is currently the subject of consultation, so it could mean anything from a pitiful reduction of just 1 per cent to an impressive 100 per cent.
However, the carbon capture-and-storage technology that would be required is still in its infancy.
Join our new commenting forum
Join thought-provoking conversations, follow other Independent readers and see their replies