UK switches on to green power
Renewables now supply one fifth of energy – up 43 per cent in a single year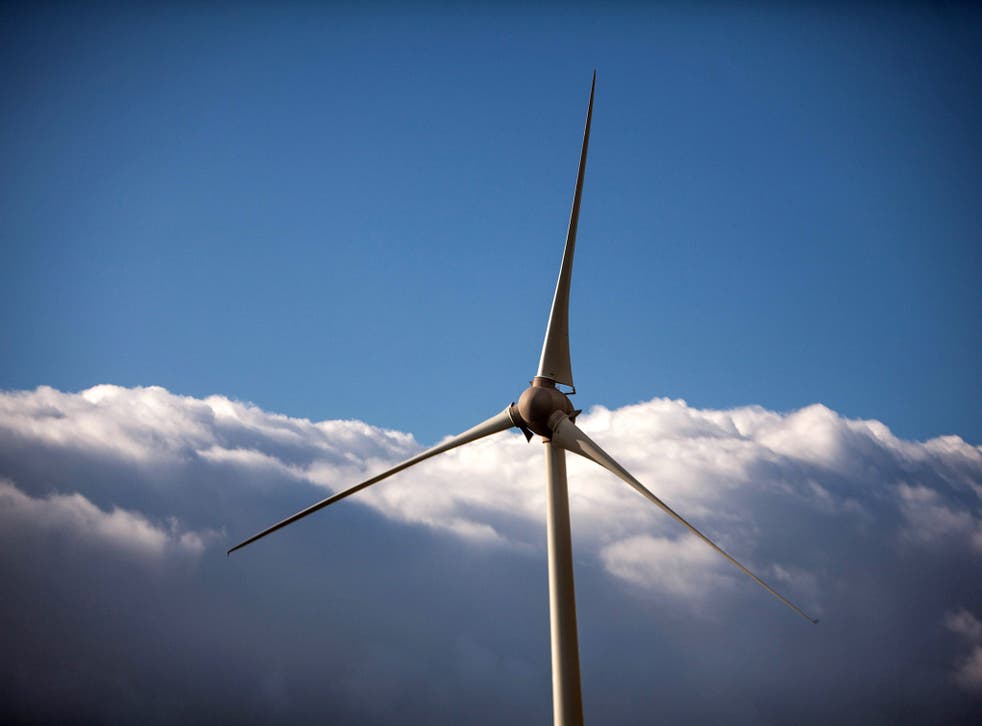 Britain is in the midst of a green energy revolution after production soared to record levels, according to new figures which deal a blow to opponents of renewable energy and a potential boost for consumers.
The amount of electricity generated from renewable sources such as wind, solar and hydro has soared by 43 per cent in the past year to account for a fifth of production, as newly-built plants came on stream and the weather became windier, the Office for National Statistics has said.
The jump was widely welcomed by experts who said it represented a landmark for the renewable energy movement and demonstrated the growing role that green electricity has to play in the power grid.
"These impressive figures show that renewable energy can play a major role in Britain's energy mix. Onshore and offshore wind in particular have been squeezing coal and gas off the grid which will help reduce Britain's carbon pollution," said Will Straw, associate director of the IPPR think tank.
Mr Straw criticised the Conservative Party's plan to freeze onshore wind farm development if it gets elected next year in the face of widespread Tory opposition to land-based turbines.
"As the costs of these technologies start falling, now is not the time to prematurely announce a moratorium on onshore wind. Instead of destabilising Britain's renewable industry just as it gets going, we should be setting clear goals to decarbonise the electricity system by 2030," Mr Straw said.
Dr Doug Parr, chief scientist and policy director at Greenpeace UK, added: "Nobody noticed the lights going off because the intermittent wind was not blowing," alluding to critics of renewable energy who argue that such technologies are unreliable because it is at the mercy of the sun, wind and rain.
"We are still nowhere near the limit of renewable energy the system can deal with in terms of the intermittency issue," Dr Parr said, adding that onshore wind is the cheapest form of low-carbon energy.
The jump in renewable energy production has been overseen by Liberal Democrat Energy Secretary Ed Davey in the face of Conservative opposition which was immortalised by reports that David Cameron told aides he wanted to "get rid of all the green crap" from energy bills – a reference to the renewable energy subsidies that are added to the household electricity prices.
Onshore wind generation jumped by 62 per cent to account for more than a third of the renewable electricity generated in the first three months of the year, compared to the same period in 2013, the ONS figures show.
"At a time when some politicians were finalising their plans to rule out any future support for onshore wind, it was quietly generating enough electricity for the equivalent of over five and a half million homes," said Jennifer Webber, a director of the industry body Renewable UK.
"Onshore wind is delivering today and it's deeply illogical to talk about limiting its potential," she added.
"Even if the latest figures were helped by the mild, wet and windy weather, such a high level of renewable energy would have seemed almost inconceivable a decade ago. Renewable energy is now on a par with nuclear in terms of its importance as a power generator," said Dr Robert Gross, the director of the Centre for Energy and Technology at Imperial College London.
Solar panels around the world

Show all 11
Meanwhile a breakthrough, reported by The Independent this week, could lead to cheaper and safer solar panels. Scientists at Liverpool University discovered an edible salt found in sea water, magnesium chloride, can be used to produce them, rather than toxic cadmium chloride.
Ann Robinson, director of consumer policy at uSwitch, the price comparison website, said: "This is extremely good news indeed – we need as diverse a supply of energy as we can get, especially as the North Sea is running out of oil and gas."
"The rise in renewable energy has helped push down wholesale gas prices which could be good news for consumers if the energy companies pass on the benefits to consumers," she added.
However, despite the jump in renewable energy production, experts cautioned that output would probably dip a little in what is proving to be a less windy second quarter of the year.
Furthermore, they point out that the new power plants that have come on-stream in the past year will have been several years in the planning and building.
They are concerned that Conservative Party opposition to renewable energy could put potential investors off backing much needed renewable energy plants in the future.
But while Britain is making tremendous progress in green energy it is still well behind leaders such as Denmark – which in November produced more electricity than the country needed from wind turbines alone and Germany, which satisfied in October 59.1 per cent of demand with solar and wind.
Join our new commenting forum
Join thought-provoking conversations, follow other Independent readers and see their replies