UN climate talks: Rich square up to poor over emissions cuts
Bickering countries rock Peru summit and threaten agreement
Simeon Tegel
Sunday 14 December 2014 01:00 Comments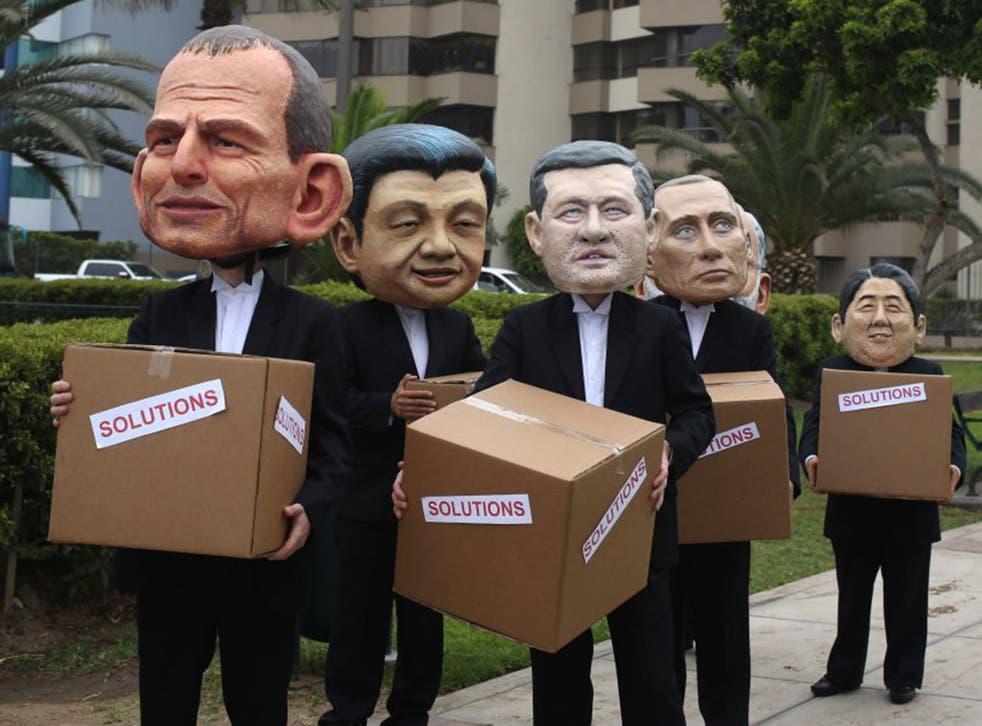 The United Nations climate talks in Lima were at risk of ending in frustration last night after running into extra time amid acrimonious accusations that the 12-day negotiations have caused some governments to move away from the measures needed to avert dangerous levels of global warming.
The talks were due to end on Friday, but were extended into Saturday following squabbling, largely on the part of rich countries pitted again poor ones, over technical issues involving who should cut most greenhouse gas emissions, how these cuts should be measured and funding for developing nations.
Mohamed Adow, Christian Aid's senior climate change adviser, described the talks as a "shambles". He launched a stinging attack on the two diplomats chairing the haggling over the negotiating text, the European Union's Artur Runge-Metzger and Trinidad and Tobago's Kishan Kumarsingh, for "ignoring the African countries and other small developing nations".
"They have failed to resolve the big issues around how to fairly share the global effort to tackle climate change," Mr Adow said. "What's so offensive is that it is the countries suffering the most from climate change that have been sidelined in a process which should be helping them."
The text is intended to provide the building blocks for a comprehensive international climate change treaty to be signed by the nearly 200 participating countries in Paris in December 2015. It will also lay out how governments must submit their plans to slash their national carbon emissions by next March – although that deadline may be informal.
That agreement will be aimed at keeping average temperature rises below a threshold of 2C predicted to trigger "catastrophic" impacts. But most now expect the Paris deal will be so watered down that it will miss that target entirely.
Last month, the World Bank published a report warning that a 1.5C rise was already all but "locked in" because of past and unavoidable future carbon emissions. A version of the text was still being discussed yesterday – and was yet to be agreed last night.
By yesterday evening, Chinese negotiator Liu Zhenmin told the Associated Press that there was "deadlock", with several devloping nations rejecting a draft. US representative Todd Stern said that failure to produce a decision would represent a "serious breakdown".
Some reports stated that a draft expressed "grave concern" that the existing promises to fight climate change were too lax to avoid overshooting the 2C limit.
The Lima round of negotiations kicked off on a wave of optimism following high-profile commitments from the European Union, United States and China – which together account for most of the world's greenhouse gas emissions – to slash their carbon footprints. However, with many countries refusing to budge from their established positions and China, now the world's largest emitter, being singled out for seeking to avoid independent scrutiny of its plan to peak emissions by 2030, that momentum appeared to have been lost. China and other developing countries opposed plans for a review process that would allow the pledges to be compared against one another before Paris.
Marlene Moses, a diplomat from Nauru who chairs the Alliance of Small Island States, whose very existence is threatened by rising sea levels, accused Beijing of saying: "'We'll show you our cards but don't read them.' We are being asked to sign on to an agreement that puts us under water."
Other sticking points include the financing of the Green Climate Fund, which is supposed to raise $100bn (£63bn) a year by 2020 to help poorer nations develop sustainably without increasing their emissions. So far, pledges add up to only about $10bn a year, with no agreement on whether the cash should only be donations of public money. Negotiators are also unable to agree whether the Paris treaty should make contributions to the fund compulsory.
Another bone of contention is whether "adaptation" to climate change, rather than just cutting emissions, should be in the treaty. Rich nations led by the US object while poor countries want it in the text, along with specific language about how to fund it.
But during a brief visit to Lima, US Secretary of State John Kerry staked out what may be Washington's strongest stance yet on climate change, calling it as dangerous as "terrorism, extremism, epidemics, poverty, nuclear proliferation".
Meanwhile, observers noted that Beijing appears to be leading a gradual sea change in developing nations' "binary" view that rich nations are solely to blame for the climate crisis, to a more nuanced view of gradations of responsibility.
The draft text initially ballooned from six to more than 60 pages during the talks in Lima as governments insisted on introducing language reflecting their national positions – and that frequently contradicted pre-existing clauses from other nations.
But by Thursday, the negotiators' need to kick key decisions down the road to next year had led to the text offering "multiple choice" solutions to many issues. Oxfam's Jan Kowalzig warned then that "the options presented are like a choose your own adventure novel" that could leave the planet "headed down a treacherous road towards extreme warming".
The version of the text that offered "multiple choices" was gutted on Thursday night and a new text of only seven pages circulated on Friday, prompting Mr Adow's attack. Mattias Soderberg of the ACT, an umbrella group that brings together churches from 140 countries, added that the Friday text was "far from the recommendations given by science".
Activists singled out various countries for obstructionism, with Australia coming in for the harshest criticism. Prime Minister Tony Abbott's administration won the Climate Action Network's "Fossil of the Day" award four times during the Lima talks. However, Mr Abbott did announce in recent days that his country would put in more than £100m into the Green Climate Fund, a policy reversal that reflected the slowly shifting mood. Other winners included Venezuela and Saudi Arabia, predictably, perhaps, given that they own respectively the world's largest and second largest proven oil reserves, and hosts Peru, for undermining the environment ministry that has done a widely praised job of leading the Lima talks.
Although governments are still unable to agree on who should cut emissions most, observers say that more and more countries are now taking climate crisis seriously.
"There is growing consensus that Paris has to have a long-term goal which leads to near elimination, if not total elimination, of carbon emissions by some time in the middle of century," said Alden Meyer, policy director of the Union of Concerned Scientists. "That is a real shift from just a year ago."
Register for free to continue reading
Registration is a free and easy way to support our truly independent journalism
By registering, you will also enjoy limited access to Premium articles, exclusive newsletters, commenting, and virtual events with our leading journalists
Already have an account? sign in
Join our new commenting forum
Join thought-provoking conversations, follow other Independent readers and see their replies