Viscount Matt Ridley: Protesters storm coalmine on prominent climate change sceptic's estate in Northumberland
The group halted the mine's production by chaining themselves to a giant excavator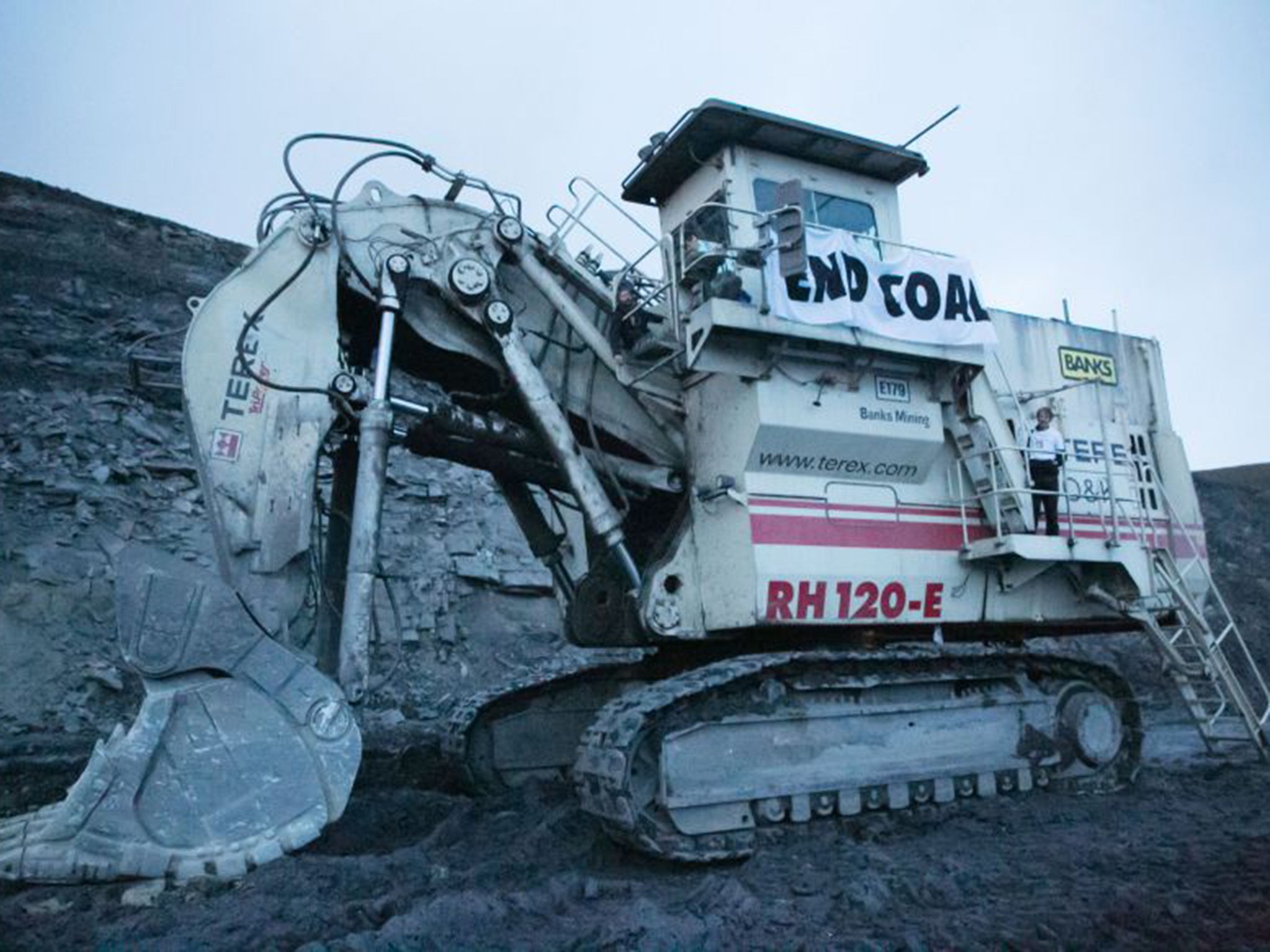 Protesters have stormed a coalmine on the Northumberland family estate of Viscount Matt Ridley, a prominent climate change sceptic and Conservative member of the House of Lords, halting production by chaining themselves to a giant excavator.
It is the first action from a new protest group called Matt Ridley's Conscience. The group says it is targeting the Conservative peer because he is a member of the political and media elite who benefits financially from extolling the virtues of fossil fuels and playing down the threat of climate change.
A group of 12 protesters entered Ridley's 18th-century Blagdon Estate at 6am yesterday, some chaining themselves to a 500-tonne coal excavator in the depths of the open-cast mine. Others handcuffed themselves together inside drainage pipes by the front gate of the site.
"Gone are the days when mining benefited millions – now open-cast mining lines the pockets of millionaires like climate sceptic Matt Ridley, whilst destroying the landscape and cooking the planet," said Ellen Gibson, one of the activists at the front gate.
The Shotton mine is England's largest open-cast coalmine and the Ridley family receives a portion of the profits in return for allowing access to the land. At the same time, Ridley is a self-styled "climate lukewarmer" and writes regular newspaper columns championing fossil fuels – although he is open about his involvement in the industry.
Eco-friendly cities: in pictures
Show all 10
"Matt Ridley is a climate sceptic who makes money from open-cast coalmining and also has tremendous media and political connections. He is a member of the landed aristocracy who promotes his views about climate change and fossil fuels through a column in The Times," said Robert Grayson, another member of Matt Ridley's Conscience.
Ridley believes that global warming is only happening very slowly and poses no significant threat to the planet.
Speaking recently in a House of Lords debate, he pointed out that rising volumes of atmospheric carbon dioxide have pushed up the volume of plants and crops, adding: "Fossil fuels do not have anything to be ashamed of, and have much to be proud of."
He declined to comment on the protest. However, Robert Downer, chief executive of the Blagdon Estate, said: "I know that Matt Ridley has always been clear and open about his mining interests, as well as on his views on climate and energy policy, and that he has also been a champion of utilising shale gas as a suitable future source of energy."
Join our commenting forum
Join thought-provoking conversations, follow other Independent readers and see their replies