Active volcano discovered beneath Antarctic ice sheet could be contributing to rapidly melting glacier
'Wild card' volcanic activity may add to climate change-induced sea level rise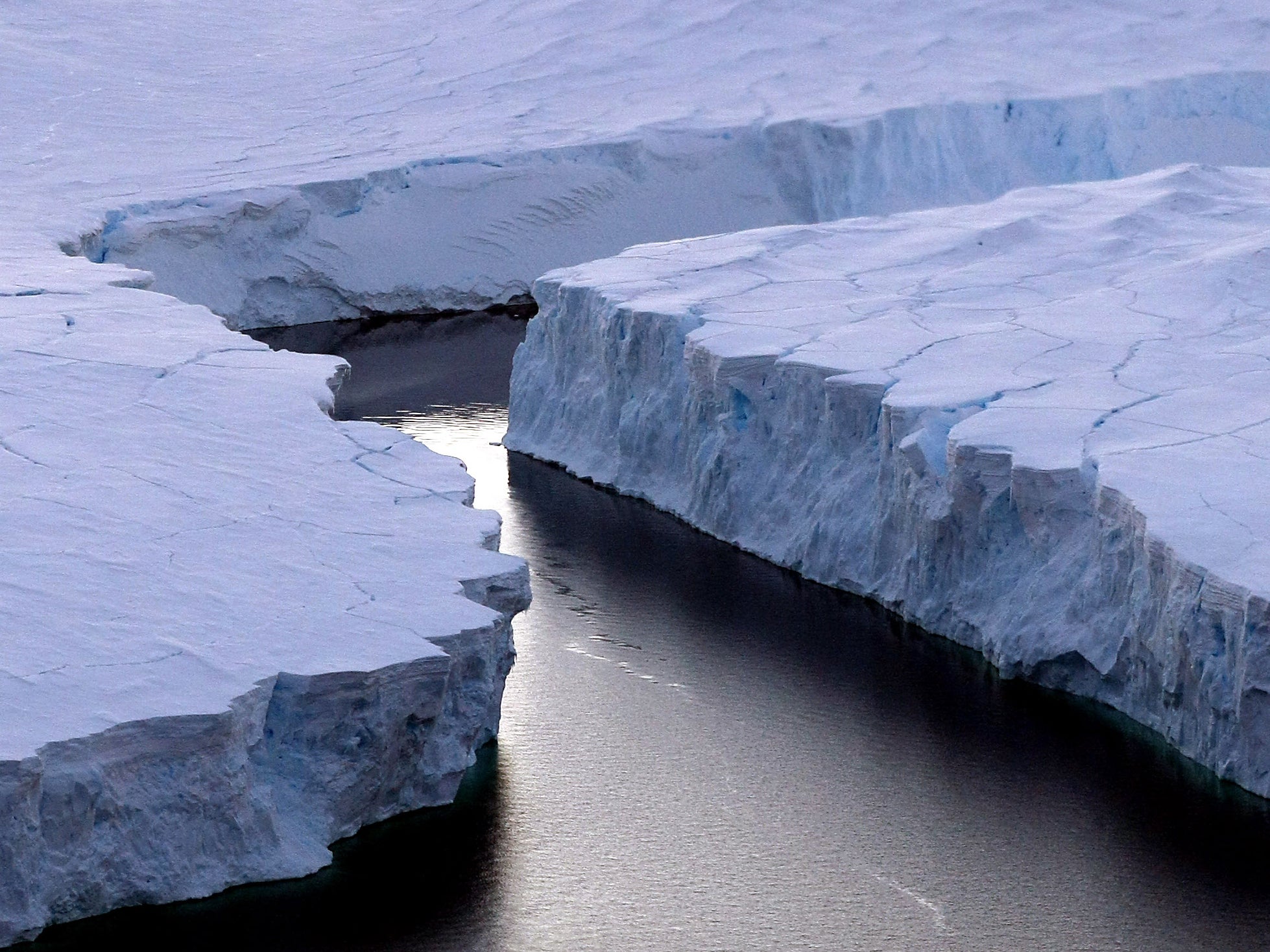 An active volcano has been unexpectedly discovered beneath a rapidly vanishing glacier in Antarctica by a team of scientists studying the melting ice shelf.
While rising temperatures in the polar oceans are still by far the biggest contributor to Antarctic melting, volcanoes buried deep beneath the ice are a "wild card" that are likely also playing a role.
Scientists have warned this hidden source of heat must be taken into consideration when predicting future sea level rise.
West Antarctica is thought to contain well over 100 volcanoes, but finding them and understanding their contribution to ice melting has proved difficult.
During a survey conducted in 2014, a team of British and American scientists stumbled across one of them while exploring the effect of warming ocean waters on the ice shelf.
Chemical data from water samples revealed an active source of volcanic heat beneath the Pine Island glacier, which is the fastest-melting glacier in the entire region.
Though there have been no eruptions in Antarctica for more than 2,000 years, the heat from this hidden volcano could be contributing to this rapid decline.
Hawaii Kilauea volcano eruption: in pictures
Show all 30
"The west Antarctic ice sheet has existed for tens of thousands of years and it has happily coexisted with volcanic activity happening within and underneath it," Dr Rob Larter, a marine geophysicist at the British Antarctic Survey told The Independent.
"Because of the episodic nature of volcanic activity it's something that's very difficult to factor into future projections – it's a wild card."
Measuring volcanism in Antarctica is problematic as the traditional means of assessing volcanoes – heat and smoke – are difficult to assess in sources buried deep below the ice.
In their current study, published in the journal Nature Communications, a team led by Professor Brice Loose of the University of Rhode Island measured a form of helium in the water they described as "a fingerprint for volcanism".
Recent analysis revealed that ice melting in Antarctica – particularly west Antarctica – is taking place faster than ever before.
The Pine Island glacier is particularly unstable, and made headlines in 2017 when it lost a chunk of ice four times the size of Manhattan.
"The discovery of volcanoes beneath the Antarctic ice sheet means that there is an additional source of heat to melt the ice, lubricate its passage toward the sea, and add to the melting from warm ocean waters," said Professor Karen Heywood of the University of East Anglia, who was the expedition's chief scientist.
"It will be important to include this in our efforts to estimate whether the Antarctic ice sheet might become unstable and further increase sea level rise."
Dr Robert Bingham, a glaciologist at the University of Edinburgh who has discovered dozens of Antarctic volcanoes, said the melting was probably not a major contributor.
New land forms as lava from Hawaii volcano meets the ocean
"I don't think people should look at volcanoes underneath west Antarctica as a serious concern for causing instability," he said.
However, Dr Bingham, who was not involved in the new study, suggested that as climate change-induced melting increases, volcanic activity could also increase.
"If you have got thinning ice cover over a volcanic region there is every reason to suggest it will increase the volcanism," he said.
As the pressure exerted on the mantle by the glacier decreases and allows more heat to escape, this could cause a feedback loop in which the melt rate continues to increase.
The researchers behind the new study said understanding the rate of sea level rise due to a melting Antarctica will be crucial in the coming years, and monitoring the region's volcanoes will be a key part in this process.
Join our commenting forum
Join thought-provoking conversations, follow other Independent readers and see their replies