VW named as Europe's least green car maker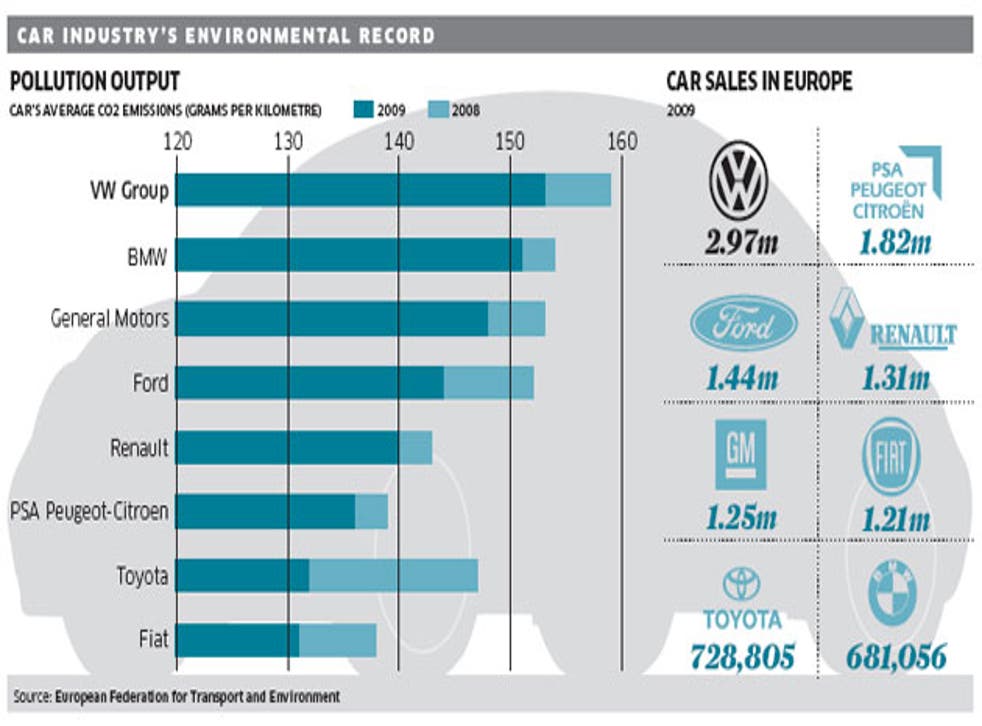 Europe's largest car maker, Volkswagen, is accused of exaggerating its green record and resisting attempts to make popular models such as the market-leading Golf more fuel efficient.
In a report seen by The Independent, the environmental group Greenpeace claims that despite having an image as a family friendly, green brand, VW Group has made less progress on fuel efficiency than rivals such as BMW and Toyota and is actively seeking to thwart EU plans to reduce climate-change emissions by 2020.
According to the 24-page Greenpeace report, The Dark Side of Volkswagen, the German carmaker puts its most efficient engines in only 6 per cent of its cars and inflates their price by more than their cost, deterring the wider adoption of greener motoring.
The environmental group intends to target VW with a high-profile crusade, starting today with the unveiling of a poster campaign in London featuring a Darth Vader mask with the VW symbol and the words "Volkswagen. The Dark Side." It intends to step up its efforts in coming months through social media and publicity stunts.
VW, which made 11.4 per cent of the world's cars last year, ostensibly aims to become the most environment- friendly carmaker. It points to the development of cleaner engine technologies such as BlueMotion, which gives its greenest Golf an efficiency rating of 99g of CO2 per kilometre.
But Greenpeace complains that VW puts BlueMotion into only a minority of its 70 Golf variants, with some models emitting twice as much CO2 as the least polluting vehicle. More broadly, it says, VW, which also owns the Skoda, Audi and Seat brands, among others, has failed to greatly increase fuel efficiency. Between 2006 and 2009, VW reduced its average emissions per kilometre by 7.8 per cent, whereas BMW and Toyota achieved reductions of 18 per cent and 14 per cent, respectively.
Greenpeace also complains that VW Group opposes the target backed by Britain and other EU countries for an emissions cut of 30 per cent from 1990 levels by the end of this decade, which is also supported by corporations including Google, Ikea, Sony and Unilever.
In a letter to Greenpeace supporting the current 20 per cent target, VW said it was a policy which "puts jobs at risk and results in de-industrialisation in Europe". The European Automobile Manufacturers' Association, on whose board VW has more seats than any other carmaker, is lobbying against the policy at an EU level.
VW is also opposed to the EU's emission target for cars sold by 2020, at 95g CO2/km, describing it as not being based on "a realistic appreciation of the costs and technical progress".
Greenpeace said: "The truth is that the Volkswagen Group has lagged behind its competitors for years. It only stepped up progress on CO2 reductions once a legal framework was put in place that forced it do so. It has shown no ability or willingness to voluntarily deliver the innovation or technology changes required. Now Volkswagen is openly opposed to the agreed 2020 standard that would benefit motorists, the economy and the environment."
VW, jointly owned by Qatar Petroleum and the German state of Lower Saxony, said it had not had time to respond properly to Greenpeace's report, despite being given five hours to do so. Instead, it reiterated its statement to Greenpeace, dated 1 February this year.
That said: "It is the goal of the Volkswagen Group to be the industry leader in innovation and in the environmental performance of the company and its products." The most recent tangible evidence of these intentions, it said, was shown by the prototype VW XL1 which, with an 800cc diesel engine, has a rating of 24g CO2/km.
Register for free to continue reading
Registration is a free and easy way to support our truly independent journalism
By registering, you will also enjoy limited access to Premium articles, exclusive newsletters, commenting, and virtual events with our leading journalists
Already have an account? sign in
Register for free to continue reading
Registration is a free and easy way to support our truly independent journalism
By registering, you will also enjoy limited access to Premium articles, exclusive newsletters, commenting, and virtual events with our leading journalists
Already have an account? sign in
Join our new commenting forum
Join thought-provoking conversations, follow other Independent readers and see their replies