Warmer seas linked to disease epidemics affecting Pacific starfish and Atlantic lobster
Scientists fear the diseases could spread further as sea temperatures rise 
Will Worley
Sunday 21 February 2016 00:25 Comments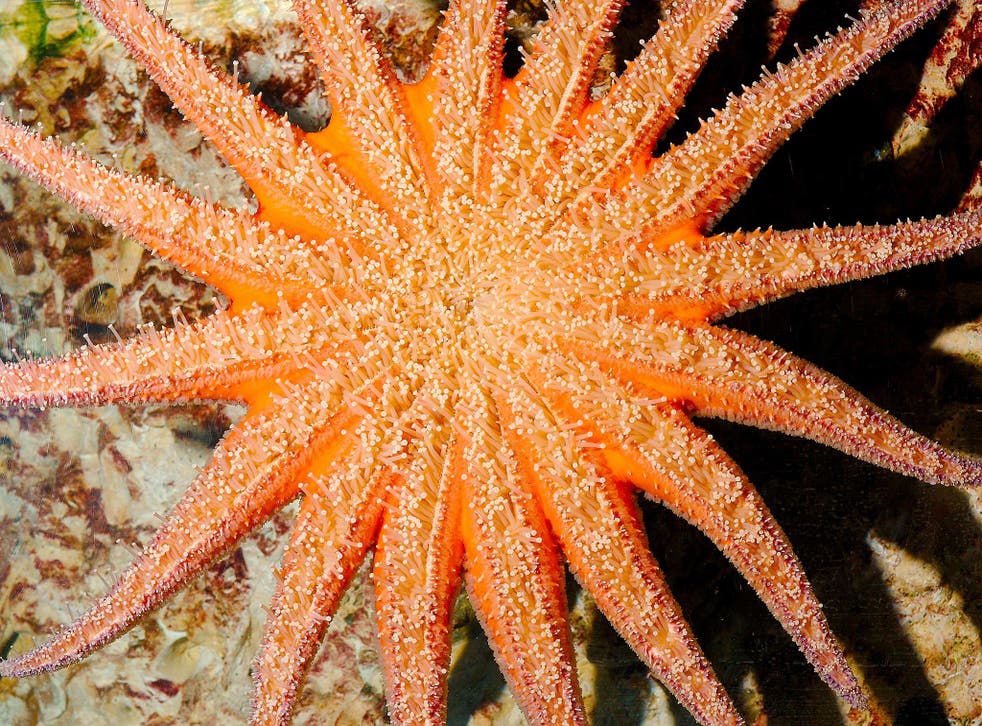 Warmer seas have been linked to disease epidemics affecting the populations of marine species in both the Atlantic and Pacific oceans.
Starfish off the west coast of the US and Canada have endured high levels of a physically degenerative wasting disease which causes them to lose their limbs and die.
In addition, lobster off the coast of New England are experiencing increasing levels of shell disease.
New evidence, published by the Royal Society B, has linked both events to rising sea temperatures.
The Ochre star, the most common type of starfish on the northern Pacific Coast of the US, suffered a major outbreak of wasting disease between 2013 and 2014, leading them to be washed up on beaches. Scientists believe that 90 per cent of the population was wiped out and that adult populations have been reduced to one quarter of pre-outbreak numbers.
Up to 20 other marine species were affected, including the Sunflower starfish, which is now considered practically extinct in the San Juan Islands off the Washington state coast, where the study was carried out.
"This outbreak came so quickly, by the time we knew enough about it, a lot of it had already happened," said Drew Harvell, Cornell professor of ecology and evolutionary biology and a senior author of the study, to the Washington Post.
"The question for this year in our minds is what will happen in Alaska. The Sunflower star that used to be very abundant in this area is gone. It used to be that you could see 30 in one dive."
It is thought that the cause could be a virus, present in many starfish, which is latent at cooler temperatures but becomes more active and dangerous in warmer conditions. Genetic changes in the virus could also be responsible.
"The outbreak occurred during a period of anomalously warm sea water and stars in the San Juan Islands had a higher disease risk at warmer sites," Professor Harvell said.
In warmer conditions recreated in laboratory experiments, star fish were also found to succumb faster to the disease than in cooler temperatures.
The researchers found the disease was more prevalent between 12.2 and 18.8 degrees Celsius.
On the Atlantic coast, scientists think that lobsters, which are a major economic boon for parts of New England, are likely to be further afflicted by an epizootic shell disease linked to warmer waters.
Laboratory experiments using the bacterium which causes the disease showed that at cooler water temperatures of around 10 Celsius, the disease made little progress. However, as water temperatures were increased the disease spread faster, especially in females.
Female lobsters shed their shells less frequently than males.
Scientists have projected that the disease, which has already caused huge damage to the lobster fishing industry in southern New England, will spread further north, to Maine.
"We can say when these organisms are going to be at risk of disease outbreaks based on temperature projections," said Mr Harvell.
Lobsters afflicted with the disease cannot be sold or used for food.
Register for free to continue reading
Registration is a free and easy way to support our truly independent journalism
By registering, you will also enjoy limited access to Premium articles, exclusive newsletters, commenting, and virtual events with our leading journalists
Already have an account? sign in
Join our new commenting forum
Join thought-provoking conversations, follow other Independent readers and see their replies