Water, water... nowhere
Parts of Britain are already drier than they were in the infamous summer of 1976. Cahal Milmo reports
Cahal Milmo
Tuesday 21 February 2012 01:00 Comments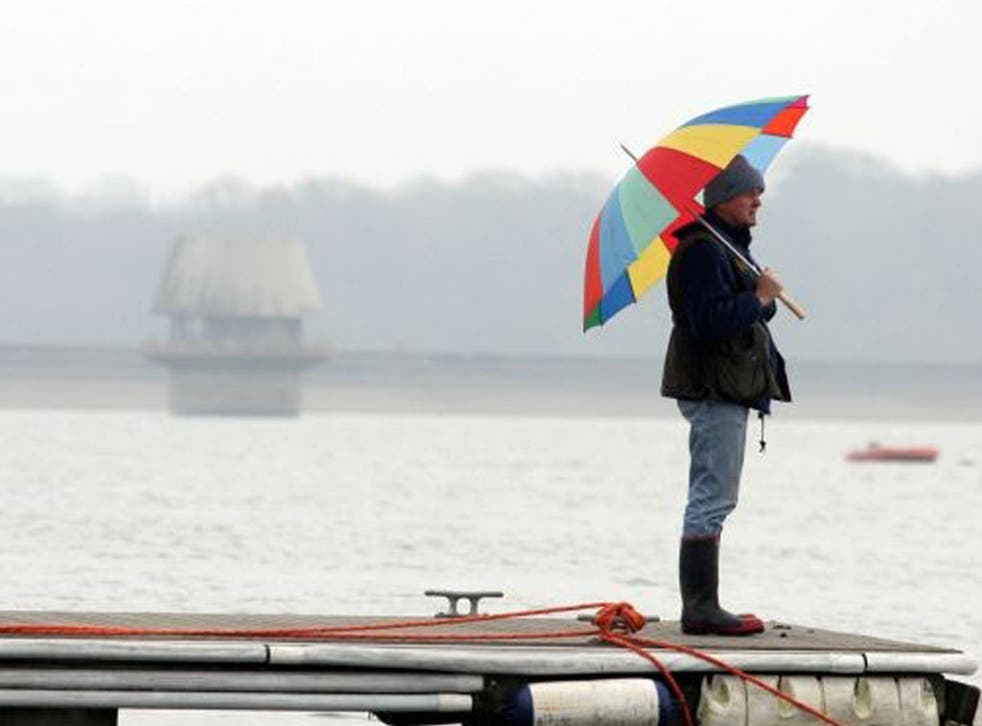 On the River Kennet in Berkshire conservationists are resorting to stunning fish using electric probes and rescuing them from the dwindling trickle of water. Farmers across East Anglia are considering ditching entire crops while at nature reserves springs have dried up, leaving creatures from water voles to marsh harriers struggling to find food.
It might sound like a picture from the height of a dry summer but this was the reality across a swathe of England in late winter yesterday after 18 months of cripplingly low rainfall which has left some groundwater and river levels lower already than they were during the drought of 1976.
Water companies, normally reluctant to admit the likelihood of shortages which have drawn criticism of their record on leakages, are warning of potential restrictions in the coming months. Thames Water, which supplies 14 million homes and businesses, said it is not a matter of if there will be a drought but "when and how bad".
Experts believe that anything short of a deluge of biblical proportions to replenish aquifers across an area stretching from Lincoln to Birmingham and down to Portsmouth will make hosepipe bans and irrigation restrictions inevitable. Up to 18 million homes and businesses could be affected by April.
Such doom-laden forecasts may seem ironic after recent Arctic conditions and the wettest winter in Scotland for a century. But the severity of the situation was underlined yesterday when the Government declared that South-east England is already in drought and warned of the need for action across the board – from utilities to householders – to save water.
Speaking after a crisis meeting of industry bodies, regulators and conservationists, Caroline Spelman, the Environment Secretary, said: "Drought is already an issue this year with the South-east, Anglia and other parts of the UK now officially in drought, and more areas are likely to be affected as we continue to experience a prolonged period of very low rainfall. It is not just the responsibility of Government, water companies and businesses to act against drought. We are asking for the help of everyone by urging them to use less water and to start now."
The emergency, which conservationists warn will imperil wildlife as water resources are shared out to fill reservoirs from rivers already running far below seasonal averages, has its roots in a cycle of uncommonly dry winters, meaning the so-called "recharge season" has failed in many places for two years running.
Last year was the driest in England and Wales for 90 years, prompting the Environment Agency to warn then that rainfall 20 per cent above the average was needed between December and this April. Instead, precipitation has been nearly a third below average.
The result, when combined with dry ground conditions that make sudden bursts of rain more likely to wash straight into rivers rather than soak into aquifers, is a litany of shortages.
Bewl Water, the Kent reservoir which supplies a large part of the county and neighbouring East Sussex, is only 41 per cent full, prompting Southern Water to apply for a drought permit to restock from the River Medway, itself classified as running "exceptionally low".
The amount water in the River Lea, running through Hertfordshire and north-east London, is less than a quarter of its usual level while the Kennet is running at 31 per cent and is completely dry west of Marlborough.
Lincolnshire and Cambridgeshire, as well as parts of Bedfordshire and Northamptonshire and west Norfolk, are all still in the same state of drought declared last summer while London and the Thames Valley has experienced below-average rainfall in 18 of the last 23 months.
Water companies, who answer criticism of their leakage record with figures showing that water losses have gone down by 35 per cent, are urging customers to turn off the tap while brushing teeth and take shorter showers.
Richard Aylard, sustainability director of Thames Water, said: "There is a high chance we will need restrictions at some stage this summer unless either we get a lot of rain or fantastic co-operation from customers using less water."
But elsewhere, the crisis is already biting. Farmers, whose ability to store water for irrigation has been restricted by low river levels, are warning of dramatic decreases in yields as growers turn away from thirsty crops such as potatoes, onions and other vegetables.
Andrew Brown, chairman of the National Farmers' Union in the South-east, said: "People are already starting to alter their cropping procedure. I was talking to a farmer at the end of last week who said he was going to plant 20 per cent fewer root and vegetable crops. Now that means a £50,000 hit for him. So it's a big, big concern."
For wildlife the situation is also dire. The Environment Agency has removed thousands of fish from five rivers across the Midlands and southern England while the RSPB warned one of its key reserves – Titchwell Marsh in Norfolk – is already facing problems after freshwater springs dried up.
Rob Shore, head of conservation for the Wildfowl and Wetlands Trust, which is considering applying to draw tidal water to replenish its Welney reserve in Norfolk, said: "We have already seen the number of birds over-wintering on some sites reduce, and there is likely to be a knock-on effect for other species to reproduce in the summer.
"The Government is taking too short-term an approach. If we tweaked legislation and farming subsidies to encourage a proliferation of small wetland areas in the countryside and urban environments we would lessen this problem considerably by ensuring we benefit from this new pattern of short, intense rainfall that is currently being lost."
Top tips: how to save water
In the infamous drought of 1976 guides and adverts were run in most publications with advice on how to save water. In a similar spirit, here are some tips for limiting water use
1 "Bath with a friend" became the rallying motto during the long, hot summer of 1976. Now would probably be the time to once again take up that mantra – or bathe in 5in (12.7cm) of water, whichever you feel more comfortable with. Failing that, take a shower, which is quicker.
2 Follow the advice of the former London Mayor, Ken Livingstone: don't flush the loo every time. If you are only going for a wee, leave it for the next person.
3 Avoid household arguments by doing the washing up only when absolutely necessary, and use the dishwasher only when it is full.
4 Fill your garden with plants from Mediterranean climates, which are accustomed to arid conditions.
5 Save yourself the monotonous chore of mowing and leave your lawn to grow. Long grass shades the soil and helps to retain water.
6 If you need to water your garden, do it at the start or end of a day when temperatures are lowest and less water evaporates.
7 Hosepipe bans are a feature of any drought, but a bucket can be your friend. Use it to catch and store rainwater.
8 Just cleaning the headlights, mirrors and windows of your car with a wet cloth means you will keep safe, but also save water.
Register for free to continue reading
Registration is a free and easy way to support our truly independent journalism
By registering, you will also enjoy limited access to Premium articles, exclusive newsletters, commenting, and virtual events with our leading journalists
Already have an account? sign in
Join our new commenting forum
Join thought-provoking conversations, follow other Independent readers and see their replies