Wildfires devastate Chilean wilderness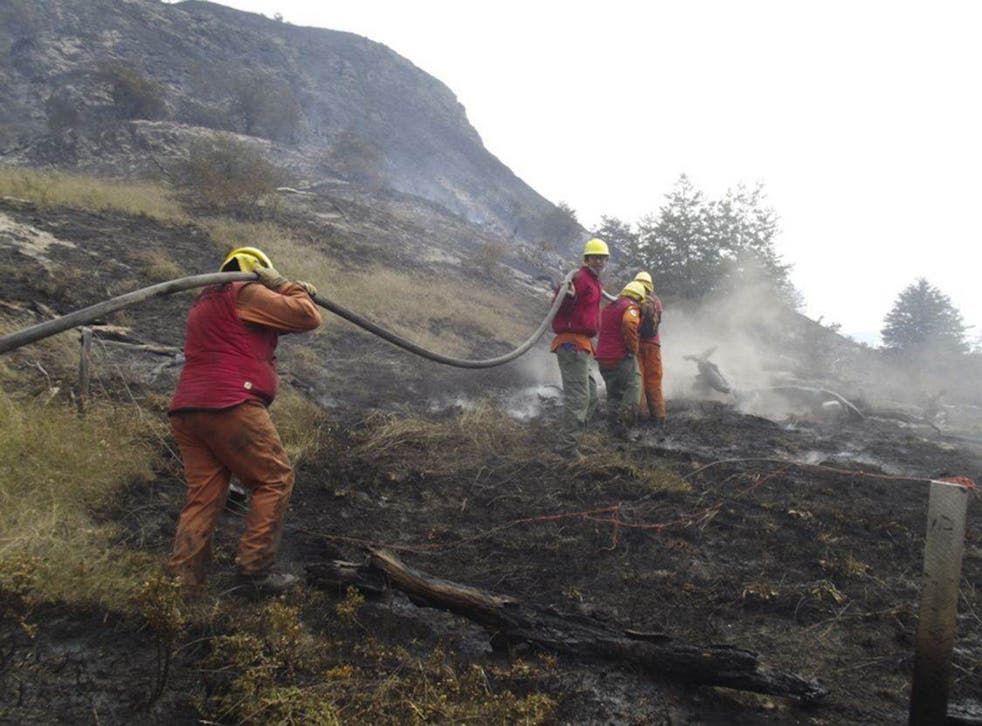 Wildfires sweeping through one of South America's most famous national parks are devastating thousands of acres of pristine habitat. So far, more than 21,000 acres of Torres del Paine have been destroyed by blazes that have yet to be brought under control.
The park is one of Chile's major wilderness attractions, drawing 200,000 tourists a year, and the government has described the fires as a major environmental disaster. Torres del Paine is a Unesco Biosphere Reserve and home to rare wildlife including pumas, pygmy owls, flamingo, Andean condors and 14 other birds of prey. In southern Chilean Patagonia, it is famous for its birdlife, soaring granite pinnacles and lakes vividly coloured by different hues of rock flour.
It has been claimed that the fire was inadvertently started on Tuesday by a group of six Israeli tourists using cardboard to fuel a campfire in an area where fires are not authorised. One Israeli was arrested last night. Park instructions stipulate that campers should choose an area away from trees, cleared of vegetation, and fires should be encircled with stones. The interior minister, Rodrigo Hinzpeter, said there was a "high possibility that the fire was caused by human action".
In 2005, a Czech hiker started a fire accidentally using an illegal gas stove. It took a month to put out, burned down nearly 10 per cent of Torres del Paine, and experts estimated the park would not fully recover for 10 years. The Czech government has provided funds to aid restoration.
The fire is estimated to have so far destroyed 6 per cent of the park, which will be closed for at least a month. The authorities have evacuated 400 tourists from the area, but many more are trapped there, with buses from Puerto Natales to the nearest city in Argentina, El Calafate, fully booked for the next few days.
Yesterday, 550 emergency service personnel were still fighting the flames and hope to have the fire under control within 24 hours. But Mr Hinzpeter warned that it was "dangerous, violent and difficult to control".
The operation has increased to 200 members of the Chilean armed forces, sided by 50 specialist firefighters supported by 40 from Argentina. Four helicopters and 10 tanks are also being used. Chile's President Sebastian Piñera has called upon the US and Australia for assistance – but his government's response has been heavily criticised. A protest was held on Friday in Puerto Natales, and another was scheduled for New Year's Eve.
Maria Elena Borquez, one of the organisers, told The IoS: "The government reacted very badly, belatedly and slowly. They came here to check the scale of the fire 24 hours after it started. It took 48 hours for help to arrive. They came without giving money to save our park, which is a global natural reserve and is a source of money for the whole country. There are people in the government who don't see us as Chileans; they think Chile stops at Puerto Montt."
Ecological groups have questioned why only 25 Chilean soldiers were sent to fight the fire by Thursday, while neighbouring Argentina had already provided 23. Max Salas, the governor of the Ultima Esperanza Province, where the park sits, hit back at the criticism, telling local radio on Saturday: "There is a habit in this country to always seek the negative – even under the difficult conditions under which we are living."
Register for free to continue reading
Registration is a free and easy way to support our truly independent journalism
By registering, you will also enjoy limited access to Premium articles, exclusive newsletters, commenting, and virtual events with our leading journalists
Already have an account? sign in
Register for free to continue reading
Registration is a free and easy way to support our truly independent journalism
By registering, you will also enjoy limited access to Premium articles, exclusive newsletters, commenting, and virtual events with our leading journalists
Already have an account? sign in
Join our new commenting forum
Join thought-provoking conversations, follow other Independent readers and see their replies